The Young Lady with Strong Sweet Voice
The Young Lady with Strong Sweet Voice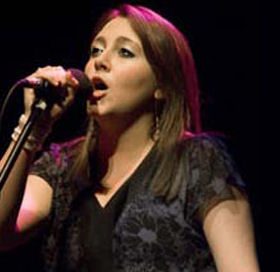 In my last column, I mentioned that the Battlefield Band's latest album, Room Enough for All, had been named album of the year at the 2013 Scottish Traditional Music Awards. The awards this year were, I think, interesting in the way that they reflected the shifting and merging of the old and the new. The composer of the year award went to Donald Shaw, founding member and keyboard player of Capercaillie and the driving force behind the annual Celtic Connections festival. Though certainly a member of the "old guard" of modern Scottish music, he is also known as one of its most innovative and creative players.
The Scots Singer of the Year award usually goes to someone who fits the standard image of a tradition-bearer; someone of fairly advanced years who has a long history of learning, singing and sharing the old bothy ballads and travelers' songs. Not so this year… the award was given to Siobhan Miller, a young lady whose strong, sweet voice is among the newest in the genre. Siobhan could easily have taken the folk singer-songwriter path, but instead she's dedicated herself to learning and preserving the old songs.
Folk music is always going to evolve. If it didn't, then it would cease to be the peoples' music as the people left it behind. I find it reassuring to see the young and the older musicians joining forces both to preserve the past and shepherd the future.
If you'd like the results of the remaining Scots Trad Award categories, they are online.
**********
In music, one must think with the heart and feel with the brain
-George Szell, American composer
Before I compose a piece, I walk around it several times accompanied by myself.
-Erik Satie
**********
And while we're on the subject of awards, Congratulations to L.A. local ladies Mariachi Divas de Cindy Shea on winning yet another Grammy. This is the fifth nomination and second win for the Hacienda Heights-based band in the Best Regional Mexican Music Album category. And it also makes them the most-ever nominated mariachi band in the history of the Grammy awards.
The winning album, A Mi Manera, is widely available as a CD or to be downloaded, and it's well worth it- definitely deserving of the award.
**********
Much has been, and will be written over the next few months about the life and legacy of Pete Seeger. Most of us who are of a certain age have our memories and stories about him, but I thought maybe I'd just let the man himself do the talking. Here are a few of my favourite quotes:
I've never sung anywhere without giving the people listening to me a chance to join in – as a kid, as a lefty, as a man touring the U.S.A. and the world, as an oldster. I guess it's kind of a religion with me. Participation. That's what's going to save the human race.
In the largest sense, every work of art is protest. … A lullaby is a propaganda song and any three-year-old knows it. … A hymn is a controversial song — sing one in the wrong church: you'll find out. …
It's a very important thing to learn to talk to people you disagree with.
I still call myself a communist, because communism is no more what Russia made of it than Christianity is what the churches make of it.
Songwriters can't explain. You get an idea and you don't know where it's come from. And if you're lucky, you have a pencil or pen and can write it down.
We all go to different churches or no churches, we have different favorite foods, different ways of making love, different ways of doing all sorts of things, but there we're all singing together. Gives you hope.
An American now living in Scotland, Linda Dewar is a singer-songwriter and a player of various stringed and wind instruments. Besides being a solo performer, she is half of a duo with Scottish singer Douglas Craik, plays in an occasional ceilidh band, and is a founding member of the revue Simply Burns. Visit her website.
https://folkworks.org/wp-content/uploads/2020/10/Mariachi_Divas_de_Cindy_Shea.jpg
431
500
Steve Shapiro
https://folkworks.org/wp-content/uploads/2020/11/FolkWorks-logo-large.png
Steve Shapiro
2014-03-04 03:10:13
2020-11-18 10:23:41
The Young Lady with Strong Sweet Voice