The Opening Act
The Extraordinary Journey of James Lee Stanley
A Documentary
Right off the bat, I can tell you that much of what you need to know about James Lee Stanley can readily be found online. You know, Google, Bing…those places. But that stuff is mostly statistical same-old-same-old. James Lee was a guest on my radio show on KPFK FM in Los Angeles ("Roots Music and Beyond") in June, and in our limited time we chatted on air – "What are you up to these days?", "Got any new songs you want to play?," " What's next?" You know… radio talk…we shared some road stories for the listeners then he sang a couple of songs. It was great. He's a pro and I'd have him back any time.
After the show ended, we sat across the table from each other at the coffee shop next door to the radio station. We talked of many things, his brief stint with the Air Force where he was tagged to learn to speak Chinese as part of an elite corps, his days busking and singing in folk clubs, friendships and associations in the great crucible of folk artists, close friends who ended up with the gold ring in their clutches. We joked about that, the curious phenomenon of being on the same merry-go-round in a community of artists, some of whom ended up in major stardom and some, well…you know. We joked about "being in the kitchen grabbing a beer at the moment lightning was striking in the living room". Stardom so close you could smell it, touch it, but not own it. We laughed. True, with the New Christy Minstrels I got a taste of it, but lasting fame belongs to very few.  James Lee and I talked like two soldiers who had been through the same war in different theaters and lived to tell the tale.
When I originally considered writing this article I assumed that a simple Google query could uncover anything anyone needed to know about James Lee Stanley and that there was little I could add that wasn't already available online.
That was until a few days later – last week to be specific – on James Lee's invitation, my wife Judy and I drove the 107 miles from our home in Encino to visit with him and his wife in their home in the mountains near Tehachapi. (Apologies to non-Californians who may not understand that in California, a 107-mile drive is on par with a run to the supermarket – at least it used to be that way. I'm old school.)
We drove the distance to the appointed destination as a panorama of greenery, rocks, and trees spread out before us. Who knew that such beauty lay so close to our home? We were to meet James Lee at the home of a friend and neighbor where they were rehearsing for yet another James Lee Stanley recording. He's made thirty-four albums at last count. We arrived at a lovely home where we found James Lee, and his friend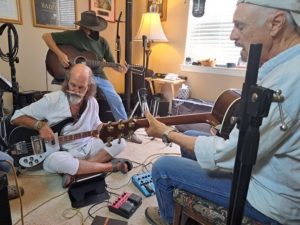 s Boyd Nyberg and Gary Katz deeply involved in rehearsal. That's James Lee singing, Boyd on bass, and Gary on 12-string.  Three musicians clustered on a rug in a home high in the Tehachapi mountains, making music. That was what greeted us.  Judy and I sat and listened to the music taking form and life and there I was, back in Laurel Canyon, transported through time as the three rehearsed. "I remember this. I remember this" I kept saying to myself. And I knew once again what this business of making acoustic music is all about and has always been all about.
More than that, I understood why James Lee Stanley continues. He's made 34 record albums to date, many of them produced in his own studio. His catalog of songs numbers close to a thousand copyrights. His career has taken him to places dreamed about by many.
Redundant though it may be, here's a brief list:
James Lee Stanley has:
-Written, performed, and recorded close to 1000 songs
-Released close to 35 albums
-Acted in recurring roles in major television shows. (Did you know that James Lee played a recurring role on Star Trek-Deep Space Nine?)
-He appeared in concert with and was the opening act for artists such as Steven Wright, Bonnie Raitt, Robin Williams, Nicolette Larson, Stephen Stills…and…more on that later in this article
-Performed in clubs, theaters, and concert halls all over the world.
Among his albums of original songs, is a series of albums featuring his acoustic versions of some of the great music of the late 20th Century. For each of these albums, James Lee invited the talents of several of his close friends:
James Lee (paraphrased): "The music of groups like the Rolling Stones, The Doors, Led Zeppelin, impacted so many of multiple generations, why not present these songs, their passion and beauty, acoustically? The same goes for the music of groups like The Doors….so why not strip away the covering that pins this music to an era, and present these songs as if they had been written by the universal singer/songwriter of today, along with a simple acoustic presentation and let folks hear these songs as if they had just been written?"
This series of albums include:
"All Wood and Stones" (2 albums with John Batdorf) – The music of The Rolling Stones
"All Wood and Doors" (with Cliff Eberhardt) – The music of The Doors
"All Wood and Led" (with Dan Navarro) – The music of Led Zeppelin
He's done albums with friends Peter Tork of the Monkees, an album with Michael Smith, the legendary Chicago song poet.
Most recently, he performed in a venue close to his home in the mountains and the recording was captured by the acclaimed folk music engineer and aficionado Peter Cutler (of KPFK Folk Scene fame). The album is titled "Live In Tehachapi". If you wish to experience what a seasoned professional solo artist is supposed to be, that album will answer your wish.
All of James Lee Stanley's work can be found at his recording company Beechwood Recordings.
He has recorded more than 40 albums. He produces and records his own CDs and doesn't look like he's about to slow down.. he continues to share the same passion for creating music that has meaning, reinterpreting music that has impacted generations of young people. I mean, that's what it's about, no? Taking music that has touched you in a sensitive spot and sharing it with folks who might have missed that moment of epiphany.
The Opening Act – It's no joke
James Lee and I joked about being an opening act but it's no joke. Whoever appears on a major stage precedent to a major attraction, holds a precious moment of balance that can either enhance an entire evening and crystalize a beautiful experience, or dull an audience's anticipation to a point that ruins recovery.  The job requires no less than a thorough professional, and although he qualifies eminently as such, James Lee and I joked about his having had a profitable and fulfilling career filling that role, but both of us were aware that the task is not for the amateur or novice.
So how do you tell the story of a gentleman who's had a guitar strapped to his soul and a passion for a stage and a microphone to tell stories and sing songs? Enter Gary Katz, the 12-string guitar player mentioned above. Oh Yes, did I mention that Gary Katz is a recognized documentary filmmaker as well as one heck of a musician? Pardons for not mentioning it right away. Who better than a person like that to tell the story and document it with interviews, film, excerpts, and songs than him? No sooner had the two met, than a concept for a project was born. A full-length documentary film chronicling the history and adventures of a modern-day Troubadour. Complete with interviews from notables like the renowned comedian Steven Wright, photographer Henry Diltz, and others. Rare footage from performances, candid conversations, musical excerpts from concerts, and backstage scenarios. All are carefully curated, edited, and presented with Gary Katz's masterful hand at the controls. The video can be purchased from James Lee's website here:
The Opening Act: The Extraordinary Journey Of James Lee Stanley
I asked James Lee what was next for him. In true folksinger fashion, he responded. "These days, I write about things that affect me. I've just finished a song about Ukraine. I'm deeply concerned about the direction of this country, its recent and current leadership, and I find myself motivated to write about it."
If that ain't a folksinger, I don't know what is.
https://folkworks.org/wp-content/uploads/2022/08/dvd-the-opening-act-600x600-1.jpg
600
600
Art Podell
https://folkworks.org/wp-content/uploads/2020/11/FolkWorks-logo-large.png
Art Podell
2022-08-13 10:24:15
2022-08-20 15:51:47
The Opening Act
The Extraordinary Journey of James Lee Stanley
A Documentary