Session Tunes for Beginners
Session Tunes for Beginners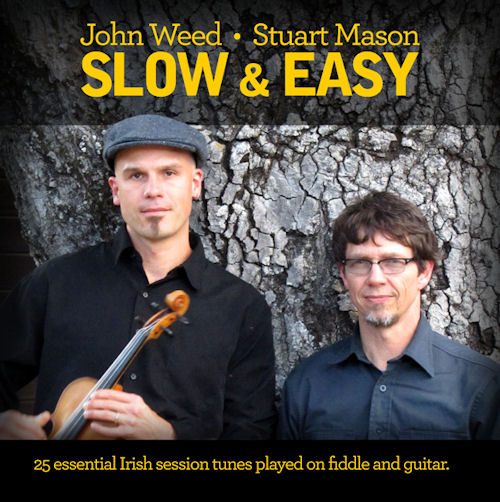 Playing with others is one of the best ways of improving your playing and certainly an enjoyable one. But it also is a daunting step to join a session and one that many never are able to overcome.
One challenge is learning the "right" tunes, a common repertoire that is shared among most musicians in a style. All styles have core tunes that qualify as common repertoire and that would work in sessions/jams just about anywhere – but usually just in that particular style. Neither instruction books nor tune collections are particularly helpful to identify an initial core repertoire.
For Irish music, John Weed (fiddle) and Stuart Mason (guitar) recently recorded a really nice learning CD with 25 tunes that qualify as core tunes for Irish/Celtic sessions. I think they chose a great selection of tunes and play them at very slow speed. Arguably their speed is even slower than a "slow session", so you would have to bring up the pace to play with others, but their speed makes it very useful for beginners – or even learning new tunes by ear if you don't play Irish music. Roughly doubling the speed would be right for an intermediate level session, about 2.5 times faster for a pub session. You can listen to the tunes and also purchase the tracks or the CD on their website.
John and Stuart are best known as members of Molly's Revenge, a California-based, but internationally touring, Celtic group. John started off a classically trained violinist and was introduced to the world of traditional music by the playing of Dale Russ. He lived in Ireland and while living there studied with Clare flute player Bill McNamara. Stuart Mason was born in West Virginia and starting out supporting himself playing bluegrass and country music, eventually exploring the traditional music of West Virginia. Somewhere beneath the mountain fiddling of Appalachia, he discovered Irish music, which became a lifelong passion. As a duo and in their other group Little Black Train, they play traditional tunes and songs that explore the connection between Irish and Appalachian music, but the learning CD is purely about standard Irish session tunes.
John and Stu have transcribed all the tunes on the CD and the transcriptions are downloadable from their site. The Congress Reel below is the third tune on their CD and a nice Am reel. A particularly nice feature on the transcription is that there are chord changes added with fingering for guitar in DADGAD tuning. Note that if you play in standard tuning, the A should be an Am chord. In DADGAD tuning, it doesn't matter because there is no third in the chord voicing. That ambiguity is really nice in lots of tunes, including old-time tunes and hard to do in standard guitar tuning except for the rather limiting "power chords" (kind of an E-shape bar chord, but you just play the bottom 3 strings).
As with all traditional tunes, there is no "true" version and John plays almost all tunes a little bit differently than I play them. But his settings are all excellent and work great. In The Congress Reel, he plays on interesting variation in the 2nd bar of the B-section (that is the 2nd bar in the 3rd line). I didn't get that for a while and in fact had to look at the music because it was too unexpected. Most of the time, people would play that bar like the 2nd bar in the A section. However, a little twist like the one the John put in can make a tune a lot more interesting, although you have to make sure it doesn't clash too much with what other people would play.
This spring you have several opportunities to hear John and Stu in the Los Angeles area. Get updated information on their website but it will include a duo show at the Topanga Banjo Fiddle Contest & Folk Festival on May 20, a performance with Molly's Revenge
Roland Sturm is Professor of Policy Analysis at the RAND Graduate School and usually writes on health policy, not music. He is the talent coordinator of the Topanga Banjo Fiddle Contest and leads the monthly Celtic sessions at CTMS. These days he mainly plays upright bass and mandolin.
https://folkworks.org/wp-content/uploads/2020/10/Congress_Reel.jpg
1141
1024
Roland Sturm
https://folkworks.org/wp-content/uploads/2020/11/FolkWorks-logo-large.png
Roland Sturm
2012-03-01 01:59:44
2021-04-13 15:04:19
Session Tunes for Beginners