SARAH KATE MORGAN
I met Sarah Kate Morgan at the Kentucky Music Festival in 2014 where we were both teaching. Her clean, beautiful, rich chord melody style grabbed my attention. The more I listened, the more I knew she was an imaginative, technically sophisticated, whimsical and deeply thoughtful young talent to watch develop. And that she has!
Joellen: What are your earliest recollections of hearing music?
Sarah: I remember first hearing classical music. We had a lovely classical CD and just wore it out. We listened to that CD while matching socks or out on the porch snapping and stringing beans from the garden. I remember those beautiful amazing classical pieces.
JL: When did you start hearing other kinds of music?
SKM: My parents loved the mountain dulcimer. They bought a couple of cassette tapes and I first heard Appalachian music from them. I was 6 or 7 years old.
JL: That's when you started playing as well?
SKM: I was between 7 and 8 when I started. I began on an instrument my grandfather built from a kit. He was a self-taught oil painter, did some woodcarving, played the harmonica and bought a dulcimer kit. He actually put the dulcimer together backwards. He put the peghead on the wrong end. The rest of it was all correct.
JL: That is really funny.
SKM: Yes. I remember going to a dulcimer festival in Pine Mountain, Kentucky, which is one of the oldest, longest-running dulcimer festivals in the country. I think it's called the Great American Dulcimer Festival. I showed up with this backwards dulcimer and my teacher, Ann McFee, was like, "Oh, I think your dulcimer is turned around". And I'm like: "No, it's actually right. Trust me".
JL: What kind of music did you learn at that festival?
SKM: I was introduced to the basics and a lot of Appalachian tunes. I was probably 8 at the time. I remember seeing Jean Ritchie in person. It was the first and only time I've ever been in the same room with her. I remember her really long, beautiful blonde hair.
JL: Were you the youngest in the class?
SKM: I probably was.
JL: How brave of you. There aren't a lot of 8-and 9-year-olds at most festivals.
SKM: My family started going to that festival years before I learned to play the dulcimer. Mom and dad loved the dulcimer and we'd camp. Often times everyone else was staying in the big, fancy lodge. And then there's our family staying in the campground with our little pop-up camper.
JL: So were you only playing traditional music? Or were you branching out since you had this classical musical background?
SKM: June Guilford, from the Knoxville Dulcimer Club, was my first teacher. She started me with traditional Appalachian music, sort of the old chestnuts: old-time music like Filled With Joy, Eliza Jane, Old Joe Clark. You know, the ones everybody knows.
https://www.youtube.com/watch?v=8KLbTvimuhY
JL: What happened next? Tell me about the evolution of your playing, your listening and your technique.
SKM: I was eight or nine years old when I started lessons with June Guilford and I didn't enjoy it. Until that time I learned as best I could on my own. So my parents made a deal with me. They said: "If you can stick it out for a year, and if you still hate it, you can quit." I don't think I hated music, I think I just had the attention span of an average 8 year old. The moment where it really clicked for me was at our dulcimer club in Knoxville, Tennessee. I remember everyone playing an old-time tune, and I was listening to myself. Very distinctly, I remember being able to hear the melody come from my fingers. And a lightbulb turned on and I realized that I could pick out these tunes by ear on my own. The music wasn't on the paper, it was in my fingers.
I fell in love with the dulcimer first; and my love for traditional Appalachian old-time music followed. The dulcimer funneled me into that. I started out playing old-time tunes, but eventually I branched out and was playing ragtime, jazz, and classical music on the mountain dulcimer. For six months or so I'll branch out and try super crazy, complex jazz pieces. But I always end up back home with Appalachian music.
JL: When you say jazz, that covers a lot of ground. I know that on YouTube I saw this wonderful duet with you and your bass player playing and singing "My Girl". Do you mean old jazz standards and stuff like that?
SKM: Right. I played Chattanooga Choo-Choo at the 2012 Nationals and when I went to Winfield, I played Tug At My Heart. I like it all. It stretches me in different ways.
JL: So when did you start singing?
SKM: I was 15 the first time I sang on stage with my dulcimer. I sang in choir. I think it's very typical of the average southern girl to grow up singing in church. Everybody sings in church, but I didn't really start singing on stage until I was 15.
JL: How come you waited so long?
SKM: I think I was shy about sharing my voice. The dulcimer has helped me get over a lot of social anxiety. I was painfully shy as a kid. As an adult, there are still moments. But the dulcimer helped me come out of my shell because it was something that I was proficient at, and it was something that I could teach others to do. I think it was just time for me to start singing and the dulcimer supported a venture into singing.
JL: So, unlike many people I've interviewed, you don't have 40-50 years of history to discuss with me. How old are you?
SKM: I'm 23.
JL: And you're in school right now?
SKM: I'm at Moorhead State University in Moorhead, Kentucky. I'm majoring in traditional music, minoring in Appalachian studies as well as arts entrepreneurship. I took a couple years off after high school to teach and perform full time. I hit the road for about a year and a half and toured a lot of dulcimer festivals and old time festivals. Then I decided to go to school.
JL: What made you decide to go back to school?
SKM: My mom and I visited the Moorhead State University traditional music department when I was a freshman in high school. At that time I knew I wanted to end up there. When I graduated high school, I was tired of school. I wanted to see if being a full time professional musician was something I wanted to do. I talked to my parents. We decided it would be a good learning experience to do that for a year; to be a full time professional musician. I absolutely loved it, but it was really hard being on the road a lot and being in a big city all by myself. It was stressful, but I definitely grew up a lot. It was good for me musically and as a way to develop into the person that I want to be.
JL: You were 18 or 19 when you were doing that, right?
SKM: Yeah.
JL: Was winning 1st Place at Winfield a big turning point for you?
SKM: Yes. I had decided that it would be a good credential, a good way to prove myself. You know, it's kind of hard to cold call a coffee house or a venue and say: "Hey, hire me! I play an instrument you've never heard before!"
JL: How long did you prepare for Winfield? How long were you thinking about doing it and working toward that?
SKM: I started I guess in 2010. I went to the Southern Regional Mountain Dulcimer Competition in Mountainview, Arkansas, at the Ozark Folk Center. They have a dulcimer jamboree and competition every April. I won that, and I actually went right to Winfield also in 2010. I got 3rd place. It was really hard, and challenging and I absolutely loved it. I think the reason I enjoy competition is because it helps me become a better musician, not necessarily because I want to beat somebody.
JL: You're competing with yourself.
SKM: Absolutely. At that point I made winning Winfield a goal. After I came home with 3rd Place it was like: "I want to do this!" I called a lot of women that had won the competition before. I could've called guys that had won before, but I wanted to call the girls. I called Nina Zanetti, Linda Brockington and Anne Rogers. I asked them for their advice, their approach to the competition. Where my musical self really grew was in the preparation leading up to the competition. The competition, in of itself, is not the magic bullet. It's not like it changes much. There's a lot of work leading up to it.
JL: When you placed third in 2010, what did you reflect upon? What did you think you needed to improve to make it to first place?
SKM: Nina Zanetti, who was a judge in the Southern Regional Competition, she said something that really stuck with me. She said: "In the first round your music style stood out. In the second round we couldn't tell you apart." What I drew from that, was that I had to do something completely unexpected.
I think one of the most valuable things we can do as musicians is to put limits on ourselves and try to force creativity within certain confines. You have 2 minutes for each song in the competition. So when I went into the competition in 2012, I knew I had to create a really cool arrangement that went somewhere, had cool chord progressions, had a cool intro and outro, and had a bridge in the middle. I had to do that in 2 minutes. So I remembered Nina Zanetti telling me that you need to do something unexpected. You need to be noticeable.
JL: So between 8 years old and 2012 were you self taught? Did you have teachers? Who were you listening to?
SKM: I started out self-taught. That didn't go well. As an 8 year old I didn't have much of an attention span. I took lessons from June Guilford for about 4 or 5 years. After about 4 years of lessons with her, June said that I had progressed enough that she had to kick me out. There was nothing else that she felt that she could share with me. So from then on I was more self-directed. My parents were so supportive and brought me to lots of dulcimer festivals. I took classes there which was really fun.
JL: So how did you develop your amazing chord melody style? I mean you just do such beautiful things across the strings, and a combination of chord harmonies, strumming, and melodies. Did you develop that on your own, or did you learn that from June?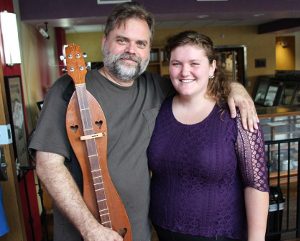 SKM: June instilled really good fingering techniques from the beginning. I'm really grateful to her for being able to instill easy, natural, comfortable fingering in me at such a young age. But then I would watch and listen to other players. Steve Seifert was a big influence. He would take me aside at festivals and we would play. He was really encouraging.
Another teacher, Paul Glazer, was a big influence as far as my chord choices and inversion choices. Paul would do the same thing. He would pull me aside and we'd play stuff together. You know, I owe a lot to really lovely, caring, encouraging instructors who were willing to work with this very shy 14, 15 year old.
JL: You know from your own teaching that it's a pleasure to teach somebody who is enthusiastic and creative.
SKM: Absolutely.
JL: What else might you want to say about your musical development?
SKM: I experienced a huge growth spurt musically when I started going to old time festivals and not exclusively dulcimer festivals. I do teach a lot at dulcimer festivals, and I do love the dulcimer community, but about 60% of my gigs are at non exclusively dulcimer festivals. More recently in my musical development, I've been exploring how the dulcimer fits into an ensemble situation. What are the techniques I choose if I'm playing bluegrass music, for example. What are the techniques that I choose if I'm playing with a banjo, or a guitar? That's something that I'm still working on. What can we do as dulcimer players to fit well into an ensemble sound.
Often dulcimer people have a reputation for being kind of the divas of the music world. Everything has to be in the key of D, and it can't be too fast, everybody has to play kind of softly. So I've been trying to make sure that I can do everything I possibly can to fit in with what they're doing. It's a give and take. I should be willing learn to play in the key of B flat, or the key of F, keys that are awkward to get to on the dulcimer
JL: Two questions then. Because the dulcimer is so quiet, do you use amplification if you're playing with a bluegrass band? Or are you using a certain kind of dulcimer that's a little louder?
SKM: Both. It's important that I don't endorse any particular dulcimer. I have a lot of dulcimers and they all are wonderful. Up until about a year ago I'd been playing a McSpadden Dulcimer. I could get that sort of zingy dulcimer sound, but I could still get a real punchy kind of guitar tone out of it. It did everything I needed. But then I realized I had gotten everything I could possibly get out of it. So I started looking into the instruments built by David Beede. I was really intrigued by a couple of aspects of his instruments. He does a radiused fret board and he uses a shorter fret scale. His instruments have a more punchy, round guitar like tone. So now I currently play a David Beede that I got about a year ago. It's not that the McSpadden is bad, it's that the Beede fits my musical needs right now. I can get a little more volume out of the Beede. I can push it more.
So now I'm playing with a lot of bluegrassers and old time musicians and it's important that I have a dynamic range. It's not that I play loud all of the time. Most of the time I play somewhere in the middle of my dynamic range. But I tell my students that it's important that we develop the techniques that increase our dynamic ability. We should be able to get louder if we need to. So that's what I'm playing right now and it does have a pick up. Of course, I always prefer to play acoustically. It always sounds better with a mic as opposed to a pickup.
JL: I hear you're also playing a baritone dulcimer these days, correct?
SKM: Yeah, it's a Modern Mountain baritone by McKinney. I sing a lot with the baritone in A and B flat. It fits my voice well.
JL: On your McSpadden and Beede, do you play with 4 equidistance strings, 3 strings, 4 strings?
SL: I primarily play 3 equal distant strings. I experimented with 4 equal distance, but not enough to have any knowledge to share on that.
JL: So you prefer the three strings to the double melody.
SKM: Right. The double melody string sounds amazing. Stephen Seifert plays with a double melody, and it sounds great. For me, I find that I don't have as much control with the double melody. When I push down on the double melody strings, they either split apart or they buzz. I've never been able to get a very clean sound or be super accurate with a double melody and those things are important to me. Have you found that there's more experimentation as far as string setup and tuning in west coast dulcimer styles?
JL: Yes and there's a reason for it. West coast players didn't come out of any dulcimer tradition.
We heard the dulcimer and loved it. Then we went off into isolated environments where there wasn't a tradition. So everybody created their own styles of building and playing.
SKM: I'd love to hear more about west coast dulcimer traditions because around here, there's a couple of regional variations. There's the Kentucky dulcimer, the Tennessee dulcimer, the Galax and the Virginia dulcimer. There's not a huge variety of string setup. It's all either 3 or 4 strings and the tunings are essentially the same. But I think that's so cool that, if it's every man for himself, I guess you can do whatever you want. It's really neat.
East coast dulcimers are a sort of evolving force that's based on accompanying the voice. A lot of east coast dulcimers are actually really small, delicate and quiet. They didn't have to be loud. They didn't have to compete with a million other instruments. It was all about being tuned to the human voice. I love this conversation, because I think the dulcimer community is at a really interesting place. We're actively defining what a dulcimer is. I also appreciate people who are hyper-traditionalists, like they think you should only play with a noter, or you should only play in D or A, or whatever. But the dulcimer hasn't been around that long. It's in its infancy. I think it's so cool there's so many different interpretations of this instrument.
JL: Which extra frets do you play with?
SKM: I have a 6+, and I do have a 1+, and an 8+, and I really love it. I play chords utilizing the1+ fret, but I tend to use the 1+ fret more as a grace note. I love that extra tone that I get when I'm sliding up or down. I think it has a great sound, even if you're not even fretting it. And I do use a capo. The reason I like to use the capo is that I can get into multiple keys quickly, which, right now, is important to me. And you can play in the key of A out of D-A-D tuning without a capo, but often times you're stuck in a closed hand position, so you're always having to have your fingers on the fretboard. But when I have a capo on, I can really lean in to the power that you can get from open strings.
JL: So what do you see as your future? What do you see yourself wanting to do in the next few years?
SKM: Well, I want to continue playing music for the rest of my life. I don't think I want to be touring full time. I enjoy developing friendships and being in one place for awhile. Currently I'm an Appalachian study major, and an arts entrepreneur minor. After college I'm thinking of pursuing a masters degree in Appalachian studies with a focus in traditional music. I would love to work as a sort of music coordinator at a folk school or a settlement school. I work with a lot with kids right now and I'd love to do something like a community development, or education director, at some sort of apolitical arts centered community program. Something that allows me to play music but also educate, teach and work with kids.
Where I'm at right now is a prime example. I'm in Brasstown, North Carolina, at the John C. Campbell Folk School as an intern. It's a year-round folk school. They teach folk arts and all kinds of music. It's been here for about 90 years. They teach kids, adults and serve not only people who come from out of town, but also the local folks. It's an integral part of the community.
My internship is awesome. For six weeks I work in the garden. I'm loving that. For three weeks I get to take classes. I'll learn how to throw pots on a wheel, make soap, and then take a class on playing music for dancers. It's unique. Most summers I'm usually on the road, but this summer I decided to stay put. It's been wonderful, different and really fun. And of course I get to play a lot of music!
Look up Sara Kate Morgan at sarahmorganmusic.com.
https://www.youtube.com/watch?v=Hw9d7sjZkBA
A true creative maverick in the mountain dulcimer world, Joellen Lapidus both embraces the deep rich traditions of the Appalachian Mountain Dulcimer and creates new traditions. One of the pioneers of an equally rich California Mountain Dulcimer tradition, her rhythmic playing style and elegant shapes and inlaid dulcimers have influenced generations of players and builders. Joellen teaches at McCabe's Guitar Shop and dulcimer festivals from coast to coast. www.lapidusmusic.com
https://folkworks.org/wp-content/uploads/2020/10/Sarah_Love_Community_sm.jpg
533
300
Steve Shapiro
https://folkworks.org/wp-content/uploads/2020/11/FolkWorks-logo-large.png
Steve Shapiro
2017-06-30 03:15:11
2020-11-18 10:22:53
SARAH KATE MORGAN