REMEMBERING NELL
Remembering Nell… those of you who have been around the Celtic music scene in Southern California for a decade or three may recognize the name of Nell Hannah. Somewhere around 25-ish years ago Nell left her home in Scotland to visit her son John, a regular on the trad music scene in the Santa Barbara area. She found herself immersed in the preparations for an impromptu benefit concert featuring Scottish expats like Donnie "Large" Macdonald and Yvonne McLeod along with son John Hannah. As happens, one of the planning sessions turned into a music session, where Nell was encouraged to sing – which was when everyone realized that she had quite a talent.
On returning to her home in Scotland, Nell decided to check out some of the local folk clubs and sessions. To make a long story short (something that Nell never did), she entered a trad singing contest, became an instant hit, and recorded her first album not long before her 70th birthday. In the ensuing years she recorded three more CDs, performed duets with some of Scotland's best known trad singers, and became fast friends with the respected poet/songwriter Jim Douglas, who created album artwork for her.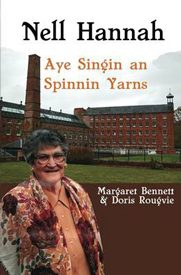 A few years ago, Nell decided to host a concert on her birthday with proceeds going to charity. John came over to play along with an eclectic collection of artists who were chosen because Nell liked them. The concerts became an annual event, which locals jokingly called Nellfest. Nell started to tell everyone that they were her farewell concerts, and that her goal was to have more farewell concerts than Frank Sinatra did.
Sadly, Frank will continue to hold the record. Nell passed away in hospital this past December, at the age of 93. I spent some time with her during her final days, and we had a fine time telling old stories and singing—she even got the nurses to join in. She will be missed by so many people, but she'll not be forgotten. This year's Nellfest is already being planned for June.
**********
I had planned to tell you in this column about a new book that's well worth reading. And now there's even more reason to mention it. A few months before Nell Hannah passed away, a book was released with stories from her life. Co-authors Margaret Bennett and Doris Rougvie wrote and illustrated Nell Hannah – Aye Singin an Spinnin Yarns, based on extensive interviews with Nell. Her life story is fascinating, including the years she spent working at the textile mill in Stanley, Perthshire. The mill is still there, having been turned into apartments and a museum several years ago. Nell was invited to the dedication of the museum along with two other ladies who had worked alongside her, and the highlight of the day was when she was introduced to Prince Charles. She leaves no doubt as to what she thought of her encounter with him.
This is Nell's story, but it is also an intriguing look back at life in rural Scotland at a time few of us can remember. The book is available now from Amazon.com.
**********
Musicians own music because music owns them. Leave your mind alone and see what happens.
– Virgil Thomson
*********
fiddle n. An instrument used to tickle human ears by friction of a horse's tail on the entrails of a cat.
– Ambrose Bierce
**********
And the Beat Goes On… If you're a fan of Celtic music and you live in Southern California, then there's a fair chance you've been to see the Battlefield Band in concert. They've been around for ages, and have counted among their members some of Scotland's finest players and singers including Brian McNeill, Alan Reid, John McKusker, Karine Polwart, Davy Steele, Ged Foley, and a host of others. Most of the former members have gone on to carve successful solo careers over the years, with the last of the founding members, Alan Reid, leaving just last year.
The secret of the band's success, I think, is due not so much to their ability to attract top notch personnel, but to their ability to keep up with the times. They were an innovative band from the outset—one of the first to use Highland bagpipes in a traditional band setting. And they've continued to innovate and adapt, as with each new member has come a new twist to their style.
It's one thing to have a legion of fans, but quite another to be recognized by one's peers, especially when those peers are often a generation younger than the band. Given all this, I think it's fantastic that the BB's new album, Room Enough for All, was named album of the year at the 2013 Scottish Traditional Music Awards in December. It's a great album, and the recognition was well-deserved.
**********
Applause is a receipt… not a note of demand
– Arthur Schnabel
*********
An American now living in Scotland, Linda Dewar is a singer-songwriter and a player of various stringed and wind instruments. Besides being a solo performer, she is half of a duo with Scottish singer Douglas Craik, plays in an occasional ceilidh band, and is a founding member of the revue Simply Burns. Visit her website.
https://folkworks.org/wp-content/uploads/2020/10/Battlefield-Room-Enough-275.jpg
275
275
Steve Shapiro
https://folkworks.org/wp-content/uploads/2020/11/FolkWorks-logo-large.png
Steve Shapiro
2013-12-31 10:24:12
2020-11-18 10:23:42
REMEMBERING NELL