LEAD BELLY, DYLAN AND MARLEY – SCANDALIZING THEIR NAMES
Lead Belly, Dylan and Marley:
Scandalizing Their Names
---
Apology: Before I get into the subject of this month's column I owe an apology to the initial subject of last month's column—Emerging Music's publisher Cynthia Brando—whom I initially misrepresented as contacting me without intending to follow through on her request for an interview. In fact she fully intended from the beginning to pursue the subject with me; however, between the time of her first phone call and her second call, I actually wrote most of my column about Jim Radford—the primary subject of the column—and couldn't figure out how to recalibrate the narrative and change the opening without ruining the dramatic element her contact provided. So I let it stand without further thought and revised my assessment and the story's ending by including our subsequent communications. Unfortunately, Cynthia—and rightly so—was hurt that I thus created the initial misimpression that she "was a flake" (her words) and by the time I had corrected that misimpression who knew how many would even still be reading the essay. So I promised her to make a second effort to correct that misimpression in a public apology in my next column, which this is. I should have given this more thought at the time and I am very sorry and apologize to both Cynthia and my readers that a false impression of her credibility as a journalist was inadvertently created in a clumsy attempt at humor. Cynthia Brando had nothing but honorable intentions towards me as a potential interview subject and I should have found a way to make that clear from the beginning of my essay. I am still grateful and thank her for having inspired the title and theme of my essay with the name of her own magazine Emerging Music. I encourage our readers to take a look at it and enjoy a new entry into the field of local music coverage. Thank you, Cynthia, and please accept my apology.
Sincerely,
Ross Altman
---
From the Los Angeles Times Calendar Section front page article by Sasha Frere-Jones on N.W.A's nomination for induction into the Rock & Roll Hall of Fame (October 9, 2015): "Leadbelly's songs about cocaine and barroom shootings are now in the Library of Congress and Leadbelly was a posthumous inductee into the Rock and Roll Hall of Fame. N.W.A released "F—the police" in 1988…There is little so-called protest music with that kind of footprint…If importance and impact and range are the metrics for artists in the Hall of Fame, N.W.A has to be inducted."
I have no opinion on whether N.W.A (who star in the new movie Straight Outta Compton, telling the story of their 1988 debut album) belongs in the Rock and Roll Hall of Fame, but I do have an opinion on whether they belong in the same sentence with America's greatest folk singer (according to Woody Guthrie, not me)—Lead Belly. That would be the folk singer whose theme song—Goodnight Irene—was chosen by Life Magazine as "The Song of the Half Century" in 1950, the year The Weavers recording shot to the top of the charts and stayed there for 13 straight weeks, setting a record that was not broken by Elvis, the Beatles, the Rolling Stones or Frank Sinatra. It remained the longest running number 1 song in the country until 1975, when the BGs surpassed it during the Saturday Night Fever disco craze. The greatest folk quartet of the modern era (according to poet Carl Sandberg, not me) released it just six months after Lead Belly passed away of Lou Gehrig's Disease December 6, 1949—and was on the front page of the New York Times.
But even that may not have been Lead Belly's greatest contribution to the Folk Revival of the 1950s and 60s; his song Rock Island Line became the skiffle hit for Lonnie Donegan that launched the British Invasion who picked up on it (according to the Beatles and the Rolling Stones, not me). They both credit Donegan as a formative influence on their early music—and his entire career was built on Lead Belly's chain gang train song.
But even that may not be Lead Belly's greatest contribution to the Folk Revival: his song Cotton Fields became an international hit for the Beach Boys, their last single, and helped folk music cross over into the pop market—after the Weavers were blacklisted in 1950, could no longer get airplay and had two years of concert bookings cancelled overnight.
And just imagine: not a one of these songs had a word to say about "cocaine and barroom shootings"—which the Times "critic at large" argues is Lead Belly's major reason for being in the Rock and Roll Hall of Fame. Oh my, oh my; sixty-six years after his death and they are still scandalizing his name.
Lead Belly*—King of the 12-String Guitar—also launched Folkways Records (whose entire catalogue is now under the auspices of the Smithsonian Institute) which Moses Asch started for the express purpose of making Lead Belly's music available to the general public. You would think, from their "critic at large" that it must have been his songs about "cocaine and barroom shootings" which drew him to Huddie Ledbetter's music. Alas, no; it was Lead Belly's children's songs—which became Folkways Records groundbreaking release: Negro Folk Songs for Children; sung by Lead Belly; like all of Folkways Records (now Smithsonian Folkways) it is still in print. On that album you will hear songs like Hey, Hey, Skip to My Lou and The Grey Goose. Amazing how Moe Asch could have left out the songs about "cocaine and barroom shootings." He just wasn't farsighted enough.
But I didn't come here just to talk about Lead Belly—who was the subject of last year's major Smithsonian Folkways 5-CD box set retrospective: Lead Belly. I also came to talk about John and Alan Lomax, who according to the Times "critic at large" were "the Lomax brothers," except they weren't brothers—they were father John A. Lomax and his son Alan Lomax. The distinction—other than for simple historical accuracy—is important because they were America's greatest folklorists (according to Pete Seeger, not me). It is particularly important to appreciate their contributions in that this year 2015 is Alan Lomax's Centennial—and it was Alan Lomax (January 31, 1915-July 19, 2002) who played the major role in discovering Woody Guthrie and dubbing him "The Dust Bowl Balladeer."
His father John A. Lomax played the major role in discovering Lead Belly—after having first made his reputation as a folklorist by collecting cowboy songs and publishing his first volume in 1910, with an introduction by President Theodore Roosevelt. He followed that groundbreaking enterprise by pursuing his interest in African-American folk music—which led him to the most notorious prison in Louisiana, Angola**where he first met Lead Belly—and understood immediately that he had found a gold mine of American folk music. He brought his son Alan with him to apprentice him to the life of "a ballad hunter" and teach him how to record in the field.
Alan Lomax devoted a considerable amount of time to challenging just this kind of ignorant sensationalism regarding Lead Belly that wants to see him as a precursor to the "gangsta rap" the Times "critic at large" is determined to make a case for. In the forties and fifties whenever his name was mentioned it was in connection with the crimes he was supposed to have committed, the time he spent in prison and the difficulty of understanding his Louisiana dialect. None of that mattered to the Lomaxes, Pete Seeger or Woody Guthrie, who understood him to be a great American artist, and the folksinger whose protest classic Bourgeois Blues indelibly captured the Jim Crow segregation in Washington, D.C, which Lead Belly encountered firsthand when John Lomax invited him in 1935 to record his vast repertoire for the Library of Congress. In 1936 he released his powerful protest song The Scottsboro Boys on the album Let It Shine On Me—just a year before the last of the original nine accused African-Americans were pardoned. Strangely enough, Lead Belly got through the entire song without mentioning cocaine, barroom shootings, or killing a cop. But he does mention the Alabama racism that convicted them for a crime that never occurred. I guess he wasn't farsighted enough.
Alan Lomax is no longer with us, nor is Pete Seeger, nor is Woody, so their protégées such as me have to pick up the staff and come to Lead Belly's defense once more.
And that brings me to the final concern I have about the Times' front page Calendar story which in one fell swoop manages to drag Lead Belly back to the unenlightened dark ages of the 1950s, '40s and even '30s—when the white press did everything they could to dismiss him as anything more than a novelty act, "The Sweet Singer of the Swamplands" with a murderous past. Sixty-six years after his death he remains America's greatest folk singer. But don't take my word for it; Cat Steven's comeback album—his first in 35 years that launched last year's world tour—is entitled Tell 'Em I'm Gone. The title line is the refrain from the Lead Belly song at the heart of the album—Take This Hammer—which Lead Belly learned on the southern chain gangs where he was the song leader in both Texas and Louisiana prisons.
It's a freedom song about a prisoner saying:
Take this hammer
carry it to the Captain
Take this hammer
carry it to the Captain
Take this hammer
carry it to the Captain
Tell him I'm gone
Tell him I'm gone.
How he got through it without one mention of cocaine or barroom shootings remains a mystery to me. But from Lonnie Donegan to the Beatles to the Stones to Cat Stevens the greatest British rockers and singer-songwriters have implicitly understood what the Los Angeles Times has still to learn—Lead Belly remains the best we have; he is American folk music. But don't take my word for it. Like all the rest Keith Richards put a Lead Belly song—Goodnight Irene—on his brand new album as well.
And how Keith got through the entire song without one mention of cocaine or barroom shootings I'll never know. Perhaps the Times can spend the next 25 years trying to figure it out. Before I wrap this up a few words are in order for two other Rock and Roll Hall of Famers whom their "critic at large" disparages in the opening of his piece, "Why the f—they belong—N.W.A in the Rock Hall? Yes, Its' song on police emboldens generations…
There is little so-called protest music with that kind of footprint."
By "so-called protest music" he manages to scandalize the names of both Bob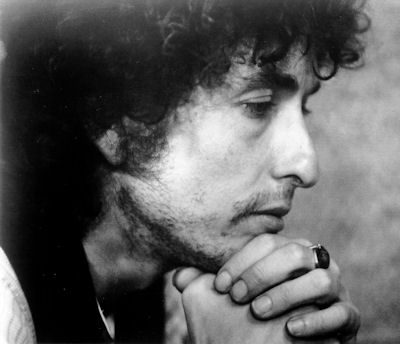 and Bob Marley, about whom the author Sasha Frere-Jones elliptically says, "It's a lot easier to sell the politics of Redemption Song or Blowing In the Wind if you're going to make sententious speech in defense of the band you're welcoming." Well, let me now try "to sell the politics" of two songs that have become American folk songs, beginning with Blowing In the Wind, Dylan's 1962 classic first published in Broadside Magazine edited by Agnes "Sis" Cunningham and Gordon Friesen (though not released until May 27, 1963 on the Freewheelin' Bob Dylan). For this perspective the most important aspect of the song that joined We Shall Overcome as the great anthems of the Civil Rights Movement is perhaps the least understood fact about it: Dylan adapted the melody from the abolitionist slave spiritual No More Auction Block:
No more auction block o'er me
No more, no more
No more auction block o'er me
Many Thousands Gone.
Dylan further evokes the Civil War era of the song's genesis by ignoring altogether the modern symbols of war—such as the Bomb—and reaching back 100 years to the cannonball:
How many times must the cannonball fly
Before they're forever banned?
In a sense Blowing In the Wind is not just a modern freedom song from segregation—it's a freedom song from slavery itself.
That is why its "politics" so resonated with students in the streets trying to "ban the bomb" and black people at the March on Washington marching for jobs and freedom; they had the entire history of slavery on their backs, and not just yesterday's headlines. Straight Outta the New York Public Library, where he did his research, Dylan put his greatest protest song squarely in the middle of America's slow, agonizing progress from slavery to freedom.
In short, it transcends politics—in the same way reggae's founding father Bob Marley's Redemption Song would transcend the Reagan era's decade of greed twenty years later: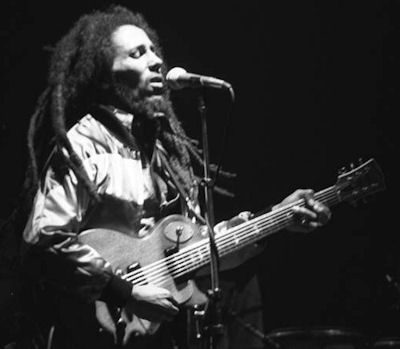 Old pirates yes they rob I
Sold I to the merchant ship
Minutes after they took I
From the bottomless pit
But my hand was made strong
By the hand of the Almighty
We forward in this generation
Triumphantly
Won't you help to sing
These songs of freedom…
Bob Marley also begins his song pre-Civil War, in the middle of a slave ship's Atlantic passage to American soil, telling the story of one slave who becomes his song's narrator. It's a brilliant setting; and the second verse extends the conceit in even more unexpected ways:
Emancipate yourself from mental slavery
None but ourselves can free our mind
Have no fear for atomic energy
None of them can stop the time
It's not enough for Marley to have become emancipated from economic, material slavery; we need to become emancipated from mental and cultural slavery as well. If you want to call that the "politics" of the song, be my guest; but Marley's song has once again stood the test of time because it clearly transcends politics; it's really a song about existential freedom. Its "politics" however you define them will appeal to anyone struggling to overcome oppression—from whatever kind of police state—not just from the police, but from the thought police as well. It's one of the great liberation theology songs of our time.
It remains to be seen whether "F—the police" will hold that kind of place in the country's collective imagination a quarter century from now. And if it does it will owe a great debt to both Dylan and Marley, as well as Lead Belly: for it was Dylan whose 1975 protest song Hurricane actually helped to free a real convict—Rubin "Hurricane" Carter who had been framed by the New Jersey police; and it was Marley—may I remind you—who blazed the trail that N.W.A followed; for it was Bob Marley who wrote I Shot the Sheriff. That didn't need a translator—coming as Marley did Straight Outta Jamaica.
Finally, I would be remiss in not acknowledging that at least two of Lead Belly's songs did include the traditional blues themes of "cocaine and barroom shootings"; a barroom shooting in Duncan and Brady; and cocaine in Take a Whiff On Me (which, however, Lonnie Donegan discreetly deleted to sing it as Take a Drink On Me). However they do not represent Lead Belly's music in the way that the Times sensationalized Calendar cover story indicates—to the exclusion of the spirituals, children's songs, work songs, cowboy songs and sailor ballads, hard times and blues, protest and topical songs, and the all-time great love song from 1912 he gave to the Weavers just before he died that made him the major folk singer of the 20th Century. He ended one of those songs—Fannin' Street, or Mr. Tom Hughes Town—by saying,
If anybody asks you who made up this song,
tell 'em Huddie Ledbetter done been here and gone.
OK, Lead; I told 'em
On my Mt. Rushmore of Protest Music therefore it is still Lead Belly, Woody Guthrie, Bob Dylan and Bob Marley who stand alone. We—including N.W.A—can only look up and admire the view.
*Not to put too fine a point on it, but Lead Belly—not Leadbelly—is how Lead Belly spelled his own name; that is how Smithsonian Folkways spells it in their 5-CD Box Set Lead Belly; that is how it is spelled in his April, 1942 draft registration card (when he was 54 years old); and that is how it is spelled on his tombstone in Shiloh Baptist Cemetery in Mooringsport, Louisiana—in Caddo Parish where he was born.
**Nearly 90 years later Angola is still the most notorious prison in Louisiana—subject of tonight's 60 Minute profile of black death row prisoner Glenn Ford, who spent 30 years on death row before being released with a state pardon after his innocence had been determined through the confession of another prisoner for the crime Ford had been wrongly convicted of by an all-white jury. Ford passed away just three weeks after 60 Minutes interviewed him. Angola—which is the prison of destination for those convicted in Caddo Parish—Lead Belly's hometown—is notorious in part because Caddo Parish is primarily a white town—yet 77% of its inmates are black. That was the situation when Lead Belly was convicted as well—which is why I have always given him the benefit of the doubt with regard to his criminal past. The courthouse where Lead Belly was tried and convicted now has a statue of the musician as a tribute to its most famous native son.
Friday November 20 at 8:00pm Ross commemorates the Centennial of the execution of Labor's greatest troubadour Joe Hill at Beyond Baroque Literary Arts Center, 681 Venice Blvd, Venice, CA 90291 310-822-3006; $10.
Sunday evening December 20 at 7:00pm Ross Altman and a Small Circle of Friends celebrate Phil Ochs 75th birthday with a concert of his songs at Beyond Baroque Literary Arts Center, 681 Venice Blvd, Venice, CA 90291 310-822-3006; $10.
Los Angeles folk singer Ross Altman has a PhD in Modern Literature; for further information about these events Ross may be reached at greygoosemusic@aol.com
https://folkworks.org/wp-content/uploads/2020/10/Lead_Belly-1.jpg
475
400
Ross Altman
https://folkworks.org/wp-content/uploads/2020/11/FolkWorks-logo-large.png
Ross Altman
2015-11-01 05:25:12
2021-04-13 15:01:48
LEAD BELLY, DYLAN AND MARLEY – SCANDALIZING THEIR NAMES