KING'S LAMENT:
Imagining Fiddle Duets into Reality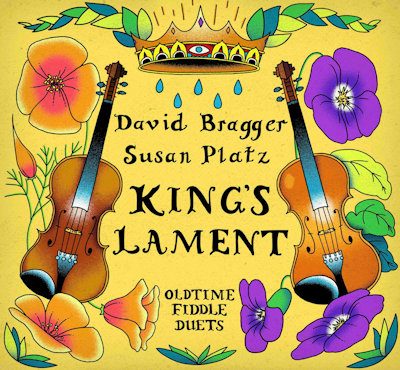 I'm so thrilled to kick off the new year with a very unique labor of love. In early 2017, fiddler Susan Platz and I decided to record a CD focusing on one of our mutual passions: old-time double fiddle music. We've been playing duets together for a few years in concert and even recorded a few tracks on my debut solo CD Big Fancy. To date, there has never been an entire album devoted exclusively to old-time American fiddle duets. So we knew we were exploring new territory.
Over the last 90 years or so, there have been isolated fiddle duets recorded. The first that come to mind are the beautiful ancient-sounding duets of Cajun fiddlers Dennis McGee and Sady Courville. Also, there are some early double fiddle recordings by Bob Walters, John Summers and Jehile Kirkhuff. It is believed by some that there may have been quite a bit of this going on throughout the country, even though the audio record is scant. Most of us are more aware of the modern recordings that feature duets by Dan Gellert & Brad Leftwich, Rafe & Clelia Stefanini, Joel Savoy & Linzay Young, Michael Doucet & Mitch Reed and Tricia Spencer & Howard Rains. They are all inspirations to us.
I had a feeling that not only could it be a great boundary-pushing old-time album, but this type of recording might work on some other levels. We envisioned this CD to function as a superb "banjo" album, simply because there is no banjo on it. It can be played to! Also, we chose some rhythmically complex material with detailed arrangements that can also serve as an atmospheric sonic tapestry for life's background. Something great to read to or entertain with. Wine and cheese anyone?
So for the first six months of 2017, we experimented with repertoire and interesting harmonic ideas to make this album work. We narrowed the list down to fifteen pieces from Kentucky, West Virginia, North Carolina, Ohio, Pennsylvania, Arizona and California. We hammered out the distinctive old-time bowing rhythms and variations through June. One week before departing for the Festival of American Fiddle Tunes in Port Townsend, Washington we recorded for five straight days at the Old-time Tiki Parlour.
Upon returning, we turned to animator/old-time fiddler Nick Bachman for a cover design. Next, we approached old-time artist Howard Rains to design the booklet and create paintings of our musical sources. As usual with these Tiki Parlour releases, the liner notes are extensive and the package showcases real folk art with real folk music.
While teaching at the Berkeley Old-Time Music Gathering, Susan and I met the great WV fiddle master Bobby Taylor. Bobby is also the custodian of the fiddle that belonged to the legendary fiddler Ed Haley. The first track for our CD is Ed Haley's Rebel Raid. Bobby graciously let us play this "holy grail" of fiddles and legendary folk music photographer Mike Melnyk made a photo session out of it. Perfect serendipitous timing for the album, as the booklet was being designed that week. Along with pledges from a Kickstarter campaign we were able to make the project come to life, bigger and better than we anticipated. The official release date is February 2nd, 2018 although it's available for pre-order directly through the Old-Time Tiki Parlour.
David Bragger is a Los Angeles-based instructor and player of old time fiddle and banjo music. He also photographs, films, and collects the lore of traditional artists, from puppeteers in Myanmar to fiddlers of Appalachia The Old Time Tiki Parlour
https://folkworks.org/wp-content/uploads/2020/10/haley_fiddle_color.jpg
237
400
Steve Shapiro
https://folkworks.org/wp-content/uploads/2020/11/FolkWorks-logo-large.png
Steve Shapiro
2017-12-29 04:13:15
2020-11-18 10:22:26
KING'S LAMENT