INTERVIEW WITH KEVIN ROTH
KEVIN ROTH
A Spiritual Journey with the Dulcimer
In the 1960s and 1970s, many dulcimer players developed their style in an isolated vacuum. Maybe we had heard Jean Ritchie or Richard Farina play but most of us developed styles of playing without other dulcimer players around us and without a family tradition. Kevin Roth, living in Pennsylvania, developed a rich chord/melody style of playing with four equidistant strings as opposed to the usual three or four, with the melody string doubled, configuration. He recorded multiple albums on Folkways Records starting at 15 years of age on dulcimer accompanying his deep expressive voice. He then went on to have a prolific and successful career writing and performing children's music in concerts and TV. His newest musical albums, Awakenings and Reawakening, are for adults and express his most recent musical and spiritual evolution. Some good news for the Southern California music community! Kevin is moving to San Diego this May! Let Kevin introduce himself to you through this interview. His entire voluminous repertoire of music can be found on iTunes.
JL: When did you first discover music and the dulcimer?
KR: I started playing the piano by ear at the age of 3 or 4. Then my sister brought home the very first Peter, Paul & Mary album. I was about 4 or 5 and fell in love with their music. Peter, Paul & Mary are my roots. Then comes Judy Collins, Joni Mitchell, the Mammas and the Papas, Sergio Mendez and Dionne Warwick. I wasn't a very happy kid partly because I was dyslexic, artistic, and my mom was physically ill for a lot of my life and passed away when I was 13.
We lived in Philadelphia at the time. At an early age, I enjoyed performing in my elementary school library programs. And then I was introduced to a woman named Anne Stokes who supposedly looked and sounded like Joni Mitchell. I met Anne a few weeks after my mother passed. She was the closest thing to meeting Joni Mitchell that I would come to at that time.
My mother had just died and life wasn't rosy. Anne was playing a four string dulcimer made by a guy from Pittman, New Jersey, named David Field. Simple Gifts and Carry It On were the first songs I heard and I fell in love with the dulcimer. It was an immediate recognition of, "Yeah! This is going to be it!"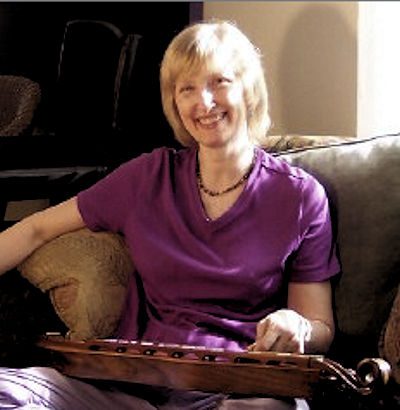 I asked Anne to show me how to get into the music business. She said she was getting out of the music because she had found a guru, Bawa Muhaiyadeen, and she was following his teachings. Because I was so intrigued with both Anne and the dulcimer, I followed her to this guru's place. That threw me into a very spiritual path.
My father remarried and we moved to the country to a place called Kennett Square, PA. I told my high school chorus teacher about the dulcimer, and she said, "There's one of those down the road at the Decoy bookstore." I was shocked to find a bookstore with a dulcimer out in the middle of nowhere? It was an awful dulcimer, but I bought it and Anne showed me how to play.
Because I played the piano and the dulcimer sat on my lap with my hands facing down, I thought of the dulcimer as a portable piano. I immediately taught myself Peter, Paul & Mary songs and I would play anywhere they would let me. I was young. I didn't get along with my stepmother. I had a guru and was trying to figure out if there was something bigger than this earthly life. I was confused about things I was discovering about myself. Folk music and the dulcimer became my escape, my drug.
JL: Would you really call it a drug? Or would you call it a refuge?
KR: Yeah, refuge is right. The dulcimer saved me. I thought that if I could become like Peter, Paul & Mary, or Joni Mitchell, or anyone like that; if I could get rich and famous, that would be my salvation.
I was already being applauded for playing an instrument nobody really heard of. It gave me positive reinforcement while I struggled at home and in school. The dulcimer really was my salvation, as you said, a kind of refuge.
I hadn't heard of Jean Ritchie or Richard Farina or anybody. I was playing with four equal distanced strings instead of the usual three strings with the melody string doubled. I was playing complex chords, and arranging songs like Somewhere Over the Rainbow.
JL: So now you're 15 and still in Pennsylvania?
KR: Yes. And at 15, I decided I was ready for a record contract (we both laugh). I made a reel to reel tape and sent it to Electra, Warner Brothers and Folk Legacy Records. Never heard back from them! I had one tape left and I remembered that the New Lost City Ramblers and Pete Seeger were on a label called Folkways. I sent Folkways my last reel and heard back from Moses Ash, who ran Folkways. He had recorded Jean Ritchie, John Jacob Miles and a mountain dulcimer player named Paul Clayton. Paul, who had just died, had made a great record called: Dulcimer Songs and Solos. I think Moe was looking for a new kind of dulcimer guy and what I did was so different.
He gave me $250 to make my first album and now I was a star in my own little head. I was 16 and I had a record deal. They started to call me one of the "world's leading innovative dulcimer players". The truth was I was innovative, but only because I didn't know what was going on with other dulcimer players on the west coast or anywhere else in the country.
It was 1974 and I decided it was time to get an agent and go on the road. The Mountain Dulcimer was just becoming more known. There were only a handful of dulcimer players at that time that had albums or books. I made a second album called The Other Side of the Mountain. It was a pop album, which Moe kind of laughed at. He knew I was trying to be a pop star on Folkways Records. He knew it would never work but he let me try it anyway. That record actually got radio air play in Philadelphia. I was doing Eric Clapton, other contemporary songs and some originals.
JL: So now you've gone way beyond Peter, Paul & Mary.
KR: Absolutely! But right around the time I was 16, right before my first album, I met a well-known clawhammer banjo player, singer songwriter from Rising Sun, Maryland named Ola Belle Reed. She became like my mother. The reason I'm bringing her up is because she was very spiritual, but not in a religious way. I hung out at her house a lot. I needed a place to go and someone who understood. She had a tremendous amount of empathy and understanding for everyone.
So I had a guru on one hand and this hillbilly banjo player on the other. She was an amazing influence, one of the angels that I've run into. One that was similar to her, but different, was Jean Simmons Jennings.
JL: How did you meet Jean?
KR: At the Ozark Dulcimer Festival in Mountain View, Arkansas. I met her at the McSpadden Dulcimer Shoppe and we sort of adopted each other too. I remember once I was on the plane leaving Arkansas and opened up my backpack. She knew I was very depressed and had placed a card in my backpack that said something like: "Know that you're always loved and you always have a friend." I was well-provided that way with alternate people.
So at about 17 or 18, I made a third album, Somebody Give Me Direction. I got an agent and toured convalescent homes and schools throughout the Midwest. It was a disastrous thing to do to an 18 year old, Jennings because those county homes were really depressing. In between, I'd get a few coffee houses and folk festivals, so that was nice. I wanted to play original songs and songs by Peter, Paul & Mary and Joni Mitchell. But elderly people didn't want to hear that stuff. They wanted traditional music and hymns. I struggled with that for years. By the time I was 25, roughly 1983, I had made about a dozen albums.
In 1979, Bonnie Carol, a dulcimer player and builder from Boulder, Colorado, invited me to the Rabbit Junction Dulcimer Gathering which she hosted. She liked my music but told me" You have a reputation for being distant and not too friendly, so come out and prove them wrong!" I wasn't a friendly kind of guy at the time. The truth was, I was in a lot of pain, whereas people like Doug Birch were all about, "Hey, let's jam!" I was never a jammer. I didn't like to hear a whole lot of dulcimers played at once! But I went and met some great people like Neal Hellman, Doug Berch, Robert Force and Al D'Osche. I actually came out of my shell and had a really great time.
And then one day I learned about the children's music business. I contacted Moe and suggested I make a kids record. He said, "We're not going to do that. You have to have some expertise in that kind of music." I had read an article about a woman named Linda who sold children's books and music in peoples' homes, sort of like Avon. She told me if I made a recording, she could sell it.
Ola Belle's son had a recording studio in the back of their house. I got a bunch of musicians together and told them to do whatever they thought would be fun with the tunes. One of them put a reggae beat onto a tune. It was a bit different and that was fine. My father helped me financially and we put together a cassette called Oscar, Bingo and Buddies. The woman bought a hundred or so of them and sold out! Then she calls me up and says it won the American Library Notable Children's Record Award and that I was booked at the Academy of Music in Philadelphia, with the Philadelphia Orchestra, for their children's concert. I couldn't believe it. The Academy of Music was like Carnegie Hall.
Then Linda got me a contract with CMS Records. The album, Lullabies for Little Dreamers did really well and I started to give kids concerts. Eventually I started my own label and I did about fourteen albums. I was winning awards and getting booked at major concert halls for a lot of money. However, musically I felt demoted because I had to sing She'll Be Coming Round the Mountain when I wanted to sing Joni Mitchell's All I Want. My solution was to disguise my heartfelt songs as teddy bears, animals and trains. I turned my life into an animated children's musical!
One day I got a phone call from a Rick Siggelkow. He was producing a TV show in New York City for PBS called Shining Time Station. He had put his daughter to sleep to my lullaby album, and he wanted me to sing the theme song to the show, and write some music videos as well. That show became huge. What that did for me is I could call any major concert hall and they would book me based on that show. So I went from begging for $200 for a coffeehouse opening act to getting $5,000 or $6,000 a show for singing kids music.
I rode a giant musical wave of successful records, singing the theme song of a successful TV show and doing concerts. Sony Records signed me. Random House signed me. I became rich and somewhat famous, but I wasn't enjoying it. I loved writing and recording songs for children but not performing for them.
JL: So how old are you now in this phase of your career?
KR: Late 20s, early thirties, maybe.
JL: Was your music developing in any kind of direction? Obviously you were writing a lot of songs.
KR: I was still struggling emotionally and spiritually. Early on I felt that fame and fortune would fix me. My whole thing was trying to be a star, because I couldn't handle who I was. The dulcimer was my ticket. It was unusual. I was innovative. Nobody played it like I did. I used it as a canvas to paint on.
JL: So what happens next musically?
KR: Something happened at a concert that changed me. A woman came up to me before I went on stage and handed me a program of her daughter's funeral. Her daughter Marti went to bed with my song Lullaby Bears every night. They printed the lyrics out and played that song during her service. I almost couldn't go on stage because I was in tears. That moment broke through my armor. I realized that what I did had meaning. It wasn't just about money or fame. It was a tender moment that shifted me musically.
In 1986 my father took me to hear Tony Bennett. His opening act was Rosemary Clooney and she sang a little jazz song called But Beautiful. My jaw hit the floor. She sang in a conversational way, and with such honesty. I started to hear music differently. And then I found Shirley Horn and Carmen McCrae. I became a huge jazz listener.
After I made all that money, when I was about 35, I moved to San Diego and retired. I had money in the bank and remember thinking: "Okay, so you spent your life looking for fame and fortune and got it. And you're not any happier."
I moved to Florida, where my father was living, after I lost a lot of money in the stock market and real estate crash. That forced me back to work musically. I set up a tour of the Midwest playing two months of sold out community concert gigs. I thought: "I'm singing the songs I want to sing. There isn't a single children's song in this. I'm getting standing ovations and I'm still miserable". I started to write deeper songs.
At a folk festival in Florida, I met a guitar maker named Ken Miller. One of his guitars looked like a really fat dulcimer. It was a Weissenborn guitar. I asked if he would turn it into a dulcimer for me. He was reluctant but he lowered the strings and re-fretted it. I really liked this huge guitar sound on the dulcimer. I called it a Guitarcimer. I made a new dulcimer album called Strings of Joy, later renamed Dulcimer World. But I really wasn't in the "dulcimer world" anymore. I was still in the kids thing.
In 2014, a business I started with my dad failed, my nine year relationship failed and my closest buddy in the world, my father, died. However, musically I suddenly exploded and wrote and produced the album Awakenings. It was a spiritual record about: "Life is difficult but I think I'm beginning to understand spiritually how this all connects". It was to be my last album, mostly dulcimer. I wanted it very honest, with a sort of painful theme like, "Here I am at this moment. I don't know what's going to happen in my life."
I tried to get some bookings, but bookings were difficult to get. The music business had changed because of the Internet. So I decided to move to Kansas City and stay with my sister while I looked around the country deciding what to do next. Four days after I arrived in Kansas, Peter and Paul (of Peter, Paul and Mary) happened to do a concert there. I saw Paul (who was now a friend and whose real name is Noel Paul Stookey), and he says: "We should take a few songs from 'Awakenings' and combine it with a synthesizer. Are you willing to write a couple more songs for a new album? I thought, "I don't want to do this". And then: "Try. Just write something." And a flood of songs came pouring out. They were songs based around the teachings of Ramana Maharshi, Mooji, Yogananda and Bawa. I had an urge to be more experimental. The new songs were more expressive lyrically and rhythmically.
I sent some songs to Noel and he flipped out. I was so excited because suddenly my hero, my musical root, had signed me to his label and was going to promote my album. Michael McGinnis added synthesizer parts and that became the new album: Reawakenings.
A few months ago, I decided I needed to go back to California, to San Diego. As I got deeper into the teachings of Ramana Maharshi, I had an epiphany. I realized: "Oh… what you've been doing musically and what you've been searching for all your life, you've had all along. There's no separate thing". So I took the dulcimer and I thought, "There's another album in this." A song came and my playing went from intricate to very simple which is actually the reverse of what I was used to doing. When I started at 15, no one was doing the intricate stuff I was doing. Now everyone's doing that and I'm going the other way.
If Awakenings was: "I'm in a lot of pain and I think I know why but I'm not really sure," then Reawakenings is: "This is the reason you are, and this is sort of the way out." I want people to hear the album Reawakenings and be affected. If they're moved an inch toward their own realization of whatever, that's fine with me. I don't have to win any awards. I don't want the music to be about the business anymore. And when I teach, I used to teach just for the money. It's really important for me to teach students how to really feel the music. I try to impart what my voice teacher, Kathryn Barone, taught me. At my very first lesson she said: "Singing is mental, emotional, physical and spiritual. It's so important to feel the music you play. It enriches not only one's playing but also one's life."
The newer stuff, which will be the third and final album in this trilogy, will be: "This is what it is." It's very simple. It's very clear. I had "it" all along. The new album is much more upbeat and will be released next year. I feel that moving back to California is a new beginning blessed with an understanding of life and a totally positive attitude towards my music, career and life in general: like a butterfly emerging.
Website: Kevin Roth
A true creative maverick in the mountain dulcimer world, Joellen Lapidus both embraces the deep rich traditions of the Appalachian Mountain Dulcimer, and creates new traditions. One of the pioneers of an equally rich California Mountain Dulcimer tradition, her rhythmic playing style and elegant shapes and inlaid dulcimers have influenced generations of players and builders. Joellen teaches at McCabe's Guitar Shop and dulcimer festivals from coast to coast. www.lapidusmusic.com
https://folkworks.org/wp-content/uploads/2020/10/butterfly_3.jpg
543
400
Steve Shapiro
https://folkworks.org/wp-content/uploads/2020/11/FolkWorks-logo-large.png
Steve Shapiro
2017-05-02 23:13:43
2020-11-18 10:22:53
INTERVIEW WITH KEVIN ROTH