INTERVIEW ABOUT NEW CD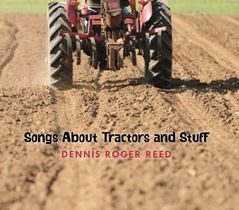 It's my great pleasure to alter the formula of my column a bit this time to interview one of my favorite artists, Dennis Roger Reed. Dennis has been part of the Southern California folk/rock/blues/bluegrass scene since the mid-1970s, and now has three solo CDs released, and performs on three CDs released by roots rock band Blue Mama. He also performed as a member of the bluegrassy Andy Rau Band, and was included in the two CDs the band did for Turquoise Records. He recently released his third solo CD, Songs About Tractors and Stuff.
Folkworks: It's been over ten years since your last CD, Cowboy Blues. What took so long?
Dennis Roger Reed: Well, I was working. I produced a project for Blue Mama called 1-2-3 Go! And when the US economy started to tank, I eventually dropped doing solo project gigs, which meant less trips away from home, but putting my solo stuff on back burner. I live closer to Mexico than Los Angeles, so I eschewed the LA market. No more Boulevard Music, no more Coffee Gallery Backstage, etc. And I landed a job as a bass player in a country bar band and worked very steadily, but not doing my own material, and primarily functioning as the bass player who sang a few songs… not entirely different than when I was in the Rau Band. But the Rau Band did almost all original material and travelled the summer bluegrass festival circuit. The country bar band primarily played bars, though as it turned out I did end up doing a lot of travelling throughout all of Southern California.
FW: So were you gigging with Blue Mama during this time as well?
DRR: No, Blue Mama did an official break up in about 2003, which pulled more press than most of the time the band existed. One of the members ended up writing parts of enough songs for a project, and those songs eventually were used in a play. The play was not formally produced, so we took some of those songs, added new ones, and released that as 1-2-3 Go! We did play a few gigs during that time, but basically the band is on hiatus.
FW: So how did Songs About Tractors and Stuff come about?
DRR: I had started the project around the time Cowboy Blues was released. But the Blue Mama project made me realize that my solo project was even more schizophrenic than my usual stuff. So it was easy enough to take out most of the electric, more rock oriented material, and use that on the Blue Mama project. But once we got done with that, now my solo project was low on material. So I essentially started another project and glued that to my earlier stuff. Since I was using a different band and the songs were more country based, I added my friend Tim Horrigan's song Intermission and created a "double LP" concept on one CD.
FW: So this is essentially two CDs on one?
DRR: Yes.
FW: What are the major differences?
DRR: Although some of the same players are on both, the first part is a bit more folk, and has Dan Fuller as primary percussionist, Jamey Holbrook on bass and Mike Dowling on lead guitar. The second part has Phil Hawkins as percussionist, my brother Don Reed on lead guitar and I play bass.
FW: Any other differences?
DRR: As I previously mentioned (wouldn't it be nice if people doing interviews actually listened to the answers to their own questions?) the second part is a bit more traditionally country based. The first part is more folky, with something a bit new for me, some Celtic type influence. My buddy Marty McPhee, who is by heritage a Scot, and I played an original instrumental that shows our heather based roots, and I visited the Rod Stewart/Ronnie Wood composition Gasoline Alley, but gave it a very Ozarkian spin. Sort of taking the Brit spin on Americana and sending it back… that's my favorite song on the project. I consider it to be my own folk "wall of sound" production, and I channeled my Arkansas background for the vocal. Then as we go to the second "side" the song choices are more country influenced, so along with some originals I do a bluegrassy take on the Byrds' Mr. Spaceman, the Flying Burrito Brothers' Sin City and my brother Don and I rock out on an instrumental version of Shady Grove.
FW: Where do these songs come from? Why did you choose them?
DRR: My parents were lovers of a lot of different styles of music but country was big. We used to attend the Corriganville Sunday picnics that featured artists from Town Hall Party, a live show on KTTV on Saturday nights, broadcast from Compton, CA. Then the next day many of the stars performed at the picnics. And growing up, I was lucky to see the Clarence White era Byrds at the Ash Grove in LA, and the Flying Burrito Brothers both at the Golden Bear in Huntington Beach, and also at my high school graduation night! Country Gazette played a couple of summers at Disneyland, and I had a friend who worked there who could not only get me in for free, but get me "backstage" to the break areas so I could bother the band with questions and ask them to show me stuff… And the guy who taught me the most about guitar as I was a teen had been in a rock band that had to play Louie Louie for 4 hours straight at a sweet sixteen party. He became a country and bluegrass fanatic, so if I wasn't attending a festival with my family, I was attending with his. Like the time we lost track of my buddy's four year old son, but found him backstage on Byron Berline's lap, apparently explaining to Byron why he liked his dad's band better…
Dennis Roger Reed is a singer-songwriter, musician and writer based in San Clemente, CA. He's released two solo CDs, and appeared on two CDs with the newgrassy Andy Rau Band and two CDs with the roots rockers Blue Mama. His prose has appeared in a variety of publications such as the OC Weekly and MOJO magazine. Writing about his music has appeared in an eclectic group of publications such as Bass Player, Acoustic Musician, Dirty Linen, Blue Suede News and Sing Out! His oddest folk resume entry would be the period of several months in 2002 when he danced onstage as part of both Little Richard's and Paul Simon's revues. He was actually asked to do the former and condoned by the latter. He apparently knows no shame.
https://folkworks.org/wp-content/uploads/2020/10/Songs_about_Tractors_and_Stuff.jpg
210
239
Steve Shapiro
https://folkworks.org/wp-content/uploads/2020/11/FolkWorks-logo-large.png
Steve Shapiro
2014-10-22 00:28:56
2020-11-18 10:23:40
INTERVIEW ABOUT NEW CD