I THINK I'LL HAVE… EGGS OVER EASY
I THINK I'LL HAVE… EGGS OVER EASY
My name is Dennis Roger Reed and I have a problem. I am addicted to music. I listen to music, I play music, and I read about music. I have few other vocations or avocations. I occasionally make myself read some American history or some fiction, but not often. Music magazines and books pull from my wallet on a regular basis.
One of the music endeavors I am involved in is finding new music that I like. I have to admit that very little new music moves me. I am often quite aware of the influences being heard, and just as often prefer to listen to the influences. As such, I often look for forgotten music, stuff that just didn't sell when it was released or become well known but is still very good. This, unfortunately, is almost a myth. So when I do discover a singer or group that I was not aware of AND they are very good, I get too excited.
Early this century I became interested in a style of music called pub rock. In Britain, before punk but after the Beatles broke up, a genre of music based on American folk, rock and blues became popular. Truthfully, a variety of styles of music fell into this category, with the common factor being that the music was being played in local pubs. Some of the groups sold a few records, but for the most part pub rock is looked at as a springing off point for punk rock. Names associated with pub rock include Nick Lowe, Elvis Costello, Graham Parker and Ian Drury. Groups included Brinsley Schwarz, Eddie and the Hot Rods, Dr. Feelgood, and Eggs Over Easy. The latter was the only American band in this genre, and arguably, started pub rock. There's a great video retelling of their story here:
So basic story is: American group moves to Britain to make record, deal falls through. Gigs are impossible to find, band gets hungry. Band approaches local pub that features live jazz, lies about being a jazz band and negotiates to play on the slowest night of the week. Band plays their own material and a virtual endless repertoire of American music. Band gets very, very popular, pub is filled, and the idea catches on. But we in the USA didn't really hear much about pub rock or the Eggs. They record an album (actually two, but one doesn't see release the same century) and do not become stars. But their influence is greater than their sales, by far.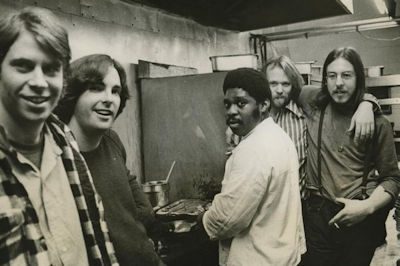 Much of pub rock seems to be an attempt to sound like the Band, but falling far short of the mark. Sonny Boy Williamson once said that British blues musicians wanted to play the blues badly, and they did. The same might be said for the most pub rock groups and their attempt to sound American. But Eggs were different. First of all, they were American. Their failed album (produced by Chas Chandler, the Animals bass player and the man who took Jimi Hendrix to Britain and became Eggs manager) did not see release, so after their return to America they recorded the only album released during their existence, Good N Cheap. This was produced by the band and American guitar legend Link Wray.
Eggs had three songwriters and three lead vocalists, excellent harmonies and some quite decent material. Although some of the songs are "boogie" based and feature rather pedantic lyrics, others are brilliant musically and lyrically. And the subject matter of many of the songs was unique for the time. The song Henry Morgan is a fantastic pop confection about the pirate. Face Down in the Meadow is a song about a suicide, and although handled quite sensitively, it has a catchy melody that could find you singing along about a guy who shoots himself. Arkansas is a folk song, and again, remarkably catchy. Runnin' Down to Memphis includes the brilliant lyric:
I don't know what afflicts me,
but soon I'll be in Dixie…
The album did not sell well, and although the band did tours opening for bands like the Eagles, they eventually threw in the towel. But recent years have been kinder to the Eggs' legacy, which precipitated a band reunion and a much greater knowledge of their place in musical history.
Buy their recordings, and enjoy. Support live music when you can, and remember that if you don't, tribute bands will take over the world.
Dennis Roger Reed is a singer-songwriter, musician and writer based in San Clemente, CA. He's released three solo CDs, and appeared on three CDs with the newgrassy Andy Rau Band and two CDs with the roots rockers Blue Mama. His prose has appeared in a variety of publications such as the OC Weekly and MOJO magazine. Writing about his music has appeared in an eclectic group of publications such as Bass Player, Acoustic Musician, Dirty Linen, Blue Suede News and Sing Out! His oddest folk resume entry would be the period of several months in 2002 when he danced onstage as part of both Little Richard's and Paul Simon's revues. He was actually asked to do the former and condoned by the latter. He apparently knows no shame.
https://folkworks.org/wp-content/uploads/2020/10/GoodnCheap.jpg
400
400
Steve Shapiro
https://folkworks.org/wp-content/uploads/2020/11/FolkWorks-logo-large.png
Steve Shapiro
2017-08-29 01:11:50
2020-11-18 10:22:52
I THINK I'LL HAVE… EGGS OVER EASY