Hear, hear the blood a-leaping
By Linda Dewar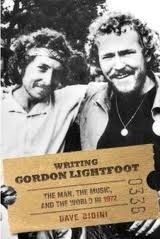 Writing Gordon Lightfoot: I'm writing this in early October, and the release date for this book isn't until later this month, so I can neither recommend nor denounce it, but it sure sounds interesting. Writing Gordon Lightfoot: The Man, the Music, and the World in 1972 is a chronicle of the events leading up to the 1972 Mariposa Music Festival in Toronto, written by Dave Bidini. Here's the publisher's description:
"From acclaimed musician and author Dave Bidini comes a brilliantly original look at a folk-rock legend and the momentous week in 1972 that culminated in the Mariposa Folk Festival.
July, 1972. As musicians across Canada prepare for the nation's biggest folk festival, held on Toronto Island, a series of events unfold that will transform the country politically, psychologically–and musically.
As Bidini explores the remarkable week leading up to Mariposa, he also explores the life and times of one of the most enigmatic figures in Canadian music: Gordon Lightfoot, the reigning king of folk at the height of his career. Through a series of letters, Bidini addresses Lightfoot directly, questioning him, imagining his life, and weaving together a fascinating, highly original look at a musician at the top of his game. By the end of the week, the country is on the verge of massive change and the '72 Mariposa folk fest–complete with surprise appearances by Bob Dylan, Neil Young, Joni Mitchell, and yes, Lightfoot–is on its way to becoming legendary."
**********
And speaking of Gordon Lightfoot, I've just learned that Terry Clements, Lightfoot's lead guitar player since 1970, passed away earlier this year.  He was a brilliant player, with a distinctive style that became a hallmark of the Lightfoot sound both on recordings and in live gigs. Dare I admit that I first heard his playing on an 8-track tape?
**********
Mondegreens from kids: Mondegreens, those mis-heard and twisted lyrics, are particularly funny when they come from the innocent minds of children. Here are a few of my favourites:
* Waltzing Bright and Beautiful (All Things Bright and Beautiful)
* Mary's boyfriend  Jesus Christ… (Mary's boychild Jesus Christ)
* The ants are my friends, they're blowin' in the wind  (no need to tell you, right?)
* Mine eyes have seen the glory of the coming of the Lord; He is trampling on the village where the great giraffe is stored… (again, no need to translate)
And one that comes from my own dear husband, who when he was a child growing up in Scotland heard the line "Hear, hear the blood a-leaping" from Scotland the Brave as: Hear, hear the bladder leaking, much to his mother's great mirth.
**********
Crossover sounds: We hear a lot in the folk and world music communities about "crossover" sounds, usually referring to bands like Afro-Celt Sound System that combine two or more genres. Sometimes, though, the crossover occurs via the introduction of a particular instrument to an established genre. One obvious example is the bouzouki, which started out as a Greek instrument but is now a fixture in Irish and Scottish folk.
The latest example seems to be the cajón, a type of box-drum that has been in use for years in both Peru and Cuba. It's a large, hollow wooden box that's played by someone who sits on top of the box striking it with his hands and rocking it to create the sound. The cajón made a logical transition into flamenco music quite a while ago, but it's now starting to appear in genres as diverse as Celtic, Zydeco and even some types of jazz. I was going to put a link to some examples here, but there are so many it's impossible to choose. Instead, try this link. The Wikipedia entry can be found here.
**********
The first record to receive a gold disc was "Chattanooga Cho-Cho" by The Glen Miller Orchestra in 1942, it sold 1.2 million copies.
The Everly Brothers world hit "Bye Bye Love," was rejected by 30 labels before Cadence Records picked it up.
An American now living in Scotland, Linda Dewar is a singer and a player of various instruments with strings and keys. Besides being a solo performer, she plays in the Scottish band Togarrach, and is a founding member of the revue Simply Burns. Visit her website.
https://folkworks.org/wp-content/uploads/2020/10/Writing_Gordon_Lightfoot.jpg
239
160
Steve Shapiro
https://folkworks.org/wp-content/uploads/2020/11/FolkWorks-logo-large.png
Steve Shapiro
2011-11-01 19:36:01
2020-11-18 10:24:17
hear the blood a-leaping