FOR MERLE HAGGARD ON MY BIRTHDAY
For Merle Haggard On My Birthday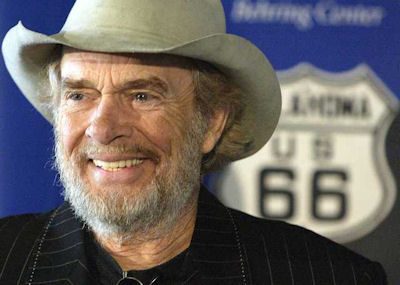 A native of Oildale, California, graduate of several juvenile detention centers, postgraduate studies at a maximum security prison, his resume wasn't exactly a career path to country music stardom. It's very fashionable these days to call oneself an "outlaw," but only one artist served real time—in San Quentin no less. He doesn't live in Nashville, or even Texas, like all the other "outlaws," so where does he get off calling himself a country singer? Well, for starters he writes as good as Hank Williams, sings as good as George Jones and picks as good as Merle Travis. So you know I'm talking about Bakersfield's national treasure—Merle Haggard: the only country singer who, with a nod to Ol' Blue Eyes, eschews cowboy hats and wears a fedora.
I expect to celebrate my 68th birthday the same way I have for the past three years—by myself. So I started looking around to see if there is something special I might do to ease the loneliness, and found out that Merle Haggard is singing on my birthday, December 9. Who better to celebrate my birthday with, I thought, than one of my favorite singers and songwriters and guitarists for the past 40 years—the Okie From Muskogee, a song this aging hippie has enjoyed singing ever since it came out in September of 1969 with its counter-counter-culture take on the Woodstock Generation:
We don't smoke marijuana in Muskogee
We don't take our trips on LSD
We don't burn our draft cards down at the courthouse
'Cause we like living right and being free.
It didn't bother me that he also wrote The Fighting Side of Me taking aim at the antiwar movement and other members of the counterculture. Nor was I surprised that he finally became one of us in opposing Bush 2's Iraq War—with That's the News.
His classic country standards such as Mama Tried and I Think I'll Just Stay Here in Drink transcend clear genres and reach out to anyone with a heavy heart. His great tribute album to the Singing Brakeman Jimmie Rodgers—Same Train, Different Time—is one of my favorite folk albums—with a nod to Bob Wills and his Texas Playboys.
So let me put it right out there on Front Street: with the passing of Johnny Cash and George Jones (during his Farewell Tour), Merle Haggard is the greatest voice in Country Music—and I'll stand on Willie Nelson's coffee table in my cowboy boots and say that (with apologies to Steve Earle). He is the standard against which all others must be measured—his whiskey-soaked, Oklahoma dust-blown, San Quentin-stained hard times voice of Are the Good Times Really Over. When you hear that voice—even two notes of it—you know that you can trust it—for its honesty, compassion and directness. When Bob Dylan wrote a powerful song about the hard times working class Americans were facing in the economic meltdown of 2008 he knew in whose shoes he was standing—so he called it Workingman's Blues #2. Merle Haggard wrote the first. Dylan played it at the Dolby Theatre in Hollywood last October 24th—taking a page out of Merle Haggard's playbook, bringing a hardcore country sensibility to the urban elite. That's a good barometer of how far down the economy has turned. See my Dylan review to get what Paul Harvey would call the rest of the story.
Like Gordon Lightfoot and John Prine, both of whom I have also reviewed recently, Merle Haggard has had two near-death experiences to be grateful for surviving—lung cancer and what may have been a twice-mistaken diagnosis of a severe heart ailment that turned out not to be. They put the fear of God in him and resulted in him becoming a born-again Christian. Let him find peace where he can, I say. His own words are delightful enough to bring a smile to your skeptical face: "It's almost embarrassing to know that the Lord cares that much for me. But I am gonna shout it to the entire world. He healed me either at my request or someone else's." Folk and country singers have been keeping Him mighty busy of late.
The hard life of a troubadour seems axiomatic after learning that three of my all-time favorite singer-songwriters almost died five times among them while still in their sixties. It's enough to make anyone grateful for every day they have on planet earth. I know I am.
Merle was born to do what he's doing—like his namesake country music legend Merle Travis (who died on my birthday in 1983 at 75) and who remade the guitar-playing standards of an entire industry from flat-pick Carter family strumming to finger-style "Travis picking" that showed the guitar capable of being a solo instrument and not just for backup rhythm accompaniment. Merle Haggard is in that new tradition—with Chet Atkins, Doc Watson and his son Merle (named for Merle Travis). Gone are the days when it was enough for a country singer to just stand at the microphone holding a guitar for decoration—which so many of them did—modeling themselves after Elvis Presley.
Merle turned his life around while in San Quentin for robbery in 1958; he met death row inmate Caryl Chessman and realized where he could be heading if he didn't. That same year he heard Johnny Cash sing at San Quentin and suddenly saw a different future for himself. Just like Robert Frost's poem The Road Not Taken, Haggard was standing at his own personal crossroads and with the help of the Man in Black made the right choice. As Frost said, "that has made all the difference."
When Hag was touring with Joan Baez a few years ago, and with Dylan a few years before that (the last time I heard him perform) Joan was kidding him about his right wing records that seemed to no longer reflect his politics or personal lifestyle—especially since he acknowledged smoking marijuana just like "those hippies out in San Francisco do." When she asked him why he never criticized President Reagan even when his policies hurt the working class he claimed to stand for, Haggard had the perfect comeback: "Joan, Reagan pardoned me." True; back in 1972 when he was Governor, Reagan used his powers of pardon on behalf of Haggard to free him from his past. And clearly one of Hag's cardinal virtues is loyalty.
Merle Haggard was honored by the Kennedy Center on December 4, 2010 for contributions to American culture and Kris Kristofferson and Willie Nelson paid tribute to him during the ceremonies, joining the likes of Pete Seeger and Bob Dylan. Not bad for a kid from Bakersfield who defined a new sound in country music—making it the West Coast outpost from Nashville and the Texas Outlaw movement earlier. It had a harder edge with Haggard's signature Fender Telecaster that spoke to the same kind of working class Dust Bowl refugees Woody Guthrie had sung for a generation before.
Merle Haggard is a great musician as well as a great singer and songwriter. He plays fiddle too—well enough as I said to put you in mind of the late great Bob Wills. What a treat it will be to hear him.
Come my 68th birthday on Tuesday, December 9, I know where I plan to be—at the Canyon Club in Agoura Hills watching this American Original who went from San Quentin to the White House as a perfect gift to myself. It's a supper club and I already checked their menu; I'm going to have the Thai BBQ Glazed Salmon Filet and Pancho and Lefty by Townes Van Zandt for desert, if Hag is taking requests. He and Willie sang it on their duets album, Pancho and Lefty—two great outlaws singing about two great outlaws. Does it get any better than that? Not in this lifetime.
Sing me back home, Merle; sing me back home.
See you in 2015; if we make it through December.
On Wednesday, December 24 from 5:00 to 9:01pm at the Friends Meeting House at 1440 Harvard St in Santa Monica Ross Altman will host a musical and spoken word commemoration on the Centennial of the Christmas Truce December 24 1914 when troops on both sides of No Man's Land in Europe spontaneously laid down their arms and declared a Christmas Truce. Soldiers from Germany, England and France all sang Silent Night and other Christmas carols, swapped cigarettes and chocolates and played football. It was a bright moment during a dark time, when John Lennon's imagined better world, however briefly, came true. It is not to be forgotten and on the Centennial will be remembered with songs and stories as timely today as during World War I. $5 requested.
Ross Altman has a PhD in Modern Literature; Ross may be reached at greygoosemusic@aol.com
https://folkworks.org/wp-content/uploads/2020/10/Merle_Haggard.jpg
285
400
Ross Altman
https://folkworks.org/wp-content/uploads/2020/11/FolkWorks-logo-large.png
Ross Altman
2014-10-29 04:07:09
2021-04-13 15:01:49
FOR MERLE HAGGARD ON MY BIRTHDAY