FIELD TRIP
When I was a little girl singing with the family on our front porch summer evenings, I used to wonder whether the people and the happenings in our old-time songs were real. Did beautiful ladies always live in castles? I had never seen a castle — log and frame houses, sitting by dirt roads — that was the main kind of building in Viper, Kentucky. Just what did a ship look like, and could a man really die for love alone? Why did so many of our songs talk about London Town? And Dublin City? And Bonny Scotland?
Thus begins the story of how Jean Ritchie began an epic journey to the shores of Ireland, Scotland and England to find out where her family songs had come from. There were so many that they collected and, as she writes above, the origins were so foreign to her experience growing up in the mountains of Kentucky. She continues below:
In my college days, I became interested in the songs themselves, and this interest took the form of collecting them from all my kinfolks and neighbors around us, setting down words and tunes so that they would not be lost. In doing this, I learned more and more about the history of the Ritchie family, and was not surprised to find that our ancestors came over on a British ship, back in 1768. Our family songs, then, must be representative of the people and their doings in and before that time, I reasoned. For, until fairly recently the mountain people have been more or less shut away from the rest of the country, by the natural barriers of the narrow Cumberland ridges, and so had kept pretty much to old-country manners, and ways of working, playing and singing.
Realizing this, I came to have as my main desire in life a trip through England, Scotland and Ireland. Then I heard about Fulbright grants. Friends encouraged me to apply and it was a happy day when the letter came informing me that I had been awarded a grant which would allow me to travel for a year around the British Isles, meeting the rural people and studying their music. My husband George Pickow, magazine photographer and journalist, came with me, so that we have a fine pictorial record of our year, in addition to miles of beautiful tape recordings.
Of course, it is frustrating to be limited by lack of space on a record. The few songs we were able to squeeze onto a twelve-inch disc represent only a fraction of the amount of material we would like to include here. It was equally heartbreaking for me to leave the British Isles after one short year; I had only scratched the surface as far as collecting was concerned. Personally, however, the trip was deeply satisfying. Singing with Mrs. Cronin, or Jeannie Robertson, listening to Johnny Pickering's fiddle, sitting with families and friends gathered around the many fireplaces in the lonely cottages, I had the warm feeling that I was back home in Kentucky, that these were my kin-folks, and I knew I had found what I had come searching for — I had found my roots, and the sources of my songs. – Jean Ritchie, 1954, original liner notes to Field Trip.
The Sources of My Songs
One of the most important and unique contributions to American folklore field research into the area of historical origins was the culmination of a rare project for an American folk music performer. Jean Ritchie applied for a Fulbright scholarship in 1952 and was awarded this honor with the stated mission of spending an entire year traveling the British Isles to discover the origins of her family's vast treasure trove of old country ballads, play party tunes and other bits of musical folklore that they grew up with and collected.
It started as a chance encounter. Jean and her husband George Pickow were entertaining friends in their Greenwich Village apartment in early 1952.These friends had just returned from Italy where they had been studying on a Fulbright scholarship. They at one point turned to Jean and said about the scholarship: "you should do something with your folk music. It's a field that [the Fulbright organization] hadn't granted one in yet."
The headline in the newspaper story read:
128 SAIL TODAY IN FULBRIGHT PLAN A green-eyed, red-haired Kentucky mountain girl, fourteenth in a family of fourteen, who sang Elizabethan ballads together while doing dishes or working in the cornfields, will sail for England today to do some academic sleuthing into the origins of such songs. A tape recorder, a dulcimer and a guitar will be the most important things in her luggage. She is off to explore the theory that the mountain songs of Kentucky are descended, to a great extent, from the ancient folk songs of Ireland, Scotland and England.
Indeed, when Jean began her study she began to uncover the fact that some of the songs she was researching had been around for over 300 years. The result of her groundbreaking year of study was the album Field Trip released in 1959 on the Folkways record label.
From Folkways' website:
In 1952, Jean Ritchie—iconic folksinger and dulcimer player from Kentucky—received a Fulbright scholarship enabling her to travel to the British Isles to trace the origin of her Kentucky versions of songs and compare them with British versions. During the course of her travels, she and husband George Pickow, with the assistance of prominent British folk song authorities, made many field recordings, some of which appear on this album. The collection includes old British ballads, drinking songs, children's songs and games, hand bell ringing, dance tunes, lyrical love songs, and an excerpt from a Mummers' Play. Instruments include fiddle, Northumbrian small pipes, melodeon, and pipe and tabor (drum). The liner notes, written by Ritchie, provide background information and lyrics about each performance.
Originally released in 1954, as a result of a song collecting trip, was one of the first collections to bring traditional Southern and British ballads to a wider audience. Jean Ritchie, from a musical family in Viper, Kentucky, was, moreover, not only a song collector, but a representative of the musical tradition she was studying. Traveling to the British Isles, Ritchie sought the sources of the kinds of songs that had been in her family for several generations. She gathered some of the results on Field Trip, pairing them, when possible, with her performances of American versions of the songs.
In the early 1950s, when folk singer and scholar Jean Ritchie was in college, she longed to journey to the British Isles to investigate the same musical connections that Francis James Child had explored almost 100 years earlier. Like Child, Ritchie was interested in mapping the songs she knew as a child back to their original origins, and eventually earned a Fulbright grant to visit Europe and document her findings. While Child's five-volume book English and Scottish Popular Ballads was groundbreaking in its unprecedented ability to draw connections between ancient and far-reaching folksongs, Ritchie planned to record these similarly rooted ballads and present the songs in groups so that the listener could hear the similarities themselves."
And that's what she did do: This seminal collection includes many obvious antecedents to her own songs: The Cuckoo's Nest by Jimmie MacBeath in Scotland was obviously a precursor to her song The Cuckoo and her Froggy Went A-Courting was compared to Seamus Ennis in Ireland with his Uncle Frog Went Out to Ride. Then there is Elizabeth Cronin in Ireland singing A Maid in Her Father's Garden followed by Jean doing A Pretty Fair Miss.
But the greatest comparison comes with the song Barbara Allen. The first version on the album is sung by Jimmy Stewart in Scotland with his own tune, which is followed by Elizabeth Cronin in Ireland with her Barbara Allyn using a different tune, and the last version is Jean's, her Appalachian version of the same story, listed as Barbry Ellen. It's fascinating to hear the song move from one country and one generation to the next, each with its own melody and style and word changes. It's almost like listening to different languages, but this is the sound of oral tradition and the lasting legacy of folklore, and the enduring power of music to transcend time and place.
I remember Jean telling us the story of visiting Sarah Makem in her cottage in Ireland. Sarah was herself a ballad singer and provided a vast trove of songs for the research. Sarah's youngest son, the shiest one, was Tommy, who would only sing for strangers if he could do so while standing behind a door so as not to be seen. Of course we all know now how Tommy Makem came to America in the early '60s and enjoyed a brilliant career in this country with the Clancy Brothers. So he must have gotten over his shyness!
In my research I uncovered two separate album releases, one called Field Trip – England and one called simply Field Trip. I asked Jean's son Jon Pickow about this and this was his reply (the "they" he refers to are his mom and dad):
Originally, they planned to release three Field Trip albums. They started their own label called Collector's Limited. I don't have a copy of the original CL disc, so I'm not sure what was on that. I have some vague memory of the Field Trip England being called The Lark in the Morning originally. I think the Folkways version came after…The one that was called just Field Trip is all Ireland, with mom sing[ing] her family versions between…I don't know why the Scottish one never got done. We put a collection of the Scottish material together in the 80s, but for some reason, never got around to putting it out.
You can find the album Field Trip – England here. On this site, Folkways offers a PDF download of Jean's original liner notes and for this scholarship, this is a very unique opportunity.
George Pickow's seminal photography that accompanied Jean's travels would itself be collected and archived. In 1996 the Ritchie Pickow Phototgraphic Archive was acquired by the James Hardiman Library, National University of Ireland, Galway, along with tapes of sound recordings.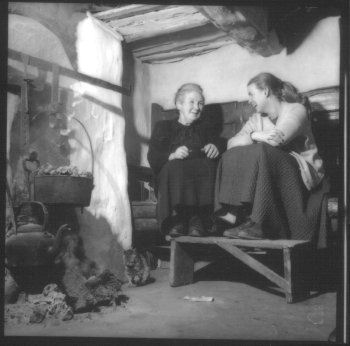 Regarding the photographic essays, this from the Hardiman Library website about the George Pickow collection: The photographs were taken and the recordings made by the husband and wife team George Pickow and Jean Ritchie on visits to Ireland in 1952 and 1953. Two exhibitions of the Ritchie Pickow Photographic Archive have been held at NUIG in 1992 and 1996. It was under the auspices of Dáibhín Ó Cróinín, lecturer in the History Department of the university and a grandson of one of the vocalists recorded by Jean Ritchie, that the collection was acquired for the Library Archives….Jean Ritchie, singer, folklorist and dulcimer player was…awarded a Fulbright Scholarship to enable her to research the origins of her family.s songs in Great Britain and Ireland. Her husband George Pickow, a photographer, accompanied her and they spent approximately eighteen months recording folk songs and traditional musicians and taking photographs. The photographs include photographs of many well-known uileann pipe players, for example Seamus Ennis, Michael Reagh, the McPeake trio, Leo Rowsome; vocalists, including Elizabeth Cronin, Sarah Makem and Mary Toner and story tellers, such as Patcheen Faherty from the Aran Islands.
As well as assisting his wife in her research George Pickow also used the opportunity to do features on aspects of Irish life. Christmas celebrations with straw boys and wren boys, life on the Aran Islands, Dublin scenes, the American Ambassador and his family in Ireland, the story of St Patrick, the development of Dublin Airport, operations of the Garda Síochána at Dublin Castle, and Irish sporting activities, such as road bowling, hurling, coursing, hunting and racing. Photographs were also taken of traditional Irish crafts, for example spinning, weaving, thatching and crios and sliotar making. In a video recording made with George and Jean Pickow in the early 1990s regarding their visits to Ireland, George says that these photographic stories were for the Sunday News in New York.
You can visit the photography archive here.
TRACKS ON FIELD TRIP on the Greenhays Label (Number 726):
1. Pretty Polly – Jean Ritchie
2. On The Banks Of Red Roses – Ella Ward
3. The Cuckoo's Nest – Jimmy Mac Beath
4. The Cuckoo – Jean Ritchie
5. Bog Down In The Valley-O – Seamus Ennis
6. Tree In The Valley-O – Jean Ritchie
7. Barbara Allen – Jimmy Stewart
8. Barbara Allyn – Elizabeth Cronin
9. Barbry Ellen – Jean Ritchie
10. Froggy Went A-Courtin – Jean Ritchie
11. Uncle Frog Went Out To Ride – Seamus Ennis
12. Orange And Lemon – Dianne Endicott
13. Needle's Eye – Jean Ritchie
14. A Maid In Her Father's Garden – Elizabeth Cronin
15. A Pretty Fair Miss – Jean Ritchie
16. Bonaparte's Retreat – Johnny Pickering
17. Bonaparte's Retreat – Jean Ritchie
18. Derru Gaol – Sarah Makem
19. The Hangman Song – Jean Ritchie
20. When My Apron It Hung Low – Jeannie Robertson
21. Careless Love – Jean Ritchie
I found this album on Amazon, by the way, so if you're interested, visit here and get your own copy:
Award-winning recording artist and critically-acclaimed Bluegrass powerhouse vocalist, Susie Glaze has been called by BLUEGRASS UNLIMITED "an important voice on the California Bluegrass scene." Her album "Blue Eyed Darlin'" was the winner of the Just Plain Folks 2006 Music Award for Best Roots Album and Folkworks Magazine's Pick for Best Bluegrass Album of 2005. "One of the most beautiful voices in bluegrass and folk music today." (Roz Larman of FolkScene). Susie's new release "Green Kentucky Blues" and additional recordings can be found at www.susieglaze.com.
https://folkworks.org/wp-content/uploads/2020/10/COLUMN-SINGIN-Field_Trip_Michael_Reagh-SMALL.jpg
312
280
Steve Shapiro
https://folkworks.org/wp-content/uploads/2020/11/FolkWorks-logo-large.png
Steve Shapiro
2014-04-30 08:20:00
2020-11-18 10:23:41
Field Trip