CLOSE ENCOUNTERS OF THE NICE KIND
CLOSE ENCOUNTERS OF THE NICE KIND
When I think of the most fulfilling parts of my musical career, among those that warm the cockles the most are the encounters with musicians that I have admired. I've been very lucky to live near a music venue that has touring acts on an almost nightly basis, so I've had opportunities to open for many of my own idols. And I've been fortunate to be in several bands that opened for great musicians, or played at festivals with great musicians. Whenever a musician that I admire has treated me as a peer, I've had trouble fitting through doors due to having, as my grandma used to say, the big head. When this happens, it serves to justify the effort I've given to something I deeply love: music. It also serves to allow me to shamelessly name drop in the pathetic hope that people will see me as a better person because I know these "famous" people, even though many of them wouldn't remember me without a deep hypnotic trance. The name dropping hasn't worked yet, but you know what they say about the definition of insanity.
Steve Gillette served as an early mentor for me. As he has been known to say about me, I grew up listening to his music, both as a recording artist and as a working musician. I have always enjoyed seeing Steve perform at a folk clubs or performing arts centers, especially with his better half Cindy Mangsen. Although I seriously doubt Steve shares my fondness for a particular gig of his, I still cherish the memories of his days singing in a steak house lounge in Orange, CA. Aside from honoring the requests for his originals from my cadre of friends, we got to hear him playing some of the hits of the day with his own spin. Amazing how many of those songs sounded better in that lounge with Steve singing them than they did on the original artist's recording. Later when I got to know Steve, he was instrumental in helping me to find my own voice as a songwriter. He was always willing to offer ego deflating advice if it was warranted, and tell some of the worst jokes on the planet.
I can't recall when I first heard Chris Darrow's music… maybe on a PBS televised Berkeley Folk Festival with the proto-world music band Kaleidoscope. By the time he released his first solo record, I was already a fan. That recording remains a desert island disc for me. Years later I moved to San Clemente, CA and found he was a resident as well, and got to see him play a few times at local clubs. But I actually met Chris much later through the magic of the internet, when an Australian writer gave me Chris' contact info. Chris graciously played on two of my recording projects, and proved to be a delightful person with an engaging personality. As songwriter Patrick Brayer once said, whether on a recording or live show, every note Chris plays or sings sounds like it was already mastered, pressed and released.
One of the first big names I opened for was J.J. Cale. His band consisted of all legends: Spooner Oldham on keyboard, Steve Douglas on sax, Tim Drummond on bass, and Christine Lakeland on guitar. J.J. was playing a Casio (!!) guitar and his sound check was lengthy, but well worth it. And he and a couple of band members sat on the stairs to the stage and watched most of our set. At the time I didn't realize how incredibly rare that was, and have come to appreciate it greatly.
Marcia Ball is a consummate blues performer, with an effervescent stage presence. I've opened for her several times at clubs and festivals, and she never ceases to amaze. She once mispronounced my name on stage and an audience member corrected her. As soon as her encores were completed, she came to my dressing room to apologize! We spent some time comparing notes on changes with an upcoming festival we both had played in the past, and she was only extricated when her manager found her and reminded her that there was an audience buying CDs and wanting autographs downstairs.
A band I was in was playing at a big outdoor festival opening the main stage for Little Richard and B.B. King. Bo Diddley took the time to tell one of our band members that he thought our band was really good. Since Mr. Diddley had a reputation for being somewhat irascible, his comments were greatly prized.
I took a last minute gig opening for Rodney Crowell and his band, but initially said no to the offer. I had a gig some distance away that day and opening for Rodney would require Herculean effort in Los Angeles traffic. After about 40 seconds of second thought, I called back and eagerly said yes. Turns out the opening act on Rodney's tour was ill and I was doing a big favor by filling in. We were graced with a very long set as openers, and the band I had cobbled together the night before played well. The audience enjoyed us. Rodney and I chatted before the show, and he visited our dressing room to commend us after our set. His show that evening was one of the best performances I've ever witnessed, with Will Kimbrough playing absolutely perfect lead guitar. Rodney literally pulled special guest Rosemary Butler out of the audience for an impromptu set of soul standards! It made for a very special night. Cue head swelling.
David Nelson (of the New Riders of the Purple Sage) stepped out of a reception line after a gig to make sure that my brother heard him say "You are a PICKER!" High compliment from someone who is quite a rock world renowned picker.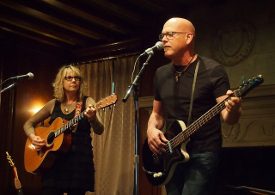 Probably my favorite interaction was with Don Dixon and Marti Jones. Although Don is a consummate artist and songwriter, he is probably better known as a producer, having done projects with R.E.M., the Smithereens, Chris Stamey and James McMurty. Don bounded off stage during their sound check (!) to introduce himself and chat about my music. After our set, he ran up the stairs to our dressing room to overinflate our egos with compliments about our performance. During our set, I'd had some trouble keeping my guitar in tune and said "Sorry folks, I'm actually here just for the tuning." During their set, Marti was having the same problem, and said "As Dennis Roger Reed said…" And it got a laugh a second time.
When one of my gigs draws 14 people, a club audience talks during my set, or the full tip jar is sixteen crumpled one dollar bills, I can find an inner peace thinking about these encounters.
For us to continue to have live music venues, people need to attend shows. I can't recall any time that I have attended a live music show and afterwards thought "Boy, I really should've stayed home and watched television, updated my Facebook page or trimmed my toenails instead of going out." And if you enjoy the show, besides purchasing any product for sale, take a moment to tell the artist. It actually means a lot. While I'm ranting in a style somewhere between Andy Rooney and Grandpa Simpson, take your kids with you to live music shows if the venue is kid friendly. I cherish music because my parents planted seeds to nurture a love of music: by listening to records, the car radio and most importantly by attending live music events. Some of my most vivid childhood memories are of music shows and of the times I had interactions with the musicians. So drag your complaining children along. Leave a legacy of music, it's a great one.
Dennis Roger Reed is a singer-songwriter, musician and writer based in San Clemente, CA. He's released three solo CDs; appeared on two CDs with the newgrassy Andy Rau Band; three CDs with the roots rockers Blue Mama; a Swedish roots compilation CD called Rockin' at the Barn Volume 4; and one CD with blues roots band Suitcase Johnnie. His prose has appeared in a variety of publications such as the OC Weekly and MOJO magazine. Writing about his music has appeared in an eclectic group of publications such as Bass Player, Acoustic Musician, Dirty Linen, Blue Suede News, and Sing Out! He's performed at venues and festivals throughout the US and Canada. His oddest folk resume entry would be the period of several months in 2002 when he danced onstage as part of both Little Richard's and Paul Simon's revues. He was actually asked to do the former and condoned by the latter. He apparently knows no shame.
https://folkworks.org/wp-content/uploads/2020/10/DonDixon-MartiJones-sm.jpg
195
275
Steve Shapiro
https://folkworks.org/wp-content/uploads/2020/11/FolkWorks-logo-large.png
Steve Shapiro
2018-02-25 05:44:06
2020-11-18 10:22:26
CLOSE ENCOUNTERS OF THE NICE KIND