AUBREY ATWATER:
NEW ENGLAND TO APPALACHIA
Joellen: What musical paths led you to the Appalachian dulcimer? You're from Rhode Island. That's almost as far away from Appalachia as California.
Aubrey Atwater: My parents each married three times and there were a lot of older kids. One sister policed my record collection and required me to listen to artists like The Youngbloods and Joni Mitchell. So I started following Joni Mitchell, James Taylor, Cat Stevens, Crosby, Stills, Nash, and Young, and Stevie Wonder. My mother listened to Peter, Paul, and Mary, and my step-father played ukelele and sang wonderful, corny, sentimental songs. He listened to folk music like Pete Seeger, Tom Lehrer, and The Kingston Trio. Those were some of my folk music beginnings. At 11, I learned some guitar chords, but for a long time didn't do anything with them. At 15, I got a Beatles book and had a moment that was a huge turning point. One song only had two chords and showed an easy way to play them. I started to sing and play instantly. It was a defining moment because I didn't know I could sing yet. That was 37 years ago and I've been playing and singing ever since.
The first time I met a mountain dulcimer was at Brown University in Providence, Rhode Island, in 1986. My roommate introduced me to the music of Pentangle, Steeleye Span, Fairport Convention, Richard and Linda Thompson, and John Renbourn, some of whom played dulcimer. A friend of hers had a dulcimer. He taught me two Steeleye Span songs and I was smitten. I found it natural and intuitive to play, especially because I already played guitar.
There was a dulcimer shop near our house in Philadelphia called The Flop-Eared Muse. I bought a dulcimer, and on the spot the shop owner taught me The Hound Dog Song and a unique version of Forked Deer, both pieces I still play today. After that, I heard Sally Rogers and Lorraine Lee (now Lorraine Hammond), play dulcimer, both of whom are now mentors and friends. I was attracted to the dulcimer because of its unique appearance and the fact that it is NOT a guitar, which so many folk singers played. I liked the idea of playing something different.
At 19, I spent a year in Europe. That was my introduction to traditional Irish folk music, which was another epiphany. So I set out to learn traditional Irish songs. Later on my parents bought a house in Ireland. I would visit and my mom and I would bring back recordings of traditional Celtic singers and musicians like Mary Black, De Danann, Delores Keane, Maura O'Connell, Christy Moore, Andy Irvine, and Paul Brady. Later Elwood, my husband, and I would discover a whole lot of other Celtic and English groups when they came through New England. We were very involved with a folk club, Stone Soup Coffeehouse, in Providence, for about 20 years. It still exists in its 4th decade.
During those years, we put on 35 concerts a year of musicians from the United States and beyond. We also ran folk festivals here in Rhode Island, and Elwood ran two other venues, so we were always getting submissions of new and interesting recordings.
JL: I listened to your newest album, The World Is Old Tonight, and watched a lot of your videos. It seems like almost everything you play is traditional music of one kind or another.
AA: True. I started out as a singer songwriter, but now I'm very focused on researching and interpreting traditional songs. A lot of it comes from our travels and the time we spent around Jean Ritchie. Joni Mitchell and Jean Ritchie are two of my biggest role models. We knew Jean Ritchie for the last 23 years of her life, and spent a lot of time hanging out with her and other Ritchie family members.
I met my husband, Elwood Donnelly, in 1987 at the Stone Soup Coffeehouse. We went to folk concerts every week. Then he started booking performers and we were steeped in the American and international folk scene for a long time.
JL: On one of your videos I heard you say that you learn most everything by ear and not from written music. Do you teach that way too?
AA: I teach both ways. I've learned to transcribe what I play and often find out what I've done after the fact. I play in about 20 tunings and have figured out enough of the music theory behind all this that I can field most questions in classes. I teach many different workshops, for example: "Images of Women in Traditional Folk Songs", "Songs of the Sea", or "Tunings and Modes". I think I have a reputation on the dulcimer circuit for playing in a lot of tunings and some people love that and some ask anxiously, "Am I going to have to retune?" We just do it and they're happy and proud and pleased with themselves when they do it.
JL: Can you say a little bit more about how you would describe how you play?
AA: Well, I play a lot of of songs with 4 equidistant strings. I fingerpick and have a whole finger style that would be too difficult to tab out exactly. Not everybody wants to play with 4 equidistant strings, play in lots of weird tunings, so sometimes I pare things down to be fair to the students but also to myself. It's hard to teach exactly the way I play, and I also tell people not to worry about mimicking anybody 100%.
I get asked a lot to do workshops on the "Songs of Jean Ritchie". I love doing that. Both Elwood and I have made quite a study of her and her husband, George Pickow. We knew them really well and I am absolutely fascinated by her life and partnership with George. Huge role models for me and Elwood. I feel like I'm part of a select handful of people in the dulcimer circuit and beyond that have that depth of knowledge about her and her music.
JL: Did you ever get to meet Joni?
AA: No I haven't. I know you have, right? You sold her a dulcimer.
JL: She was like a mentor to me for a number of years.
AA: I got the idea to use many tunings from Joni Mitchell. Are you familiar with Ani DiFranco? She's another big influence. She's a radical feminist singer songwriter who also plays in a lot of tunings on her guitar like Joni. She's a very strong aggressive player with a huge following. She completely created her own fame and success without ever signing with a label. She has an amazing story. She had a lot of issues around fame and activism. She had to deal with hate mail. I never met her but she's such an intelligent woman and I love what she has to say.
JL: Is politics at all involved in your music?
AA: That's a good question. I did a political album in my 20s, then I morphed into traditional music. I think my biggest political statement is completely subtle and lost on some people. I'm the front person in all our band combinations, and I'm a very strong confident female. I play five instruments, dance, sing and narrate. I'm out there. There's still not a ton of women doing that. It's not balanced. There are so many band combinations where the men are in the front. There are plenty of strong women out there, and I watch to see if the women are confident up there on stage. I've mentored lots of younger women and girls over the years. That's been my form of activism. Jean was an interesting activist. She wrote powerful, incisive songs about the destruction of beauty. That was her way of getting her point across about the coal mining industry.
I learned about Jean Ritchie when I was about 27. I got a book that talked about the bouncing of the music from the British Isles to America and back, and there was a piece on Jean Ritchie. And then all of a sudden, I had to meet her.
In order to meet her, I drove all the way to Hindman, Kentucky in 1992 for a week long festival. Meeting Jean was another incredibly defining moment. That was when we morphed over from straight English and Celtic music to old time American folk music. Our focus has stayed largely on the music of the Ritchie family and old time music since. I learned the banjo. I learned to clog. We just love Kentucky and all of that old time hospitality and warmth. In my 2nd year at Hindman [Hindman Settlement School], Jean asked me to take over her dulcimer classes. I was a fairly new dulcimer player back then. Last month was my 25th year on staff at Appalachian Family Folk Week at Hindman.
JL: Well you know that Jean didn't really play a complicated dulcimer. She just used it to accompany her singing. Her voice was the real instrument.
AA: One of the coolest things I learned from her was using the dulcimer as a harmony voice. I tell my students: "Just listen to Jean Ritchie, listen to Joan Baez accompanying herself on the guitar . It doesn't have to be super fancy to be fabulous". And as much as I might be a student of Jean Ritchie and the Ritchie family all these years, I also believe you can do whatever you like with the instrument. I say that all the time in workshops. People have notions of what they are "supposed" to do. That's what's cool about the dulcimer. I preface a lot of my lessons with "If you take a class from me, you are going to learn one thing one way, and if you take a class from someone else you might learn different fingering. They might even contradict what I say." In a way it teaches you to have a mind of your own when you play the dulcimer. Just glean what you want from each person you learn from.
JL: I'd like to change the subject to your new album, The World Is Old Tonight, which I think is just phenomenal. Can you tell me how it came to be?
AA: It was a long time in the making. We usually take maybe a year to do a studio album. We started in 2012, and it took almost 4 years. We went back and forth with ideas and took our sweet time, which I think is one reason why I am so happy with how it came out. But what was also going on during that period was that a lot of people we loved died. My father died in 2012, and if you look at the CD dedication it mentions a six friends and family members who deeply supported us who died during that time. It just laid me flat.
As time went on, the CD started to take focus. When it came out last month it had a feeling of a phoenix rising out of the ashes. A time of grieving and growth; feeling like something beautiful came out of something very sad. Jean Ritchie died last year on June 1st, the same day my father died 3 years earlier.
Then we got a note from the CD manufacturer: "Your CDs will be arriving June 1st". That was really profound.
JL: Tell me how Elwood coming into your life affected your music.
AA: I was really young, 23, when we met, just really forming. We both got into traditional Celtic and old time music together. We have always influenced each other. I quit my day job in 1993, and he quit his day job in 1997, and we've been full time touring musicians ever since. We spur each other on in so many ways. He has a thing for the Carter Family, for example, and so while I've done a lot of particular research on Ritchie family music, he came out with a book of Carter Family songs on the dulcimer two years ago. We've produced 13 albums and 7 books. We've been together almost 30 years, married for 27, and just really like each other. It's a great gift that we've been able to play and travel together like this, and that our voices have such a nice natural blend.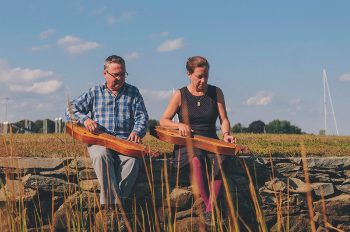 J:What kind of dulcimer do you play?
AA: I play a George Haggerty dulcimer. He lives in Vermont and worked for Folkcraft for a time. He made me a dulcimer 20-25 years ago and I've used it ever since. I'm one of those people who, once I get an instrument I love, I keep playing it. I've also played the same banjo for 24 years.
JL: You play in many different tunings and don't perform with multiple dulcimers? You play on one dulcimer and retune?
AA: Yes. It's amazing that the dulcimer tolerates that. I use somewhat heavy strings. I'll tune almost an octave range with one string, which is almost unheard of. I do break strings sometimes. I also go from 4 equidistant to a 3 equidistant setup quickly by leaving my middle string in the groove closer to the bass string.
JL: I didn't ask you much about your clogging. When did you start?
AA: When I went to the Hindman Settlement School to meet Jean Ritchie in 1992, I stumbled upon people that were flatfooting so I learned how to flatfoot that year.
JL: Is flatfooting different than clogging?
AA: Flatfooting is the more simple, freestyle form of what you think of as old time clogging. I learned from a few people that first year, and then as we travelled, I would meet cloggers and they taught me steps. I learned to dance on the road, and over the years I developed this special 10-minute monologue that I do on stage. I dance and talk about the history of percussive dance and how I learned each step. And that's turned out to be one of our best showpieces. That routine catapulted us into getting more gigs and now people often associate me with dancing.
JL: Where do you see yourself going from here? Do you have any new projects? Is it mostly promoting your new CD?
AA: That's an interesting question, because what we did this summer, for the first time in 20 years, was not pursue as many long distance gigs. We're staying at home in our own bed for seven weeks with a little bit of fetch. Do you know that term?
JL: No, I don't.
AA: I live a block from the salt water, and my father was a sailor. It means you can see way out into the sea. I have a bit of free time to decide what I want to do next. It's a nice word for artists. When you have fetch, it's a time to relax your mind, think about what you want to do next without any pressure and with the satisfaction of knowing you've just completed a big project and done it well.
Visit Aubrey Atwater's website for more information.
Joellen Lapidus will be appearing at a house concert in Santa Monica with the Ballona Gypsy Band on September 17. Click for more info and tickets.
A true creative maverick in the mountain dulcimer world, Joellen Lapidus both embraces the deep rich traditions of the Appalachian Mountain Dulcimer, and creates new traditions. One of the pioneers of an equally rich California Mountain Dulcimer tradition, her rhythmic playing style and elegant shapes and inlaid dulcimers have influenced generations of players and builders. Joellen teaches at McCabes Guitar Shop and dulcimer festivals from coast to coast. www.lapidusmusic.com
https://folkworks.org/wp-content/uploads/2020/10/AtwaterDonnelly-sm.jpg
232
350
Steve Shapiro
https://folkworks.org/wp-content/uploads/2020/11/FolkWorks-logo-large.png
Steve Shapiro
2016-08-27 01:37:25
2020-11-18 10:22:54
AUBREY ATWATER