2 HOT HAWAIIAN HAPPENINGS
2 HOT HAWAIIAN HAPPENINGS
I know, I know. I write a lot about Hawaiian music. But these two winners deserve your consideration. Who knows? You could change your tune. They are the 2017-18 Aloha Concert Series at the Shannon Center for the Arts in Whittier between October and May, and the Southern California Slack Key Festival at the Redondo Beach Performing Arts Center on Sunday, January 14. Both offer a chance to hear superb musicians, many winners of Hawaii's prestigious Na Hoku Hanohano music awards and some with Grammy nominations. In addition, they provide a taste of the culture out of which their music has emerged.
Entering the lobby of the Shannon Center to attend an Aloha Series concert means stepping into a Hawaiian space. Near the door, an artisan stands behind her table of tempting Hawaiian crafts and jewelry. Further on, a display of intricate leis in various tones and color combinations attracts customers and admirers. At the kama aina table, an elderly member of this Hawaiian mainlander club sells macadamia nut cookies, plastic bags of fresh poi flown in from Kauai, and kalolo, a tasty poi-based cake. Proceeds will support the Aloha Series.
To understand the dynamics of a typical Aloha Series performance, consider the season opener by celebrated vocalist Raiatea Helm. Her performance was incredibly generous. For a total of roughly two hours, she stood at the microphone, singing traditional Hawaiian numbers and accompanying herself on the ukulele, backed up by an acoustic instrumental trio. There was no opening act, no instrumental-only piece, no special guest performer to relieve her. In the Aloha Series, only rarely do special guests join the show. But during every show, hula dancers accompany some of the music (or vice versa). Whether they are from local halau or have travelled from Hawaii, they beautify the stage with graceful movements and gorgeous costumes. It also bears mentioning that, according to island-based acoustic musicians I've interviewed, "playing Whittier" is the beginning of "making it" in on the mainland.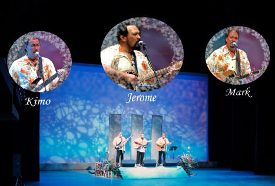 You can still catch the other four shows in the series. On December 9, the spunky trio Maunalua makes its Whittier debut. Tight vocal harmonies and a blend of slack key guitar, ukulele, and electric bass provide support to leader Bobby Moderow's soaring falsetto do splendid justice to treasured Hawaiian-language songs.
On January 20, 2018, the legendary Makaha Sons offer a different vibe. Original member Jerome Koko founded the Sons in 1976 with four other musicians, among them Israel "Iz" Kamakawiwoʻole. With talented new musicians making up for attrition, the group continues to mesmerize audiences with its unique sound, creating moods that range from jubilant to dreamy to haunting. Koko intersperses musical numbers with storytelling and playful jibes which don't even spare the hula dancers.
One of the most eclectic and dynamic entertainers to emerge from Maui takes charge of the Whittier stage on March 17. Multi-instrumentalist and vocalist Willie K. pours forth not only traditional Hawaiian numbers but also serves up helpings of blues, jazz, funk, and salsa. In fact, a few years ago I heard this brilliant comic storyteller perform the tenor aria Nessun Dorma from Puccini's opera Turandot. The rendition was gorgeous and didn't contain a single satiric moment. Although his cultural roots are unmistakable, one does not have to be a Hawaiian music devotee to thoroughly enjoy the art of Willie K.
On to May 26. The melting vocals of Robert Cazimero interpreting songs from his "home in the islands" (a title of a Cazimero song) is known to give listeners what Hawaiians call "chicken skin" – goose bumps. Furthermore, he also is an icon of the hula world. He formed Hawaii's first all-male halau in 1975 and feature members of his acclaimed Na Kamalei performing modern and ancient hulas as well as joining their hula kumu in several vocal numbers as he accompanied on the piano.
Until a few years ago, this musician-kumu was one half of the Brothers Cazimero, for decades considered ambassadors of the Hawaiian Cultural Renaissance. When illness forced Roland to withdraw, Robert developed an identity as a solo performer. Like Jerome Koko of the reconstituted Makaha Sons, Cazimero has found new ways to perpetuate Hawaiian cultural traditions.
Aloha Series Concerts always take place on Saturdays with performances at 2:00pm and 7:30pm. For details, consult their website.
The Southern California Slack Key Festival focuses on a single Hawaiian musical tradition, showcasing the talents of several acclaimed slack key guitarists on a one Sunday afternoon. For a decade, masters of this open-string tuning style have journeyed from Hawaii to perform in Redondo Beach, among them Cyril Pahinui, Led Kaapana, George Kuo, Jeff Peterson, Jim "Kimo" West, and Makana. The 11th Festival welcomes back Jeff Peterson, a guitarist celebrated for his versatility. He brings to the art of slack key the influence of music he heard while growing up in Maui's cowboy country on the slopes of Haleakala. Compositions he interprets and composes also contain elements of the jazz and classical genres he has come to embrace. Mainlander Jim "Kimo" West, known both here and in Hawaii for his superb technique and soulful playing style, is returning as well. He discovered slack key during long sojourns in Hana, Maui, where he met Hawaiian musicians. He spent listening to recordings of slack key legend Gabby Pahinui and was inspired to embrace the guitar tradition. West maintains a dual-career as a slack key guitarist and principal backup electric guitarist for none other than Weird Al Yankovic.
At every Slack Key Festival, new faces grace the stage. Ikaika Marzo, known by his peers as "Mr. Firework Fingers," is a descendant of Hawaiian families who played traditional music in their remote community of Kalapana; this was the childhood home of slack key legend Led Kaapana. Ku`uipo Kumukahi, famed as a vocalist, guitarist, and ukulele player, is one of the talented female Hawaiian instrumentalists who has gained recognition alongside their male counterparts. The Festival usually includes performers from outside the slack key genre. The ever-popular Ho'okena joins the line-up this year. During some three decades, the focal group has varied in composition and size over the years. Now downsized to a trio, it still performs under the leadership of founder Horace K. Dudoit III.
Slack Key Festival founder Mitch Chang provides a cultural context to the performances through on stage. The set for last year's event was particularly effective – the back of a wood-frame house and accompanying yard. This represented a typical environment where extended families would sit around on lawn chairs and jam, a musical tradition known as kanikapila. In fact, it was probably the kind of setting where dozens of slack key tunings were created and treasured by families for their distinctive emotional tones. This year the Festival will feature this same set with some minor modifications.
Like the Aloha Series, this event extends beyond the stage. An array of clothing, crafts, and other items convey the Hawaiian groove as do tempting island snacks. The festive crowd is a cultural display in itself. A host of ticket-holders arrive wearing flowing Hawaiian dresses, flower hairpieces, lei and/or Aloha shirts. On the sidewalk outside the theatre, they greet one another with hugs. Inside the lobby, they chat in clusters until show-time.
The VIP Reception on the evening before the performance, held at a restaurant, gallery, or other stylish location, definitely kicks the Festival t up a notch. Many concert-goers eagerly pay extra for a premium experience: "Mixing and mingling with the artists, kanikapila-style jams, 'ono (delicious) food & prize giveaways PLUS the best seats in the house at Sunday's main performance – no wonder this unforgettable event sells out every year!"
For details on this event, consult their website. For a taste of the event, check out this video:
That's the skinny (perhaps slightly wider) on two hot Hawaiian happenings. Partake if you wish. Mahalo for reading. Aloha for now!
Audrey Coleman is a writer, educator, and ethnomusicologist who explores traditional and world music developments in Southern California and beyond.
https://folkworks.org/wp-content/uploads/2020/10/Robert_Cazimero_-_sm.jpg
365
275
Steve Shapiro
https://folkworks.org/wp-content/uploads/2020/11/FolkWorks-logo-large.png
Steve Shapiro
2017-10-27 09:37:33
2020-11-18 10:22:52
2 HOT HAWAIIAN HAPPENINGS