TOMMY EMMANUEL CGP, AT THE SMOTHERS THEATRE
FEATURING SPECIAL GUESTS JIM AND MORNING NICHOLS
PRESENTED BY LISA SMITH WENGLER CENTER FOR THE ARTS PEPPERDINE UNIVERSITY
THURSDAY, DECEMBER 12, 2019, 8pm
The Thunder from Down Under
Maybe there's a better guitar player on Pluto, or Saturn, or Jupiter, but down here on Planet Earth Tommy Emmanuel is the best we got. He inspires adulation: "There's Tommy and there's everybody else," wrote one reviewer. That would be Certified Guitar Player (CGP) Tommy Emmanuel, so named by Mr. Chet Atkins—the greatest in history. He appeared for the eighth time at Pepperdine University's Smothers Theatre. Opening for him were Jim and Morning Nichols, he a great guitarist on both acoustic and electric guitars, and she a jazz vocalist of the first order. They did a forty-five minute set that made you realize how remarkable Tommy must be—for any other guitarist would have been intimidated by how good he was.
One especially good number was The Third Man Theme—an Orson Welles classic film noir also starring Joseph Cotton with a most memorable film score. The music featured an instrument heard almost nowhere else—a zither, performed by Anton Karas, which director Carol Reed happened to hear him play at a Viennese beer hall, and signed him on for the film. Jim Nichols did an arrangement of its signature theme that made you believe you were seeing Orson Welles atop the Ferris wheel as he recites one of the most famous speeches in all of film:
"You know what the fellow said: In Italy for 30 years under the Borgias they had warfare, terror, murder and bloodshed, but they produced Michelangelo, Leonardo da Vinci and the Renaissance. In Switzerland they had brotherly love--they had 500 years of democracy and peace, and what did that produce? The cuckoo clock." (Author Graham Greene says this speech was written by Welles.)
Listening to Nichols play this haunting melody from postwar Vienna recaptured the mood of one of my favorite movies. He made a guitar sound like a zither. It was surprising and unforgettable. Then Morning Nichols sang Gershwin's music for Summertime, with lyrics by Dubose Heyward (the only song Ira Gershwin didn't write.) Her voice was soft and mellifluous—and the only jarring note was in the lyrical change she made to two words—unfortunately the two most important words in the song: instead of "Rise Up Singing"—the source title of the Sing Out Songbook is this classic Gershwin lullaby—Morning Nichols says "Wake up singing," which was a considerable let down. Perhaps she is French—since she also sang a flawless French song as an encore—which might explain it. C'est la vie:
One of these mornings you're gonna rise up singing
You're gonna spread your wings and take to the sky
But until that morning there's no one can harm you
With Mama and Papa standing by.
Jim Nichols let the audience know he was playing it in "Drop D" tuning—which he had picked up from Chet Atkins—just one of many arrangements he had adapted from the master.
Then they joined forces for the most beautiful version of The Gift to be Simple—which you have never heard before in such a sweeping guitar and jazz vocal—far more than the usual unaccompanied shape note version we hear at folk festivals. And yet, with its theme of simplicity, it lives up to its delicate message. Jim and Morning Nichols showed you what a great song it is—both its melody and lyrics in perfect harmony. They couldn't have ended on a better note.
After a brief intermission Tommy Emmanuel came out and reminded us what we were waiting for. And he did it with the most seemingly innocuous song of the night—Jingle Bells. But he recreated a whole sleigh ride with just his guitar—as we all went
Dashing through the snow in a one horse open sleigh…
His complex finger-style guitar orchestration made the bells and bobtail ring like Christmas. It was stunning and beautiful—just magical. We settled in for a wonderful concert.
His first observation was "It's a full moon tonight—so anything can happen." But he didn't just say it; he looked up longingly at the ceiling—as if to conjure a full moon. He got us all thinking about it. And then, before we knew what was happening, he made my companion Jill Fenimore's night - he launched into the Delmore Brothers and Doc Watson's Deep River Blues, as if we had never heard it before. And once you've heard Tommy play it you realize there are some notes, and triplets, and arpeggios that you haven't heard before. It was a crescendo of sound—and lightning fast chord progressions that rivet one's imagination to the acoustic fret board on stage. You have to hear it to believe it—and even then you wonder—"Did he just play what I think he played?" You can't be sure.
And then, as if this was a mere warm up, Tommy segues seamlessly into Doc's Guitar, from Doc's first eponymous Vanguard Album. I've even fooled myself into thinking I was playing it—with its descending bass runs that fade into a minor passing chord before returning to the C major. Yes, I thought I could play it once—until I heard Tommy Emmanuel play it like Doc—and then embellish it with notes that even Doc would have been challenged to duplicate. Tommy raised the bar on folk music's greatest guitarist. It was a lesson in humility.
If you've only heard Tommy Emmanuel on one of his many PBS Specials then you really haven't heard him. You need to hear him live to fully appreciate the volume of sound that explodes from one acoustic guitar. He started out in Australia as a rock guitarist, playing in a succession of bands, including one of their best known—Dragon. He supplemented those with studio jobs before going solo. But even though strictly acoustic, he is still a rock guitarist at heart. Thus my review title—The Thunder From Down Under—which followed last year's The Wonder From Down Under. Call it the full moon effect.
Tommy typically doesn't give you the titles of most of his songs—suffice to say they represent a variety of all kinds of music—pop, rock, flamenco, blues, gospel (he did an Amazing Grace that was truly amazing), folk and aboriginal styles—in which he does several pieces that avoid music altogether but create percussion effects on guitar. And every song is remarkable for his endings—they come to a stunning close—reinforced by his well-scripted light show designed by his touring light crew—who come all the way from Chicago and Kansas City to help Tommy put on a great show. His sound man also comes from Chicago. A Tommy Emmanuel Concert is orchestrated from beginning to end—with the light show and sound effects to match. This was his eighth concert in Pepperdine—and we are so lucky he still makes time for us—for a two-night stand in December to sold out houses.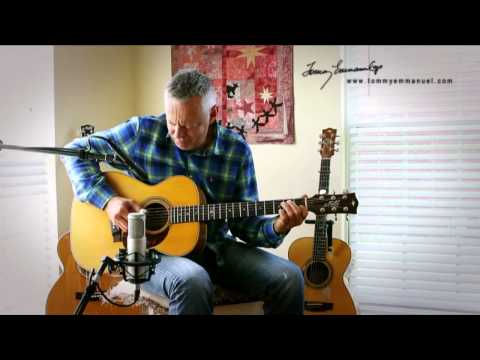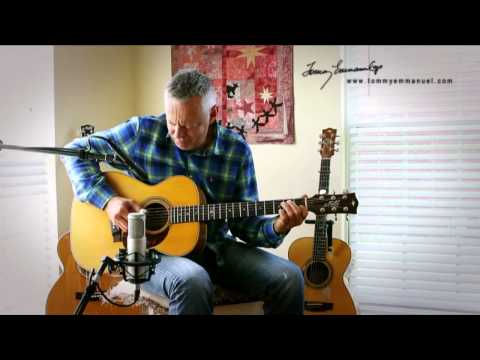 After asking us if there any "Rolling Stones" fans in the audience—he said, "Good! Here're some Beatles' songs for you." And then he started with When I'm 64, (he's now 64) before doing an instrumental medley of A Hard Days Night, Michelle, and Lady Madonna—Tommy's Beatles Songbook. You couldn't ask for more. The only thing missing from the show was last year's tribute to the great American cowboy—John Wayne—complete with his signature walk. I guess he doesn't like to repeat himself.
He closed the show with the one genre he saved for last—a polka which somehow folded into a reworking of Rudolph, The Red Nosed Reindeer—to come full circle and leave us with a Christmas classic.
A thunderous standing ovation brought him back for two encores—the Guitar Boogie by Jeff Beck and his gentle incandescent lullaby for his daughter Rachel—just sublime.
Jill was smiling throughout—just thrilled to be there—one guitarist to another. We couldn't have had a better time. I checked my watch as we walked out to the parking lot—exactly 10:44. His planned schedule for the whole concert was 2 hours and 45 minutes—45 minutes for the opening act—15 minute intermission—and 1 hour and 45 minutes for his second act. It seemed completely spontaneous—but finished one minute ahead of schedule. Tommy Emmanuel is a class act.—beginning to end. Don't miss him!
With thanks to Tyler Flynn and Tyler Gabbard for the generous press passes and perfect aisle seats. The Steep Canyon Rangers will be there January 24.
Ross Altman has a PhD in Modern Literature from SUNY-Binghamton (1973); belongs to Local 47 (AFM); heads up the Santa Monica Traditional Folk Music Club; he writes for FolkWorks - Ross may be reached at This email address is being protected from spambots. You need JavaScript enabled to view it.