TOMMY EMMANUEL IN CONCERT
Pepperdine Smothers Theatre - January 20, 2016
Certified Guitar Player and a Class Act
The Grand Canyon, the Hanging Gardens of Babylon, the Pyramids of Ancient Egypt, the Colossus of Rhodes, the Sphinx, to those and the other 8 Wonders of the World you can add Certified Guitar Player Tommy Emmanuel, who gave a spectacular concert last night (January 20, 2016) at the Pepperdine University Smothers Theatre in Malibu. In sheer virtuosity it was beyond anything these old eyes have ever seen; it was not only a virtuoso guitar performance, it was musically beautiful with, as one listener said, "cascading harp tones," powerful, uplifting, lyrically sensuous, and what Hemingway called a moveable feast—ranging all over the world for inspiration and sensibility. There were classic guitar rags, blues, jazz instrumentals, an original tribute to John Wayne's great Irish film (made by John Ford) The Quiet Man—called—what else?—The Duke, complete with an utterly charming and endearing impersonation of the Duke himself. And there were deeply felt tributes to Emmanuel's own early sources—Arthur "Guitar Boogie" Smith, Merle Travis, Chet Atkins and Jerry Reed. Tommy is a master teacher as well as a master showman.
Tommy Emmanuel, from Sidney, Australia is a maestro of many different kinds of guitar playing—both fingerstyle and flatpicking, the latter of which he featured in a brief workshop within the concert—slowing it down and explaining like a magician the tricks of the trade. It was both delightful and inspiring. He almost made you believe that you could do it too—with a combination of dedication and determination—the two key words he had embossed on his Tommy Emmanuel guitar straps for sale out in the lobby.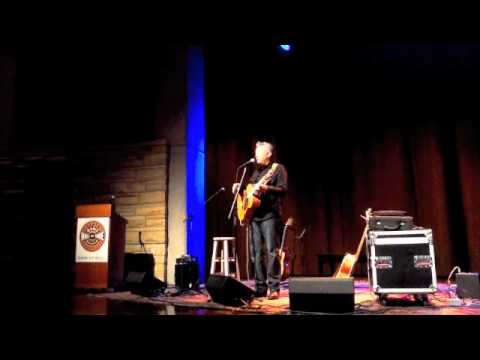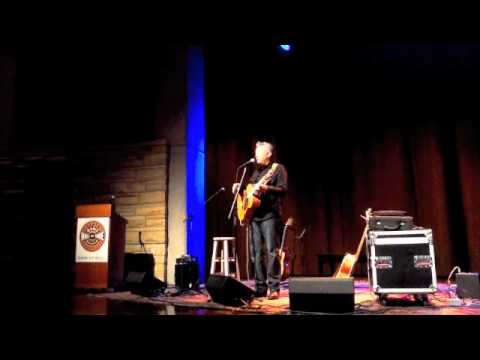 It was Chet Atkins himself who bestowed the title "Certified Guitar Player" on Tommy, saying there were only a handful of players in the world worthy of it. "CGP" is also proudly embossed on his guitar strap. Perhaps the most moving tribute of the night was Emmanuel describing a long-ago day in Sidney, Australia in 1969—driving around the quaint streets in an old two-seat Fiat searching for one thing—Chet Atkins' latest record. When he finally tracked it down it was like John Sutter discovering gold in 1849—he couldn't take his ears off it. There was a guitar instrumental he had never heard before—by Jerry Reed called Struttin'. And when Tommy Emmanuel plays a piece like that it's like watching a museum docent showing you a great painting—he both plays it pure—so you hear it and become immersed in its every musical detail—and somehow he also shows it to you—so you can appreciate it from a distance as well. It's almost magical how he gives you the music from its interior and lets you see it as you might appreciate a rare work of art from the outside. His love for everything he plays shines through each performance and makes you fall in love with it too.
Chet Atkins final album was a duo project with Tommy Emmanuel, made in 1997 and fabulously and optimistically entitled The Day Finger Pickers Took Over the World—symbolically passing the torch of fingerstyle guitar master to Emmanuel. It is still in print and available on his website. It has a delightful cartoon cover showing two great guitarists literally "sitting on top of the world." Which I suppose makes now as good a time as any to tell you my favorite Chet Atkins story. "Mr. Guitar" was on the road staying at a hotel and practicing out on his second floor room balcony. A guest from the adjoining room leaned out from his balcony and said, "You know, mister, you're pretty good on that guitar. You're no Chet Atkins, but you're pretty good!" Seeing is not always believing, not when you're right next to an artist whose reputation is larger than life.
But compared to television it's a vast improvement. Tommy Emmanuel has been on a number of PBS Specials over the past few years, and as enjoyable as they are to watch, and despite the fact that the view is in a sense far better with the camera able to zero in on close-ups unavailable to the naked eye in the back of a theatre, nonetheless there is something that Marshall McCluhan's "medium-is-the-message" cannot convey. McCluhan—the great literary and cultural critic from the University of Toronto— imaginatively described TV as a "cool medium" which tends to distance the viewer emotionally from its subject. You notice the truth of that brilliant observation when you see an artist like Emmanuel in live performance. With nothing but three acoustic guitars on stage practically as soon as he walked onto it the air was charged with electricity. And it only got more intense as the performance developed—perfectly paced with high voltage numbers offset by lovely reflective lyrical pieces in between—so that the whole in Coleridge's time-honored phrase was greater than the sum of its parts. That is the defining characteristic of great art—both visual and performance art. And what Tommy Emmanuel presented at the Lisa Wengler Arts Center at Pepperdine University was nothing less than great art. His concert was a masterpiece—a thing of beauty.
Tommy paid tribute to Merle Travis with Cannonball Blues—one of the high voltage pieces mentioned above. Merle Travis practically invented modern finger picking, from his first album in 1947. When he recorded it the label balked at putting out an entire album of Travis originals, suggesting that he record an album of "folk songs, like Burl Ives" instead. But Travis responded by saying, "He's already recorded all the folk songs there are; why don't you put my songs out and some of them may become folk songs." And low and behold—that's why we now know Sixteen Tons and Dark as a Dungeon; they have indeed become folk songs. Emmanuel also sang Travis's great coal mining song Nine Pound Hammer—which references both Harlan County and Hazard, Kentucky—Travis's home state—and site of two of the most important labor battles in the history of American mining—the 1931 coal wars that brought John L. Lewis to the head of the National Miner's Union. Emmanuel does not go into the political history of these songs, but he keeps them alive musically for someone like me to tell the story behind them. To find out more than I have time for see the movie Harlan County, USA.
I saw more than one great artist last night at Pepperdine. Before the concert I took the opportunity to see the Andy Warhol Exhibit at their Frederic Weisman Museum just down the footpath from the Smothers Theatre. It is a generous, extraordinary exhibit and I urge FolkWorks readers to take the trip to Malibu just to see it. It is there until April 3. They have paintings and silk screens I have seen only in books and magazines until last night—his most famous works, such as the Campbell Soup Cans and Marilyn Monroe and some I had never heard of until I saw them—Ten Portraits of Jews of the 20th Century, including Einstein, Freud, Martin Buber, Gold Meir, Franz Kafka and Louis Brandeis—the first Jewish member of the Supreme Court. Be sure to read the commentary on the works; which are placed to the side with very informative background. Most revealing to me was one line about the famous series of Campbell Soup Cans. I have seen countless references to them over the years—and many which dismiss them as less-than-serious art. But I only learned at this amazing exhibit that Campbell's Soup was not just a "pop" iconic image to Warhol; it had both a cultural and an exquisitely personal meaning to him. Culturally they signified something that he saw as unique to America: "What is great about this country is that America started the tradition where the richest consume and buy essentially the same things as the poorest." Personally, was the fact that when Warhol was a kid his mother got very sick and had to be hospitalized for an extended stay, during which his older brothers fed him every day with a sandwich and a can of Campbell's Soup. They kept him alive long before he made them famous as subjects of art. That is a profound insight into the soul of an artist. The most eloquent statement of his was one of a number of quotes above the paintings, which could speak for all art: "The idea is not to live forever; it is to create something that will."
On the way back from the museum to the theatre who did I happen to run into but Tommy Emmanuel himself—dressed in a pale blue sweat suit and moving swiftly. He was practically past me when it suddenly dawned on me who he was. I turned and reached out to him and "I've seen a number of your shows on PBS and enjoyed them all. You are a magnificent artist! I'm really looking forward to your concert!" He was most gracious and thanked me as he continued on his way. What an unexpected treat!
Let me end by saying that Tommy Emmanuel is a class act. The most moving highlight of the concert had nothing to do with music—it was one of those unexpected glimpses you sometimes get into a person's character in an unguarded moment. Emmanuel had an acoustic opening act called The Wisherkeepers—a duo named Claire and Anthony. During the curtain call he brought them back on stage with him for a final bow. But only Anthony actually came out to join him; perhaps she was too shy. So Emmanuel went back stage and physically brought Claire out to share in the applause. It was so sweet to see them standing there together, and her radiant smile said it all. Thank you, Tommy Emmanuel, for a truly memorable evening of great music.
---
Saturday March 5 from 5:00pm to 7:00pm Ross Altman performs Woody Guthrie Dust Bowl Ballads at the opening of a book exhibit of photographer Dorothea Lange and her classic Dust Bowl portrait Migrant Mother at the Old Town Newhall Library, 24500 Main St. Santa Clarita, CA 91321 661-259-0750 .
Ross Altman performs in the Voice in the Well Production Chimes of Freedom Flashing with spoken word artists Sunday March 20, 2016, 5:00pm to 7:00pm; $10 at Beyond Baroque Literary Arts Center, 681 Venice Blvd, Venice, CA 310-822-3006
Los Angeles folk singer Ross Altman has a PhD in Modern Literature; Ross may be reached at This email address is being protected from spambots. You need JavaScript enabled to view it.