ARTIST: PETE SEEGER
TITLE: PETE SEEGER: THE SMITHSONIAN FOLKWAYS COLLECTION
LABEL: SMITHSONIAN FOLKWAYS
RELEASE DATE: May 3, 2019
FROM THE ALMANAC SINGERS TO THE WEAVERS - THE PETE SEEGER CENTENNIAL
MAY 3, 1919—JANUARY 27, 2014
1919-2019 PETE SEEGER CENTENNIAL
"I honestly believe that the future is going to be millions of little things saving us. I imagine a big seesaw, and at one end of this seesaw is on the ground with a basket half-full of big rocks in it. The other end of the seesaw is up in the air. It's got a basket one-quarter full of sand. And some of us got teaspoons, and we're trying to fill up sand. A lot of people are laughing at us, and they say, "Ah, people like you have been trying to do that for thousands of years, and it's leaking out as fast as you're putting it in." But we're saying, "We're getting more people with teaspoons all the time." And we think, "One of these years, you'll see that whole seesaw go zooop in the other direction." And people will say, "Gee, how did it happen so suddenly?" Us and all our little teaspoons. Now granted, we've got to keep putting it in, because if we don't keep putting teaspoons in, it will leak out, and the rocks will go back down again. Who knows?" --Pete Seeger (Democracy Now) In Pete Seeger: The Smithsonian Folkways Collection
It didn't seem like good news at the time: Pete Seeger was fired from Columbia Records in 1974. He'd had a good run, for ten years, but his records were no longer selling enough units to maintain a sufficient bottom line for Columbia to justify the expense of putting them out. The label that became famous for Billie Holiday and Bob Dylan's discovery by John Hammond thus summarily dismissed Pete. He'd have to go back to the noncommercial label Folkways—which had been recording him since 1950s first record came out—Darling Cory, if you're counting. I first got Pete's second release—A Pete Seeger Sampler—on an old 10-inch LP. Those were the days, my friend, when Moe Asch recorded all of his artists with a single microphone in a tiny New York City studio. "How did he do that, people wondered?" Moe always said, "It depends on where you put the microphone."
Bad news turned out to be good news looking back on it—Pete's first release for his return to Folkways in 1974 was Banks of Marble, by Les Rice, which is now on Disk 1, Track 14, written in 1950, of Smithsonian Folkways just released (this year) on The Pete Seeger (Centennial) Collection—a whopping 6 CDs plus a 200 page book that stands alongside their Woody Guthrie and Lead Belly Centennial Collections. Had Pete not been fired from Columbia we wouldn't have this magnificent boxed set—that lives up to Pete's deserved reputation as "America's Tuning Fork," so christened by none other than Carl Sandburg. Most of those CDs were recorded before and after Pete left Columbia. Good news—bad news—you never know.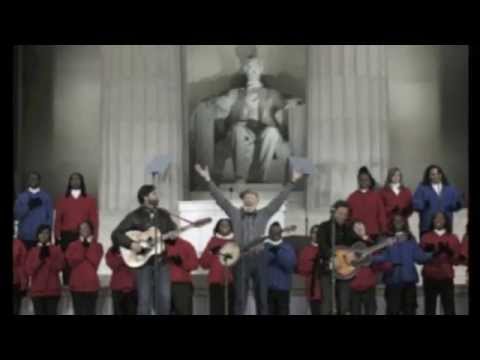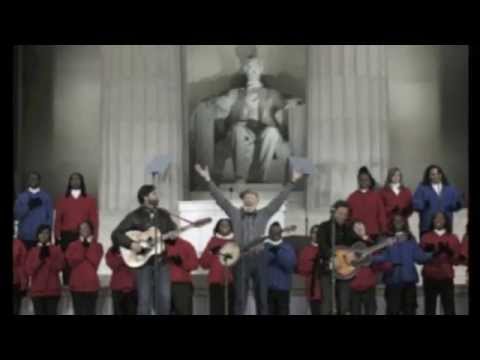 The last album Pete recorded for Columbia was in 1971—and is the only title song I truly miss on this album, since it is limited to Folkways' releases—My Rainbow Race:
One blue sky above us
One ocean lapping all our shores
One earth so green and round
Who could ask for more
And because I love you
I'll give it one more try
To show my rainbow race
It's too soon to die.
So call this review "The Other Side of the Rainbow."
I have particularly fond memories of this song because I learned it from Pete himself when I drove to his log cabin in 1975, shortly after he left Columbia—to see the Sloop Clearwater which was moored near his home in Beacon, New York, right along the Hudson River. He only discovered he had riverfront property by accident, when he was chopping down trees in front to build his log cabin. When the trees came down to his surprise and amazement he saw the river behind them. So it was no accident that he realized he could fulfill a longstanding dream of his to build a replica of an old whaling ship but use it to clean up the river instead of pollute it.
The Clearwater is where his group met to teach children the importance of taking care of the earth. After the workshops folks would go back to his cabin for a hoot. That's where I first heard My Rainbow Race. Pete took out his banjo and started to play the prettiest song I ever heard. I learned it in one sitting.
The first song I learned from Pete was Cumberland Mountain Bear Chase by Uncle Dave Macon on Disk 4—Track 15. It was released on Stinson Records, the American Folksay Series, recorded by Moses Asch in the 1940s. It remains my favorite banjo piece by Pete, played on his long-neck banjo—a delightful story song that gallops along at a frenetic pace. On the same record were Ernie Lieberman (my first guitar teacher, "The Rifleman at Bennington"), Josh White, Lead Belly, Sonny Terry and Brownie McGee—it's the reason I fell in love with folk music.
Then, from the opposite end of the music spectrum—one year before the 250th anniversary of Ludwig von Beethoven's birth—is Pete playing (on the banjo no less) the Ode to Joy, the Chorale from Beethoven's 9th Symphony (Disk 2, Track 20).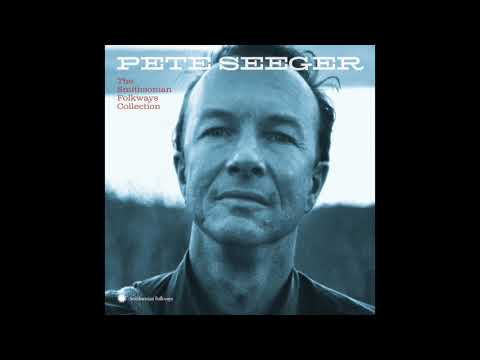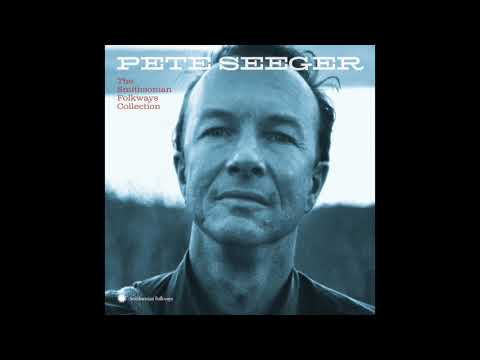 My Dirty Stream (The Hudson River Song) is one of his Hudson River songs, along with Sailin' Up, Sailin' Down, which he co-wrote with Lorre Wyatt.
Sailing up (Sailing up), sailing down (Sailing down)
Up (down), down (up!) – up and down the river
Sailing on - stopping all along the way
The river may be dirty now, but it's getting cleaner every day.
My hobo friend, "Banjo" Fred Starner also worked on the Clearwater and taught Economics at the University of Wisconsin.
Another song Pete made famous that's on the album was Garbage by a friend of mine—Bill Steele, who I met in Ithaca, New York. We were mutual friends of Phil Shapiro, who hosted Bound for Glory, a public radio show that aired on the Cornell University station. I had a small circle of friends there, including Ted Osborne, who had the best-looking Gibson J-200 I ever saw—until Larry Abbott gave me his own in Los Angeles. And my girlfriend at the time was Dr. Kate Laska, who was a chiropractor, who persuaded me to finish my PhD. We were just a stone's throw from Beacon, where Pete lived, so I finally brought myself to make the drive up to see him—and Toshi. Looking back on it, I don't know how I did it. Toshi was so generous—she had never seen me before. I was just one more acolyte who had idolized Pete from afar for so many years I almost felt I knew him. Toshi didn't think twice, but invited me to stay in their cabin. It was just for two nights, but became a lifelong memory. I saw the stone he saved from Peekskill—a Klansman threw it through his car window and broke it—Pete carefully put it in his fireplace.
So many memories of this lanky banjo player. All the songwriters who owed their careers to Pete: Malvina Reynolds (in this collection: Little Boxes, The Battle of Maxton Field, My Name Is Lisa Kalvelage, From Way Up Here, and God Bless the Grass;" Tom Paxton, Ramblin' Boy, and What Did You Learn in School Today? Bob Dylan, A Hard Rain's a-Gonne Fall, Woody Guthrie: So Long, It's Been Good To Know You, This Land Is Your Land, Deportee (Plane Wreck at Los Gatos, and The Sinking Of the Reuben James; a Spanish Civil War Song, Viva La Quince Brigada; Lead Belly's great song, Bourgeois Blues, Folk Songs, Union Songs and Sea Chanteys; (Buffalo Gals, Talking Union (the Almanac Singers—Lee Hays, Millard Lampell, Woody Guthrie, Sis Cunningham and Bess Lomax Hawes)*, Roll the Union On, (by John Handcox) and Joe Hill (by Alfred Hayes and Earl Robinson) and Shenandoah, and Children and Story songs, The Foolish Frog and Abiyoyo. Pete sang them all, and wrote Talking Union.
And that's just a small sampling of songs on this album we learned from Pete. then we have his own major songs, his greatest hits: Goodnight, Irene, by Lead Belly, The Bells of Rhymney Guantanamera, Turn, Turn, Turn, Waist Deep In the Big Muddy, Kisses Sweeter Than Wine, Where Have All the Flowers Gone, If I Had a Hammer, (with Lee Hays, recorded by the Weavers – formed in 1949 – Hays, Fred Hellerman, Ronnie Gilbert) and the greatest civil rights anthem of them all—We Shall Overcome (by Zilphia Horton, Frank Hamilton, Guy Carawan and Pete Seeger—the man who put the "Shall" in "We Shall Overcome.")
Pete always said that he put his six months at Harvard to good use with that "Shall," since it sounded more definite than the original word—"Will." After trying his hand as a journalist, he left Harvard to be—what else?—a folk singer.
There is a banjo medley: Fly Around My Pretty Little Miss, Cripple Creek, Ida Red, and Old Joe Clark. And his 12-String guitar: Bourgeois Blues, Waist Deep in the Big Muddy, If I Had a Hammer, and his instrumental Living In the Country.
To the question, "Is it a folk song?" He replies with Big Bill Broonzy's answer: "Everything I ever heard is a folk song; I never heard a horse sing it." Thus you'll hear a song Pete wrote inspired by an English professor, "English Is Cuh Ray-Zee."
Two major essays open the book, by Robert Santelli, Executive Director of the Grammy Museum in Los Angeles—Pete Seeger: Celebrating the Power of Song— and Jeff Place, Smithsonian Folkways Curator and Senior Archivist,, who also annotates all 137 songs. The 200-page book opens with his beautiful tribute to Pete:
He was a singer, a rebel, and a voice of the people. With a banjo and a selfless dedication to justice and the transformative power of music, he inspired all of humanity to question the status quo, to sing out and speak up against oppression wherever they witnessed it. His body of work reflects a deep reverence for the earth and all of those who walk on it; you can hear it in his voice and in the voices of the thousands of people who sang and continue to sing with him every day.
Place ends by evoking Gil Turner's great song from 1962, Carry It On. This is a song that Pete Seeger recorded—Peter Alsop and Ellen Geer play Pete's recording at the end of their annual tribute to Pete at Theatricum Botanicum in Topanga Canyon—but unfortunately it's not in this collection. Here are the lyrics:
There's a man by my side walking
There's a voce inside me talking
There's a word that needs a-saying
Carry it on/Carry it on…
They can tell their lying stories
Send their dogs to bite our bodies
They can lock us into prison
Carry it on
Carry it on…
All their lies be soon forgotten
All their dogs gonna lie their rotting
All their prison walls will crumble
Carry it on
Carry it on
Carry it on
Carry it on.
You can also find it on records by Joan Baez (David's Album) and Judy Collins.
Having been blacklisted for seventeen years—from 1950 to 1967—before the Smothers Brothers broke the blacklist by inviting Pete Seeger on their hit TV show The Comedy Hour where he got to sing Waist Deep In the Big Muddy, he must have been gratified to find his last years so popular as to be invited on David Letterman and Stephen Colbert, where he sang Quite Early Morning.
His banjo was quieter then, more reflective, but it still carried his hopeful words: "This Machine Surrounds Hate and Forces It to Surrender" and his voice was still firm:
Some say it's darkest before the dawn
But this thought keeps me moving on
I know that you who hear my singing
Could make those freedom bells go ringing
Some say this world won't long endure
But what makes them feel so doggone sure?
If we could heed these early warnings
The time is now, quite early morning.
He had come full circle, even welcome at the White House—where he had once been subpoenaed to testify by HUAC—now singing Woody's This Land Is Your Land with Bruce Springsteen for Obama's Inauguration. Thanks for the memories.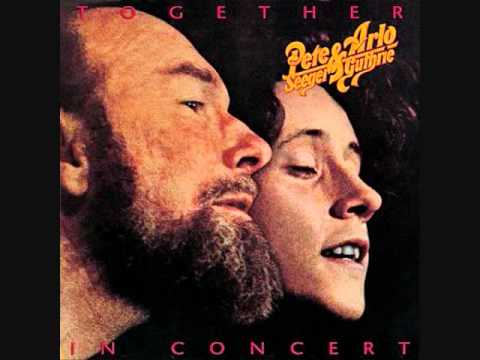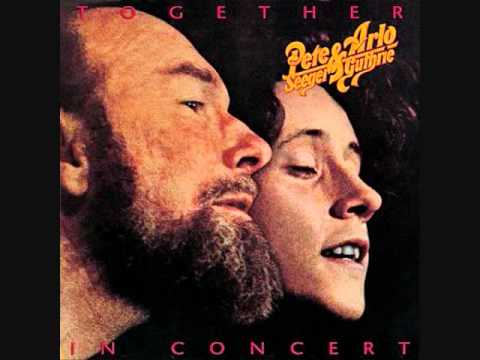 Finally, let me call your attention to the most important song in the collection—Estadio Chile—words by Chilean folk singer Victor Jara—who was murdered by Pinochet's junta on September 16, 1973, with music added later by Pete. That was Victor's last song, written in the stadium—his hands crushed that played his guitar. The song was miraculously smuggled out of the stadium after Victor was killed.
How lucky we are to have it—and this monumental book and record collection—a lasting tribute to America's greatest folk singer—Pete Seeger, "Johnny Appleseed."
* "Talking Union" was written when Pete was a member of the Almanac Singers, formed in 1940, with Lee Hays, Woody Guthrie, Sis Cunningham, Bess Lomax Hawes, and others. They preceded the Weavers, formed in 1949.
Ross Altman has a PhD in Modern Literature from SUNY-Binghamton (1973); belongs to Local 47 (AFM); he heads the Santa Monica Traditional Folk Music Club; and writes for FolkWorks; Ross may be reached at This email address is being protected from spambots. You need JavaScript enabled to view it.