ARTIST: Sarah Rogo
TITLE: Smoke and Water
LABEL: Funzalorecords
RELEASE DATE: September 13, 2019
Sarah Rogo showed up recently at a round table jam group I play with. John S. who hosts our group had spotted her in the parking lot of the place we jam. She was carrying a guitar case, so he invited her to join us. Makes sense, right? Our group is a weekly gathering of friends who play old-time standards on fiddles, mandolins, guitars and banjos just for the fun of it. After a few turns around the circle, we asked Sarah if she'd like to perform something on her own. She agreed happily, sat forward in her chair, tucked her chin in, closed her eyes, cradled her National guitar, and proceeded to mesmerize us with a passionate blues, dancing the beat with her bare feet, while the glass slide-bar on her left little finger whined the changes.
Simply put, within the music communities of our cities and neighborhoods, voices and individual musical choices come along daily. These days there seems to be no shortage of earnest and genuine folks who have much to say with their music. Many are worthy of our attention, but native talent such as Sarah's is one of the rare ones, and cause for special notice. She's got the gift.
Her new CD album is due for release on September 13th and is called Sarah Rogo – Smoke and Water. She is accompanied by her producer Mitchell Haeuszer on piano, background vocals, cello, bass, and guitar. Tony Robinson provides drums although Sarah herself plays the kick drum, and clarinet. Yes, Sarah is a concert clarinetist to boot.
The album Sarah Rogo – Smoke and Water is a collection of ten songs, seven of which are original compositions. There are three cover songs. Will You Still Love Me Tomorrow, the Carole King classic is delivered in a mysterious minor key by Sarah, giving the song an entirely different perspective. The second cover is the Dolly Parton classic, Jolene, again delivered in Sarah's unique haunting romantic style. Voodoo Child by Jimi Hendrix is the third, closing the album with Sarah's National Dobro punctuating her powerful rendition. Not enough can be said here about Sarah's unique vocal style that colors each song she touches.
The CD opens with Pieces, a haunting personal love message, followed by Here Goes Nothing accompanied on piano by producer Mitchell Haeuszer. It is a moody gospel flavored piece delivered with passion and vocal perfection. Smoke And Water, the title song is a passionate dobro accompanied song about the damage done to the environment. I am usually very cautious about event motivated music but this song stands on its own merits as a clear environmental statement complete with an innovative instrumental interlude reminiscent of the orchestration style typical of contemporary artists such as Van Dyke Parks. Love and Be Loved returns as a simple and charming love song that stands equal to the best out there.
One after another, the CD unfolds with flawless performances and once I had played the CD through, my only thought was to play it again. And again.
Rumor has it that she's often to be found hanging out at Norman's Rare Guitars in Tarzana when she's not touring. Here's a YouTube link to one of her casual jams there: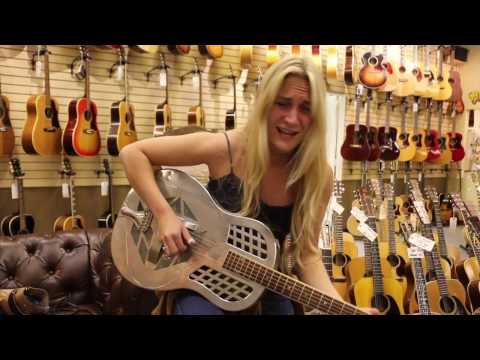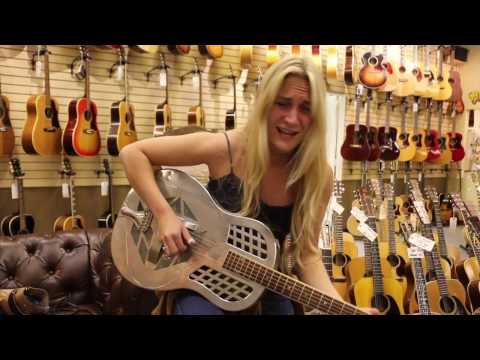 Art Podell was one half of the iconic Greenwich Village duo Art and Paul before moving to L.A. in 1961. An original member of the New Christy Minstrels, Art wrote songs for many of the artists of the day. He continues to perform and write and he rotates as a host of KPFK's Roots Music and Beyond.