HOW TO TELL THE REAL BOB DYLAN
How to Tell the Real Bob Dylan
In Concert at the Shrine Auditorium – June 16, 2016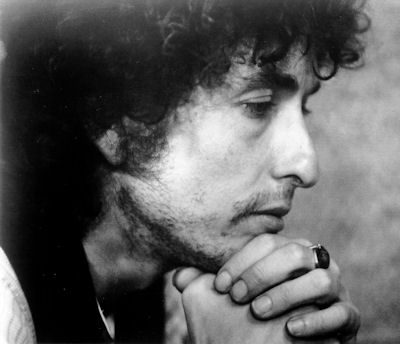 Stately, skinny Bob Dylan came from the stairhead, bearing a metal harmonica rack on which an acoustic Gibson guitar and "G" harp lay crossed. He opened with The Times, They Are A-Changing. But this was fifty-three ago, 1963, at the Santa Monica Civic Auditorium. This evening, at the Shrine Auditorium, he enters with a white, broad-brimmed hat reinforced with white coat and steps up to the microphone in front of a five-piece band with the opening strains of his Oscar-winning song, Things Have Changed.
Every Dylan concert one goes to is a tableau of memorable images as well as a symphony of sound. This one begins on Jefferson Ave., around the corner from the entrance to the Shrine Auditorium. There are five humongous tour buses spread out over the entire block, with one right in front of the side door entrance to the back stage. A buzzing crowd of post-sixties fans is lined up in front and around it like a scene straight out of D.A. Pennebaker's classic 1966 documentary Don't Look Back—where every time Dylan was spotted in the back seat of a car in London there was an immediate flock of young moths drawn to a flame—straining to get a peak behind the sunglasses—into the flaming mind of the artist who wrote Desolation Row, Ballad of a Thin Man and Like a Rolling Stone.
Fifty years later and the mystery endures. Anywhere he is spotted, or even imagined he might be, crowds of onlookers gather ever hopeful for a glimpse. I wait as long as I dare, and would have waited for the doors to open, except that I know there is an opening act, and I am working for FolkWorks to cover the concert, not just a fan among many; so reluctantly at 7:30pm, I had to round the corner and go into the Shrine to see the performer whose father Dylan had once asked for his daughter's hand in marriage.
And that's when it hits me—this isn't just any concert night—this is June 16—Bloomsday to Joyce fans around the world—the date that the 20th Century's greatest novelist James Joyce met his Nora in Dublin in 1904—and the corresponding date on which his entire masterpiece Ulysses takes place. Who better therefore to stand in for Molly Bloom—the fictional Nora—based on the real Penelope from Homer's original Odyssey of Ulysses' ten-year journey home to Ithaca than Mavis Staples? She is the perfect—the resounding and full-throated "Yes!" to Dylan's equally powerful "No, no, no It Ain't Me Babe—it ain't me you're looking for, Babe." Call it Homer's "Bringing It All Back Home," anticipating Dylan's fourth album 2000 years ago, and Joyce's modern parable from nearly a century ago. The 20th Century's greatest songwriter meets Joyce.
It dawns on me that in terms of literary resonance I am standing in the Garden of Eden.
No sooner do I enter the nearly century-old ornate Baroque L.A. shrine (pardon the pun) to sumptuous conspicuous consumption than I spot my old friend and colleague (from different publications) Michael Simmons. I slowly approach him, catch his eye, and give him a big hug in welcome—our light of recognition in the knowledge that neither of us would miss Bob Dylan in Concert while there was still breath in our bodies. We bring each other up to date on our personal lives and then I slip away to climb the balcony stairs and find my seat. Michael wrote the LA Weekly cover story on Bob turning 70, and now we are both here with our hero—who just turned 75 May 24th .
Mavis Staples holds nothing back—a great Gospel and Soul singer who gives her all to every audience lucky enough to see and hear her—as we were. She is the irresistible force to Bob's immovable object—who won't let the audience just sit there and listen—she reaches out to the back row at the top of the balcony with new songs like Ben Harper's I'll Be Me (written for her new album), her old hits like Slippery People, and even the 1960s antiwar classic Buffalo Springfield's For What It's Worth. If she weren't opening for Dylan, she would have stolen the show. The highlight of her set wasn't even a song per se, but her passionate recounting of marching "on the Freedom highway, from Selma to Montgomery, with Dr. King." She is still on that highway she wanted us to know, still speaking her mind, and captured us with both her commitment and her voice. Despite Bob's seen-it-all pessimism of Things Have Changed, it was clear that did not apply to her. She is still the youthful and eternal optimist of America's Promised Land.
Dylan—as his loyal followers now know all too well—has moved in other directions since the days when he symbolized the freedom and antiwar movements in the "Decade of Change." He has pursued his art as a personal calling and long ago abandoned any superimposed role as "spokesman" for any cause, let alone a generation—a role he left for the taking. In as dramatic a departure from his own best-known songs as any since he became—for a few years—a born-again Christian—he has recently immersed himself in another Bible—the holy scriptures of the Great American Songbook, zeroing in on songs identified with Old Blue Eyes, Frank Sinatra. He has just released his second album of standards, Fallen Angels, (the title for which may well have come from an old Kris Kristofferson song of the same name). Except for Hoagie Carmichael's Skylark, all were recorded by Sinatra. Dylan incorporates a generous sampling of them in tonight's show—from Melancholy Mood to the achingly pure I'm a Fool to Want You to the plaintive Why Try to Change Me Now (from this album's predecessor Shadows In the Night) to Irving Berlin's heart-breaking What'll I Do to the concert-closing sublime rendition of Johnny Mercer's Autumn Leaves. Dylan has made these songs his own, and I almost felt as if he was singing only partly to us, and partly to Frank Sinatra in Heaven.
Dylan made clear his enormous admiration for Sinatra long before he started singing any of "his" songs. He was the final performer on the 80th birthday tribute to the Chairman of the Board—and a class act if there ever was. After the usual suspects like Tony Bennett, doing songs in Frank's signature style, Dylan closed with a simple heartfelt tribute to the man who taught him everything he knew about the art of singing—which he boiled down to one impeccably chosen word: "phrasing." Wow! It had nothing to do with lung power, or intonation, or sonic splendor, or a God-given mellifluous vocal instrument—it rather had to do with intelligence and meaning, conveying the fullest sense of what the song was about. In short, it was something anyone can do, if they care enough, and study and practice enough. It was a revelation. Then Dylan ended the show on a perfect note, with Restless Farewell, the last song from his The Times, They Are A-Changing album—adapted from the song he learned from the Clancy Brothers and Tommy Makem during the heyday of the Greenwich Village folk revival—The Parting Glass.
Dylan's tribute brought tears to Sinatra's old blue eyes. To see how he is performing Frank's classic songs now is therefore not so much a departure as the fulfillment of his early recognition.
While not dwelling on his own 1960s and '70s classics Bob makes room for the timeless She Belongs to Me ("She's got everything she needs/She's an artist/She don't look back"—source of the Pennebaker film title)—Tangled Up in Blue and the consummate encore, Blowing In the Wind—set to a new tune and piano arrangement. If you wonder what Dylan's greatest song is, he has outvoted Rolling Stone's pick of Like a Rolling Stone. Mr. D not only performs the civil rights and antiwar anthem of a generation, he has even put the ever-mysterious answer to his song's still-haunting questions on a beautiful blanket out in the lobby hanging behind the merchandise table—selling for $75. "The answer, my friend, is blowing in the wind."
I only wish he had made room for his other civil rights classic—and answered the request from a lone voice late in the evening—for The Lonesome Death of Hattie Carroll—about the black hotel maid murdered in Baltimore by the scion of privilege William Zantzinger, for which he received "a six-month sentence." I have been thinking about this song in connection with the Stanford rapist and competitive swimmer who received exactly the same sentence by an equally clueless judge. The first line would even scan with the five-syllable "Brock Allen Turner" standing in for "William Zantzinger. That would have made the hair on the back of my neck stand on end—which was A.E. Housman's definition of poetry. Dylan has his own Muse, however; and never veers from Her path.
But, unexpectedly and unaccountably, outside the Shrine the concert is far from over. There is an enchanting, totally freewheelin' early Dylan impersonator holding forth—singing other songs that Bob left out of his show: It Ain't Me, Babe, Like a Rolling Stone and Don't Think Twice. No tour buses, no band, no sophisticated lighting, and no Frank Sinatra songs—the Bob Dylan everyone came to hear—with just a guitar and harmonica. His name is Frankie, and he is a joy to listen to. He even ends his set with the aforementioned Blowin' In the Wind—and guess what—the tune is the same one that Bob sang on Freewheelin'. Ah, what can I say? Don't look back.
After all the Dylan concerts I've attended, and reviews I've written, would I go see the real Bob Dylan again—the one you may have some difficulty recognizing—who no longer picks up a guitar and who keeps messing with his old tunes and even lyrics? Here is Molly Bloom's answer at the end of Ulysses, and mine too: "Yes I said yes I will Yes."
Saturday June 25 at 2:00pm at the Allendale Branch Library in Pasadena Ross Altman performs his tribute to the national pastime; 1130 South Marengo Ave. Pasadena, CA 91106 626-744-7260; co-sponsored by The Baseball Reliquarry; free.
Los Angeles folk singer and Local 47 member Ross Altman has a PhD in Modern Literature; Ross may be reached at greygoosemusic@aol.com
https://folkworks.org/wp-content/uploads/2020/10/Bob_Dylan.jpg
344
400
Steve Shapiro
https://folkworks.org/wp-content/uploads/2020/11/FolkWorks-logo-large.png
Steve Shapiro
2016-06-18 21:43:52
2020-11-02 14:42:33
HOW TO TELL THE REAL BOB DYLAN