Dylan Smiled at Me
Royal Albert Hall 11-27-2013
FolkWorks readers; it's my pleasure to introduce you to my British correspondent, Rosa Redoz; this is her first appearance in FolkWorks. (Submitted by Ross Altman)
Dylan turned and smiled at me. Bashful, happy and awkward. As near as 5 paving slabs away. As near as half a bus. He turned. I cheered and clapped .
He'd been watching us from the bus. I got to the back entrance of the Albert Hall before seven and walking to my seats behind the stage I passed a blacked out bus. The security boy told us that he was aboard.
An unassuming man in baggy jeans, a baseball hat, old, young probably near my age 50 or 60. He was pointed out to us as Dylan's fixer, his PA. When I learnt this I looked at him and we shared a mother's smile. Recognised.
And at 7 I looked up at the dark windows. Wondering if the band were sitting nicely on the bus facing forward swapping sweets and stories, like on a Sunday school outing. Of course it must be a rock starry lounge, alone waiting to go to work. Like before teaching an evening class. Tired and anxious.
'Please take your seats; Bob Dylan will be on stage in 3 minutes.'
The security boy assured me I could still get in. He was young with a clear face and interested to learn about Dylan. Like a schoolchild being introduced to Tolstoy. At the end of the concert I saw him sitting with a handsome grey short haired Chinese American lady.
'He's good for his age, well what do you expect. I saw him in 1973.'
All Dylan concerts have stories. It's like the Napoleonic wars we follow our Mother Courage cart of words and tunes.
So, I stood on a mild November London pavement as a TV actress walked past. As angry Englanders couldn't pass on the pavement. As a wife was stuck in a car behind.
As a grandma broke through the security to almost get on the bus. Maybe that's why he was smiling. It was pretty funny.
A man asked me:
'Is Dylan on the bus?'
'Yes.'
How wonderful to be able to say that!
And next to me a very pretty girl and her boyfriend, She had seen Dylan each night. She'd waited each night. Very pretty.
'Bob Dylan is on stage in 1 minute please taking your seats. The dark door slid. A figure in long grey gabardine, white and black pointed shoes, black and white trousers thin, and high grey curly hair. And I clapped and cheered so we don't gawp and he turned and smiled.
I ran in and the choir seat was high and near so I could see his body language clear. I know his face is kept closed. And he stood to sing and played the piano in a new way, the band were divine: skiffle, country and tender. He sang Tangled Up In Blue, Simple Twist Of Fate, What Good Am I, All Along The Watchtower and ended with a gorgeous version of Blowin' In The Wind to dance to.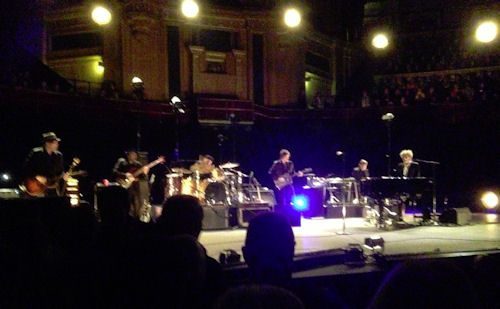 He said we're going to have a fucking good time to the cheering heads in front of him and we did. And his smile was still in his body and he was rooted. And I could hear his words as they bounced off the hollow Albert Hall ceiling. I would have been 5 when he last played here.
Tales of love and loss. Your love has saved me, life is short and tomorrow I'll be hanged. Country music and lilting love songs I need to hear at 52. We're all getting old together.
Chatted to couple next to me at intermission.
He'd seen Dylan in the audience in Dingwalls watching George Thorogood and the Destroyers in the 1980s. Dylan's 40s. I first saw him when he was my age now. At Hammersmith Odeon. Lost and made up, singing about Jesus.
I didn't cry. I normally do. But this seemed too happy.
Songs I didn't know but was pleased to hear. Always good to find new poems by John Donne.
William Robert Burns Dylan.
The band was lovely and warm, the grateful head looking sound engineer. Brothers who protect and serve.
And I could watch the audience too, the others wanting to dance and everyone nodding and tapping and clapping and smiling.
And Blowin' In The Wind, the encore, so rolling and humming and warm. And from our behind to the side choir seats I could see him go round the back of the piano, pick up his harp and do a little jig, a little dance.
Rosa Redoz can be reached at rosaredoz@hotmail.com She teaches Shakespeare to lucky students in Hertfordshire, near London.
November 27, 2013
Venue: Royal Albert Hall
Location: London, England
SET LIST
1. Things Have Changed
2. She Belongs To Me
3. Beyond Here Lies Nothin'
4. What Good Am I?
5. Duquesne Whistle
6. Waiting For You
7. Pay In Blood
8. Tangled Up In Blue
9. Love Sick
Intermission
10. High Water (For Charley Patton)
11. Simple Twist Of Fate
12. Early Roman Kings
13. Forgetful Heart
14. Spirit On The Water
15. Scarlet Town
16. Soon After Midnight
17. Long And Wasted Years
18. All Along The Watchtower
19. Blowin' In The Wind
Read more: www.bobdylan.com
https://folkworks.org/wp-content/uploads/2020/11/Dylan_RAH_Concert.jpg
309
500
Steve Shapiro
https://folkworks.org/wp-content/uploads/2020/11/FolkWorks-logo-large.png
Steve Shapiro
2014-01-24 01:33:42
2020-11-02 14:42:24
Dylan Smiled at Me