Dillon in Dodge
Dylan at the Dolby: October 24, 2014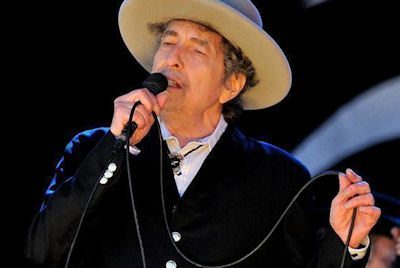 Hollywood may have stopped making Westerns, but Bob Dylan hasn't. Marshall Dillon rode into Dodge City last night and restored law and order. The good guys won without firing a shot—but by the end the bad guys were behind bars. Who were they? Political corruption and decadence (Early Roman Kings), hard times and working class poverty (Workingman Blues #2), natural disasters (High Water Everywhere (for Charley Patton)), existential despair (Tangled Up in Blue) and war and injustice (Blowing In the Wind).
The educated idiot sitting next to me kept talking in church throughout Bob Dylan's blessed and beautiful concert at the magnificent Dolby Theatre at Hollywood and Highland in the heart of Hollywood—where they host the Academy Awards—telling me we were in "Dante's 9th Circle of Hell" and Bob was playing "the devil's music," this from the greatest artist on four continents in four centuries since Shakespeare. As we celebrate Shakespeare's Quadri-sesquicentennial this year (born April 23, 1564) what better time to consider the work of the only American songwriter fit to be mentioned in the same sentence with the Sweet Bard of Avon? That is, if Shakespeare wrote Westerns.
I first saw Bob in 1963 at his sound-check in the Santa Monica Civic Auditorium where he played The Times, They Are A-Changing just for me—hiding as inconspicuously as possible behind a theatre seat halfway back, where I had snuck in through a side door. A half-century later it remains my golden Dylan moment; just a pair of dungarees and a faded blue work shirt, high top boots, an old Gibson J-50, harmonica, and the greatest voice and poetry-in-song since Woody Guthrie. Something was happening, and I knew immediately what it was—didn't I Bob?
He doesn't look or sound like that anymore; his guitar replaced with a piano, no faded anything; his Huck Finn cap replaced with a white Stetson hat and Mark Twain-like off-white linen suit—clean and well-coiffed—a distinguished looking and still thin (to go with the author of Ballad of Thin Man) 73 years old. Don't ask about his voice: he dug it out of the same gravel pit where he found one of his early songs: Rocks and Gravel:
It takes a-rock and gravel, baby, make a solid road,
Make a solid road.
Instead of soaring high to hit some of the treble notes that once got him compared to "a cat being dragged across a barbed wire fence," he now digs down an octave or double octave to find the same note in the bass range. Country boy will survive. (Uh, Hank Williams, Jr. said that.)
And he has long since abandoned The Times They Are A-Changing as his opening "Come gather round people…" song of hope; it's been replaced with Things Have Changed—his anthem of despair ("I used to care, but things have changed"), for which he won the Oscar for Best Song in 2001 (in Michael Douglass's movie Wonder Boys). "Here's a song," he said, "that doesn't pussyfoot around," before singing it by satellite from Australia.
For those of us who still care, (and I am one of them), it's a bitter pill to swallow, but it's not the first time Bob has challenged his audience with truthful feelings that are hard to bear, and this song captures as well as any can H.D. Thoreau's observation that "the mass of mankind lead lives of quiet desperation."
F. Scott Fitzgerald's second novel, the story of a society couple—Anthony and Gloria Patch—modeled on Scott and Zelda Fitzgerald– The Beautiful and Damned mines that same territory, with its second and final third section on "The Romantic Bitterness of Things," and "The Ironic Tragedy of Things."
Dylan faces such hard truths head on, in songs like Tangled Up in Blue (from Blood On the Tracks, soon to be forty-years old), Forgetful Heart, Soon After Midnight, Love Sick, and most achingly in Long and Wasted Years, with which he ended the pre-encore part of the concert. Dylan—as he described himself in his 1981 born-again Christian masterpiece Property of Jesus—
'Cause he doesn't tell you jokes and fairytales
Say he's got no style.
And yet his truth-telling is uplifting, especially when he sings "a little bit of these Workingman's Blues" (# 2; the original is by Merle Haggard, who Dylan pays tribute to in the title.) The audience was cheering his heartland ode to the modern proletariat.
But it's with Fitzgerald's novel's first section theme "The Pleasant Absurdity of Things" that Dylan's early genius is most in tune; in songs like Simple Twist of Fate, She Belongs to Me (where she clearly belongs only to herself) and in his first of two encores All Along the Watchtower—where the narrator again is trapped in the existential absurdity of things
There must be some way out of here
Said the joker to the thief…
That is America the Damned all right, but America the Beautiful shines through the music (evoked by Marshall Dylan's five-man posse—his great band's emulation of Jimi Hendrix's hit version) that raises the torment to the level of spiritual exultation. They were lead guitarist Charlie Sexton, rhythm guitarist Stu Kimball, bassist Tony Garnier, drummer George Recile and multi-instrumentalist Donnie Herron. Their instrumental introductions to many in the generous 19-song set list had the audience applauding well before Dylan sang a note. Here are the songs; with a fifteen minute intermission after Love Sick and two encores:
Things Have Changed
She Belongs To Me
Beyond Here Lies Nothin'
Workingman's Blues #2
Waiting For You
Duquesne Whistle
Pay In Blood
Tangled Up In Blue
Love Sick
High Water (For Charley Patton)
Simple Twist Of Fate
Early Roman Kings
Forgetful Heart
Spirit On The Water
Scarlet Town
Soon After Midnight
Long And Wasted Years
All Along The Watchtower
Blowing In the Wind
The backdrop to the stage reinforces Dylan's images throughout: in the first half we see Dylan's famed logo eye with a crown on top, peering down at you (or up, in the Mezzanine Section where we were sitting) which pierces to the bone; in the second half the curtain behind his band is revealed in a resplendent variety of lighting that creates the impression of evil spirits to accompany the high water of the song for Charley Patton inspired by Katrina in 2006; the darkness of Dylan's empire's end cautionary tale Early Roman Kings, which anticipated Detroit's bankruptcy—as decadent as any of the scenes in Fitzgerald's novel—and the sudden brightness of newfound hope in the quiet resolve of Dylan's youthful optimism in Blowing In the Wind.
Dylan takes you on a journey from despair to longing (with his second movie song from The Divine Secrets of the Ya Ya Sisterhood Waiting For You) back to hope and idealism; he does find "some way out of here," despite the fact that "businessmen they drink my wine; plowmen dig my earth; none of them along the line know what any of it is worth." Throughout the concert his audience pays tribute to him with interjections of "Thank you, Bob!" and "We love you, Bob!" Even though, like his namesake Western hero Marshall Dillon, he barely speaks during the entire two hours, except to introduce his band and announce the intermission, the audience is ebullient in talking to the stage.
But as with all of my previous concert experiences with Bob Dylan, the most memorable moments take place—in Thomas Hardy's wonderful phrase—far from the madding crowd. Here it happened right outside the Dolby Theatre after the show. Linda and I were approached by a couple who said they were sitting right behind us and couldn't mistake my Dylanesque hair. Her name was Mangala, and she was born in Monterrey. His name was—at least he said it was—Ross too, and I was the second Ross he had met that day. Like so many of Dylan's hardcore fans he was planning to see all three shows at the Dolby and insisted that I would want to as well. Unfortunately, I told him, I was putting on my own "Dylan/Dylan" show in celebration of the Dylan Thomas Centennial and would not be able to. He told me he wanted to send me some pictures of the concert and I gave him my email address; we'll see. But both "Ross" and Mangala were utterly charming and just the kind of encounter I have come to expect in the tail end of Dylanmania that still follows the elder version of the once enfant terrible around.
I looked in vain for the Jewish faithful of the 12 Tribes that have been at every Dylan show for the past four years but couldn't find them. Not to worry: there was spectacle a-plenty on the sidewalk in front of the theatre—outlandishly dressed characters who could have walked right out of one of Bob's '60s songs "with twenty pounds of headlamps stapled to his chest" or "the Phantom of the Opera in the perfect image of a priest." There was Superman, a polite but dominating "Don King" with hair higher than Dylan's; and Halloween gargoyles and witches ready for the holiday. Dylan and Hollywood were made for each other; a perfect choice of venue for this leg of his still Never-Ending Tour.
But the most-endearing character we met was not a character at all—but a real human being who put his heart on his sleeve for us. He was a young black man with a big smile who approached with a simple question, "How long have you been together?" He had seen us walking hand-in-hand across the wide sidewalk between the Dolby Theatre exit and the entrance to Madame Tussauds Wax Museum next to the parking garage. I looked him in the eye and said "Thirty-three years." He shook his head and said, "I thought it was something like that! You are what I aspire to." I lightly touched his chest in appreciation for his kind words, and we said goodbye. Wherever you are; thank you.
It was the perfect Dylan moment. She Belongs To Me. Together Through Life.
And the educated idiot? Bob won her over too. It may have been his exquisite harmonica solo that left us breathless at the end of Blowing In the Wind. She leaned over to me and shouted above the applause, "Gabriel, blow your horn!"
We love you, Bob.
With Marshall Dylan guarding the watchtower, Dodge is in good hands. Miss Kitty too.
Bob Dylan concluded his three-night stand at the Dolby Theatre Sunday evening October 26. See his web site www.bobdylan.com for further stops on his Never-Ending Tour.
Ross Altman performs Woody Guthrie's Dust Bowl Ballads in Steinbeck Calling, Thursday Oct 30, 8:00pm at Kaitlin & Erica's Gallery 2316 ½ S. Union Ave., Ste1 LA 90007 (University Park—3 blocks North of USC)
Saturday, November 15 at high noon in the Pasadena Public Library courtyard Ross kicks off their annual Country Fair "Celebrating 130 Years of Reading;" 285 E Walnut St Pasadena CA 91101; 626-744-4210. It's an all-day event with plenty of wholesome music, food and crafts for the whole family; free and open to the public!
On Wednesday, December 24 from 5:00 to 9:01pm at the Friends Meeting House at 1440 Harvard St in Santa Monica Ross Altman will host a musical and spoken word commemoration on the Centennial of the Christmas Truce December 24 1914 when troops on both sides of No Man's Land in Europe spontaneously laid down their arms and declared a Christmas Truce. Soldiers from Germany, England and France all sang Silent Night and other Christmas carols, swapped cigarettes and chocolates and played football. It was a bright moment during a dark time, when John Lennon's imagined better world, however briefly, came true. It is not to be forgotten and on the Centennial will be remembered with songs and stories as timely today as during World War I. $5 requested.
Ross Altman has a PhD in Modern Literature; Ross may be reached at greygoosemusic@aol.com
https://folkworks.org/wp-content/uploads/2020/11/Dylan_logo.jpg
237
212
Steve Shapiro
https://folkworks.org/wp-content/uploads/2020/11/FolkWorks-logo-large.png
Steve Shapiro
2014-10-28 08:06:43
2020-11-02 14:42:27
DILLON IN DODGE