DESERT HEART MOUNTAIN SOUL
Chris Brashear and Peter McLaughlin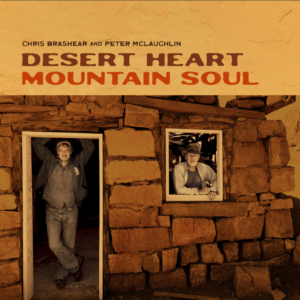 In 1992 Chris Brashear moved to Tucson, met Peter McLaughlin, struck up an immediate and lasting friendship and a strong musical bond and began performing and recording together.
Both Chris and Peter sing. Chris plays guitar, fiddle, mandolin, bass, and shaker. Peter plays guitar and mandolin. Both are skilled flat pickers. Chris had moved from Ozark, Missouri to Oregon in 1988 and co-founded the bluegrass band Kentucky Rose. In 1999 he released his his wonderful solo album, "Wanderlust," which included "Mason's Lament." He went on to found the band Perfect Strangers (featuring Jody Stecher, Peter McLaughlin, and former Bluegrass Boys Bob Black and Forrest Rose). He toured with Alice Gerrard and Jim Watson in the Piedmont Melody Makers. Also in the 1990s, Peter and Chris toured with Laurie Lewis and Grant Street and Robin and Linda Williams and Their Find Group. Prior to this recording, they release two critically acclaimed CDs. Chris currently lives in Amherst, MA and Peter lives in Tucson, AZ
When I was at the Parkfield Bluegrass Festival earlier this year, Chris gave me a copy of this latest CD DESERT HEART MOUNTAIN SOUL. It was released in May 2021 and  six guests on various instruments and vocals join them on this recording.
The 14 cuts include five original songs by Peter, some co-written with Mark Brinkman, and four by Chris, two of which were also co-written with Brinkman. In addition to those, they do Kate Wolf's "Across the Great Divide," which was written for the KPFA radio show of the same name, "Six White Horses" by Clyde Moody, "Pastures of Plenty" by Woody Guthrie, "Girl in the Blue Velvet Band" by Cliff Carlisle and Mel Foree, and "You Gave Me a Song" by Alice Gerrard, who sings harmony on that song.
"Take Me Back Where I Was Born," by Peter, is a song about longing for home. Chris sings lead on "Across the Great Divide," which also features his expressive fiddling. He also sings "Six White Horses" in a swing arrangement. The title cut, co-written and sung by Peter, is another love for home song where home is in the desert and the mountains of Arizona. Chris' powerful vocal is featured in "Pastures of Plenty." "Another Trip Around the Sun" features Hollis Brashear on harmony, Duncan Stitt on piano, and Alvin Blaine on pedal steel. Peter's "Footprints in a Song" is a song about songwriting. Chris' "21 on the Border" uses Chris Haynes' plaintive accordion to evoke the border deserts of the southwest and the travails of the undocumented. "The Girl in the Blue Velvet Band" is a bluegrass standard which suits Chris' tenor voice and mandolin. "Run Little Hank" is a sprightly fiddle tune by Chris. Peter's "The Right Time of Year" is a wintry love song. "You Gave Me a Song" is a duet by Chris and Alice about leaving home with strong memories. "The Day I Was Set Free," written and sung by Chris, is about the painful transition from prison to freedom. Peter's "Before I Get Home" is about the travails of life.
Chris Brahear's CDs
Peter McLaughlin's CDs
https://folkworks.org/wp-content/uploads/2022/05/DesertHeartMountainSoulcover2-1.png
1278
1280
Steve Goldfield
https://folkworks.org/wp-content/uploads/2020/11/FolkWorks-logo-large.png
Steve Goldfield
2022-05-30 13:01:45
2022-05-31 10:19:24
DESERT HEART MOUNTAIN SOUL
Chris Brashear and Peter McLaughlin