TITLE: DAN GELLERT DVD & CD SET
ARTIST: DAN GELLERT
LABEL: THE OLD-TIME TIKI PARLOUR
RELEASE DATE: FEBRUARY 2015
Some of Dan Gellert's early recordings seemed to have trouble capturing his unique sound and approach to old-time music. The late Ray Alden told me that he had to use two microphones, one in front and one behind Dan's banjo, to do it. This new recording from David Bragger's Old-Time Tiki Parlour succeeds on multiple levels: it has excellent sound and also comes on both a DVD where you can watch Dan play banjo and fiddle and sing and an audio CD of the same material. David told me that everyone associated in any way with its production is an old-time musician. When you watch the DVD, you will understand why it is a Tiki Parlour, and you definitely want to watch and listen to this seminal recording of one of the great musicians of our era.
Dan has recorded 19 tunes alternating fiddle and banjo. The excellent accompanying booklet has a biography of Dan and then descriptions of the tunes including fiddle and banjo tunings.
The first is the Round Peak version of John Henry. Of course, you can hear his sources in the tune, but by the end he has made it his own as he does with all his material. Poor Rosy comes from the 1867 book, Slave Songs of the United States. Dan plays it on a 4-string banjo with what sound like gut strings and sings it with his appropriately rasping voice.
Dan learned Pretty Little Shoes from the late Jeff Goehring, who learned it from West Virginia fiddler Ward Jarvis. Dan's bluesy fiddling transforms the tune into something new.
The Cuckoo is a quintessential banjo song, and Dan gives it the full treatment. Nancy Dalton comes from Kentucky fiddler Jim Bowles filtered through Dan's bluesy bow and double stops.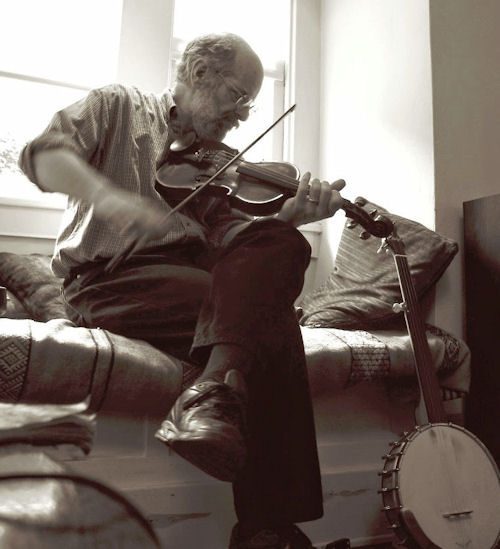 Dan describes his Old Jimmy Sutton as "not so much a tune as a proto-funk riff" complete with sheep sounds.
Midnight was collected from two fiddlers who had each learned it from Kentucky fiddler Jim Booker, and Dan merged those two settings into his own.
Fall on My Knees takes us back to Round Peak but in an unusual banjo tuning.
Black-Eyed Suzy is from Robert Sykes, but again Dan transmogrifies it into a celebration of funk.
Eph Got a Coon comes from Wade Ward. Like Ward, Dan plays it on a resonator banjo.
Jim Bowles is the source for Railroad Through the Rocky Mountains which Dan compares to Marmaduke's Hornpipe and Altamont.
Dan returns to his gut strings to play Reuben which he got from Fred Cockerham.
Legendary West Virginia fiddler Edn Hammons is Dan's source for Shaking Down the Acorns.
Cora Dye was collected in Illinois by Garry Harrison. Dan plays it in a relaxed and sedate style with a few characteristic Gellert flourishes.
If you are familiar with John Salyer's Duck River or Dubuque, you will recognize Big Tennessee, from 19th century fiddler David Russell Hambler as a close relative with some very distinctive quirks which remind me of what Missouri fiddler Art Galbraith did to The Flowers of Edinburgh.
Dan's Sail Away Ladies derives from Jenes Cottrell with some bits from Tommy Jarrell. It's much bluesier than Bunt Stephens version of the tune.
For his The Girl I Left Behind Me, Dan takes a banjo transcription from Converse's 1865 instruction book and moves it to the fiddle.
I'll Roll in My Sweet Baby's Arms comes from Buster Carter and Preston Young's `1927 recording, though Carter played with three fingers and Dan plays his funky clawhammer.
Dan concludes on fiddle with Raleigh and Spencer from Tommy Jarrell and Fields Ward. Raleigh and Spencer are, most likely, the names of two adjacent towns, though in some versions Raleigh becomes Riley.
Great musicians absorb many influences and then integrate them into their own style. All this music is Dan Gellert's inner voice speaking to us loud and clear through his numerous instruments and styles. Bob Flesher, who made one of Dan's banjos, once tapped his chest above his heart and told me he wants to hear what you have inside and not another imitation of the greats of the past. Dan Gellert's music is a great example of how to do that, and it makes great viewing and listening, too.
Steve Goldfield is a board member and Old-Time Music Coordinator for the California Bluegrass Association. He also writes for Fiddler Magazine, Bluegrass Unlimited, and the Old-Time Herald.
https://folkworks.org/wp-content/uploads/2020/11/Dan_Gellert.jpg
549
500
Steve Shapiro
https://folkworks.org/wp-content/uploads/2020/11/FolkWorks-logo-large.png
Steve Shapiro
2015-03-11 22:24:48
2020-11-02 14:42:28
DAN GELLERT DVD & CD SET