ARTIST: ACOUSTIC WARRIOR JOHN SOTTER
TITLE: ALONE
LABEL: PLASTIC MELTDOWN
RELEASE DATE: JANUARY 2009
Initial disclaimer: This gentleman records for the same label that I do. However, I did not meet him until this release, nor was I familiar with his music. I stand to gain no financial improvement should his project prove profitable or not.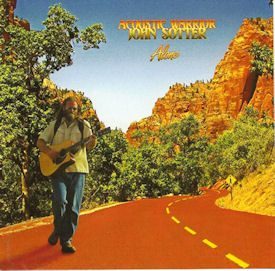 There is a wave (pun intended) of new "soft folk pop" artists who have surfing somewhere near their core. Though he resides in San Clemente, CA and has lived on a boat and lifeguarded for a living, John Sotter is not one of these surfing soft folk pop artists. His music has a strong flavor that resists comparison to other artists, but one might peg the production style of Alone to be Harvest- era Neil Young. It's all acoustic guitars, some occasional melodic electric bass, harmonica and unobtrusive drums. And it's all John Sotter. All the music, lyrics, instruments, the recording, production, mixing, mastering and even the artwork is all John Sotter.
This information is usually a good indication of a muddled at best project. Should Paul have played his own drums on this first solo record? Does the man that produces himself potentially have the same issues as the man who defends himself in court? Doesn't collaboration make for a stronger, more critically thorough end result?
Not this time. Sotter has a growly yet melodic voice, with a good range. His overdubbed vocal harmonies fit. His second acoustic guitar, where used, is not obtrusive, nor does he attempt to "Eric Clapton" his lead guitar work. Everything supports the song, supports the vocals.
The acoustic guitar tone is splendid. Clean, warm and indicative of the sound of a real, live wood and steel instrument. You feel like you are in the room, and yet no finger fudges or less than pristine notes are provided. You're listening to a tight little combo that knows when to lay back, and a warm, conversational vocalist intent on including you in his fun.
Ultimately, a solo project succeeds or fails primarily based on the strength of the material. Even the most adept musician can't make bad songs into good ones. Sotter has provided ten songs, and he succeeds in providing catchy, thought provoking lyrics coupled with equally catchy melodies, and performances that accentuate the material's strong points.
Fire Wind speaks to the Santa Ana winds that often bring fires, and at best, lead to a sort of uneasiness that only recedes with the winds themselves. Sotter builds the dynamics, which is his forte throughout this project. Alone is probably the catchiest pop tune, but the lyrics detail the struggle between loneliness and settling for a marginal relationship.
Sotter has a unique spin on some familiar sounds and themes, and his work is well worth a listen.
Dennis Roger Reed is a singer-songwriter, musician and writer based in San Clemente, CA. He's released two solo CDs, and appeared on two CDs with the newgrassy Andy Rau Band and two CDs with the roots rockers Blue Mama. His prose has appeared in a variety of publications such as the OC Weekly and MOJO magazine. Writing about his music has appeared in an eclectic group of publications such as Bass Player, Acoustic Musician, Dirty Linen, Blue Suede News and Sing Out! His oddest folk resume entry would be the period of several months in 2002 when he danced onstage as part of both Little Richard's and Paul Simon's revues. He was actually asked to do the former and condoned by the latter. He apparently knows no shame.
https://folkworks.org/wp-content/uploads/2020/11/Sotter_l.jpg
271
275
Steve Shapiro
https://folkworks.org/wp-content/uploads/2020/11/FolkWorks-logo-large.png
Steve Shapiro
2009-03-05 02:48:31
2020-11-02 14:42:16
ACOUSTIC WARRIOR JOHN SOTTER – ALONE