REMEMBERING BARBARA GREENSPAN
REMEMBERING BARBARA GREENSPAN
(July 1, 1947—August 17, 2018)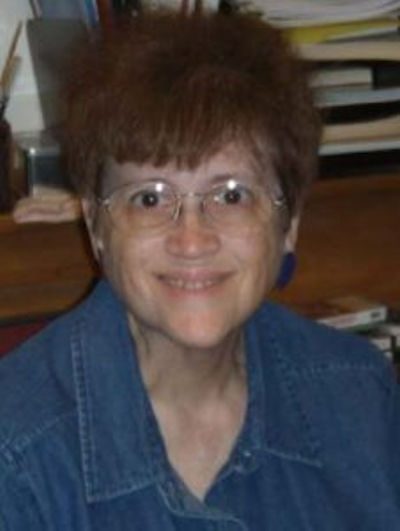 Songmakers lost Barbara Greenspan, its Archivist/Historian going all the way back to 1963; the East Valley Hoot lost its 3rd Sunday Hoot leader; Noble House Concerts lost its founder/creator going back to 1975; her guitar and recorder students lost their chief source of inspiration and encouragement and teacher; her Klezmer Band Shir Madness lost their wind section and vocalist; most importantly her music students from The Help Group, a non-public school for children with autism spectrum disorders lost their impassioned music teacher who gave free lessons and free instruments for so many who couldn't afford either; her husband Fred lost his beloved wife; her son lost his devoted and loving mother; and I lost a dear friend. "Never send to know for whom the bell tolls," said John Donne—"It tolls for thee." Last August 14, at 2:00 in the morning, it tolled for Barbara Greenspan—the Queen of Folk, who passed away the same week as the Queen of Soul. Folk music in Los Angeles lost a cherished friend—the energy center for so many folk music projects it would take a half dozen organizations to begin to replace her.
Ralph Waldo Emerson wrote that an institution is "the lengthened shadow of one man." He should have added "and/or woman." Songmakers was the lengthened shadow of Barbara Greenspan—the woman who kept track of their collective history going back more than fifty years—in volume after carefully constructed volume of scrapbooks that she stored in her music room annex—behind the door in which she hosted the 3rd Sunday Hoot and her Noble House Concert Series. Though she was never president, she embodied its spirit as the quiet leader she was. Current president Steve Berman continues to be inspired by Barbara's example in exemplifying the values of Songmakers.
Her son Mike and husband Fred hosted the Hoot today in Barbara's profoundly felt absence. The room was packed with regular members from 1 to 5 pm, who brought their memories of Barbara as well as their songs to her home. Then at 5pm the proceedings became a more formal memorial—a Jewish Shiva hosted by a cantor.
Here is Barbara in her own words:
"I have been a member of Songmakers for over 30 years. I have spent most of them serving on the Board in various capacities. I am currently the Historian and host of the Board meetings. Professionally, I have been a music teacher for 35 years and am currently teaching music full time at The Help Group, a non-public school for children with autism spectrum disorders. I also give private guitar and recorder lessons in my home. Since 1975 I have produced Noble House Concerts, a concert venue featuring acoustic music. I also play in a Klezmer Band called Shir Madness." ~
Songmaker Board Member Archivist/Historian Barbara Greenspan~ due to retire in 2019.
Then, on Wednesday August 15, her friends received the sad news of her passing:
On Wed, Aug 15, 2018 at 3:59pm, TJ Zeiler, EChord / Calendar Editor <EChord@songmakers.org>; wrote:
Dear Songmakers,
It is with deep sadness that I must report the passing of Barbara Greenspan yesterday at 2am on 8/14. As many know, despite the energy with which she pursued her musical endeavors (Songmakers hoot host / board / historian, music school, house concerts, etc.) she was in fact in poor health with diabetes and a serious heart condition. She will be missed. She was of a good heart and I'm certain she's wherever she hoped to be for her next adventure beyond this physical realm.
It is important to note here, however, that her son, Mike Greenspan, is choosing to host the Aug 19 – 3rd Sunday 1-5pm: EAST VALLEY HOOT at the Greenspan's, 5705 Noble Ave., Van Nuys 91411. Hosted by Mike Greenspan and led by Lillian Silverstone. Do bring your thoughts of Barbara that you might like to share. Take SD 405 Fwy to Burbank Blvd. East on Burbank 2 signals to Noble Ave., left on Noble 2 blocks to 5705, through driveway to studio behind house. 818-780-5979.
At this time, I have no further information regarding future events sponsored by the Greenspan family.
Details regarding any formal services will be provided when such is determined by her family.
Musically,
TJ
I went to the Hoot/Memorial to pay my respects and hear from those who wanted to share their memories. There were ghosts in the room—and I heard from them as well. The ghosts were on her book shelves—and reflected her worldwide love of folk music and related folk arts. Burl Ives was there—his book Tales of America looked down from above. He was the first folk singer I fell in love with—and apparently Barbara too—we probably knew all of his early songs—long before he recorded any pop hits—songs like The Wayfaring Stranger and Foggy, Foggy Dew and Molly Malone. Barbara also had The 12-String Guitar as Played by Lead Belly—written by Pete Seeger—my introduction to Lead Belly's guitar style—not even remotely similar to the way pop folk singers played the 12—as just a fuller sounding 6-string.
Barbara had the same library of folk music created by John and his son Alan Lomax that I had—Folk Songs of North America; and Folk Song USA; a book called Folklore and Legends; an entire book case devoted to Sing Out! and then a large book on World Music; and a great big hard cover book of The Beatles. These weren't just adornments for her library—they were the musical sources for her own "Greenspan Tabernacle Choir."
Barbara had a beautiful upright piano—which she played, her guitars, and her other main instrument she also gave lessons on—the recorder. But more than the instruments—she had her great guitar poster for her students—which took up half the back door facing inward for her students' benefit—with all the chords diagrammed and every note illustrated on the fret board. When you took guitar from Barbara you actually learned music—not just chords and accompaniment. She taught you music—and the instruments were the keys to the kingdom. That's what made her so special as a teacher—which one of her students gratefully testified to—"She was the most patient teacher—never ever nasty—didn't have a mean bone in her body—very kind person—I bet she was a good Mom."
Lillian Silverstone—who led the Hoot in Barbara's absence—described her as "so supportive—non-judgmental—I was afraid to go to other Hoots—but I could come to Barbara's Hoot."
Barbara created the special needs music program at the Village Glen School—Bridgeport School—in the Help Group for kids with autism. She put together her own Recorder Ensemble in the primary grades—to give students a head start in music. She offered free guitar lessons to students who couldn't afford a guitar let alone lessons. And then at the end of each semester she planned an annual talent show for kids whose strengths would shine—"and whose weaknesses wouldn't show." She encouraged everyone, "soldiering on even when she was dealing with regular kidney dialysis and every day was a struggle." This from her supervisor Anne—who loved her dear friend—she was in tears as she testified what an extraordinary teacher Barbara was. "She wanted everyone around her to shine—she didn't care to be the star. She was better at dodging the camera than anyone I ever knew."
That no doubt is why she started her Noble House Concert Series in 1975. In addition to her great stalwarts like Cindy Mangsen and Steve Gillette one of her favorite artists was western yodeler, banjo player and songwriter Larry Wilder who sent down his own tribute from Portland, OR—inspired by years of performing at her venue—"Noble House Song [The Grand and Noble Lady] by Larry Wilder 2018"
V1—She's the Grand & Noble Lady—who taught us to sing and play
Loving heart and hands at the ready—She'll teach us the rest of our days
Chorus: The Noble House—the Noble House
A place we can play and sing
The Noble House—the Noble House
Long may our voices ring.
V2—She brought us the songs of the masters—and troubadours far and wide
Her passion for music and people—will stay with us deeply inside. (Chorus)
V3—Goodbye to our Grand Noble Lady, her Spirit will live in our hearts
And long live the Noble House magic, its music will brighten the stars.
Chorus + tag
Long may our voices ring…
Two more moving memories came from her regular Songmaker friends—one of whom—Stephany Spencer—spent more time preparing her songs for Barbara's hoot than for any others—"so it would be good enough for Barbara." Another who sat next to me brought a tear to my eye—summed up her taste in music beautifully: "Barbara loved songs in Spanish, and for peace, and which were poetic." Then he started strumming his Spanish guitar and sang Cuban poet Jose Marti and Pete Seeger's classic Guantanamera:
I am a truthful man
From the land of the palms
And before I go I want to share
These songs of my soul with you
My song is clear green
But also flaming crimson
My song is a wounded fawn
Seeking refuge in the forest
With the poor people of this earth
I want to share my fate
The small streams and rivers
Please me more than the wide ocean.
And current Songmaker President Steve Berman—who began the Songmaker tradition of starting each Board meeting with a song–also highlighted two of her more endearing traits—for opposite reasons: Barbara was not above correcting chords when her ears were offended—but she did it quietly—out of earshot of others—so she wouldn't hurt your feelings. She maintained her musical standards without compromising her values of friendship and support. And then—in a moving expression of their comradeship he ended the memorial with the song Barbara always led at the end of her Hoots—There Was Music in My Mother's House.
Barbara is survived by her beloved son Mike—who so far has kept the 3rd Sunday Hoot going; and her dear husband Fred—who until his retirement last year was the accountant for Topanga Banjo and Fiddle Contest and Folk Festival.
With thanks to Michele Hutchins and Ellen Sway for breaking the sad news to me.
Barbara, Rest in Peace.
Folk singer Ross Altman has a PhD in Modern Literature from SUNY-Binghamton; he belongs to Local 47 (AFM); Ross may be reached at greygoosemusic@aol.com
https://folkworks.org/wp-content/uploads/2020/11/Barbara_Greenspan.jpg
531
400
Steve Shapiro
https://folkworks.org/wp-content/uploads/2020/11/FolkWorks-logo-large.png
Steve Shapiro
2018-09-01 04:40:14
2020-11-16 10:38:48
REMEMBERING BARBARA GREENSPAN