Mike Seeger:
Non-violent Banjo Player RIP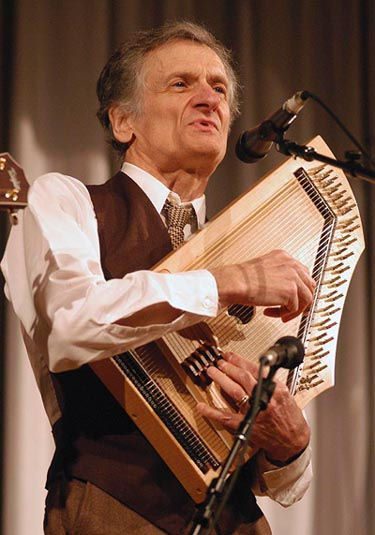 Mike Seeger, Peggy Seeger's older brother and Pete's younger half-brother, died peacefully in his sleep at his home in Lexington, Virginia, on Hiroshima Day, Thursday, August 6. He was 75 years old. He couldn't have picked a better day to leave this world, as he was a quiet champion for peace through music, mentioning during a concert at McCabe's Guitar Shop ten years ago that he played old-timey "non-violent banjo," to distinguish it from hi-powered bluegrass.
He was playing a fretless banjo at the time, one that Frank Proffit, collector of the original version of the ballad Tom Dooley, had made for him many years ago. He also played the Jews Harp (or Jaws Harp), which he could get more music out of than anyone I had ever heard.
Not known particularly as a political artist like Pete, Mike Seeger nonetheless manifested his politics through his music, making African-American traditional songs and tunes a core part of his expansive repertoire, and closing a memorable appearance at UCLA's Royce Hall with a peace song from World War One. He loved letting old voices speak through him; rather than singing the most recent topical song on the politics of the Bush administration, he would make the same point even more forcefully with a seventy-five year old song that no one had ever heard before.
When he was growing up in the Seeger household with his parents, musicologists Charles Seeger and Ruth Crawford Seeger, he happened to overhear their black maid playing a song on one of their guitars. The maid was folk singer Elizabeth Cotton, who had been offered the job with the Seeger's one afternoon at a department store when she found their missing daughter Peggy and brought her back. Elizabeth, or Libba as she was known, had not played the guitar for fifty years, devoting all of her time to making a living and not wanting to be distracted.
But all the instruments in the Seeger's household were an irresistible allure for her, and she finally picked up the guitar and started playing a song she had written at the age of eleven. The song was Freight Train. When she saw Mike Seeger staring at her in amazement she quickly put the guitar down and apologized for wasting her time, afraid that she might now lose her job.
Not likely. Mike persuaded her to pick it up again and show him how she played the song, assuring her that his parents would be happy to hear her play it too. Mike finally convinced her to record a tape of her songs for him in the family studio, and he began to include her songs in his repertoire, as well as to see that her recording was released.
In 1958 he won first place in the traditional banjo contest at Galax, Virginia, home of what came to be known as "Galax picking," a variation on old-time drop-thumb picking.
The same year he put together an old-time string band to perform and record the songs of American string bands from the 1920s and 30s, at that time only available on dusty old 78's usually found in record bins at secondhand stores. His partners were guitarist Tom Paley and fiddler John Cohen-together they became The New Lost City Ramblers.
They became the premiere old-time string band of the 1960s, ushering in the fold revival for those who wanted to learn the real thing-the roots of American music that combined English/Scots/Irish ballads and instrumentals with African-American traditional songs and banjo playing, built on the one instrument developed in America from slaves and their descendants.
It was Mike Seeger's performance of one of those tunes, Old Joe Clark, that Pete Seeger admitted "put me to shame, and made me go back and follow the advice I had put in my own banjo instruction book-practice." What distinguished Mike's arrangement was its simplicity: Pete said that when he started playing the song it had five chords in it; after years of playing he got it down to the essential two; Mike played it on one chord-and eventually Pete learned it that way.
Most performers work the other way around-they start out simple and acquire complexity to show off. But Mike Seeger wasn't a show-off; he was the consummate traditional singer and (multi)-instrumentalist who reduced the music he performed to its essence, always in service of the song or tune. What a privilege it was to hear him and realize that he was a living link to the originators of true American folk music.
He died of multiple myaloma, a complication of leukemia, and in the same spirit in which he lived, chose his own way of going out-quietly authorizing the cessation of cancer treatments when it was clear they served no reasonable purpose.
Mike Seeger leaves behind his wife Alexia Seeger, his sister Peggy and half-brother Pete, two other siblings, as well as his own family of children, stepchildren, and grandchildren. Fortunately, he was granted one final major award earlier this year while he was still able to appreciate it: the Bess Lomax Gold Medal from the National Endowment for the Arts in recognition of a lifetime of service to traditional music. He was nominated for six Grammy Awards during his lifetime, and recorded over 40 solo albums, as well as dozens of records with both the Ramblers and other groups of musicians, including Ry Cooder.
One of his most prized and cherished recordings, however, is the triple-album boxed set he did with his sister Peggy-the entire songbook of children's songs collected by his mother Ruth Crawford Seeger-perhaps the most important single collection of traditional children's songs ever assembled by one collector.
Until Mike and Peggy's recording, released on Rounder Records, many of those songs had never seen the light of day. It's my favorite children's record, because it never speaks down to children or panders to them, nor tries to always find some uplifting message to justify the song-or some bizarre quirky humor-which is really meant to entertain the adults in the audience.
In short, these are real children's songs-which are sometimes as grim as Grimm's fairy tales, and recognize the actual world that kids often live in.
As with all of Mike Seeger's music, it reflects and revels in the real thing-and justify the kind of sign-off that legendary newscaster the late Walter Cronkite ended his broadcasts with-and that's the way it is.
To my mind, and again akin to Cronkite, Mike Seeger was the most-trusted folk musician in America. If he played a song a certain way, you could take it to the bank-that's the way it would have sounded a hundred or two hundred years ago-if the performer were as skilled a musician as Mike Seeger.
In short, if you want to start learning folk music, pick up one of Mike Seeger's records and get to work-you will be inspired and you will be enchanted. But you will also be learning from a master of his craft. The angels in Heaven must be singing.
Ross Altman has a Ph.D. in English. Before becoming a full-time folk singer he taught college English and Speech. He now sings around California for libraries, unions, schools, political groups and folk festivals. You can reach Ross at Greygoosemusic@aol.com.
https://folkworks.org/wp-content/uploads/2020/11/mike_seeger_2.jpg
535
375
Steve Shapiro
https://folkworks.org/wp-content/uploads/2020/11/FolkWorks-logo-large.png
Steve Shapiro
2009-08-13 14:29:34
2020-11-02 14:08:06
Mike Seeger RA obit