For David Lindley: "Into a Dancer He Has Grown"
(March 21, 1944 – March 3, 2023)
"Do not go gentle into that good night,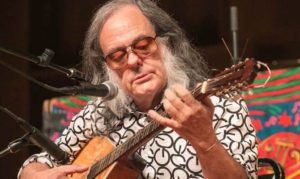 Old age should burn and rave at close of day.
Rage, rage against the dying of the light."
Dylan Thomas
My wish for singer-songwriter, multi-instrumentalist & champion of polyester David Lindley is that he does not go gently into the good night. If he rages at passing from us, let it be with joy, music, songs and laughter because they were his lifeblood. And let there be dancing. He once said he took up the mantle of his polyester vestments because he didn't move enough on stage, and the strange material had its own kind of movement. So, wherever David Lindley is at this existential moment, I hope he is dancing. As his most famous musical collaborator, Jackson Browne, once wrote, in his classic song about the death of a friend, 'into a dancer he has grown.' I wish this for David Lindley.  May he dance joyfully in unconventional peace.
While David's solo music referenced a unique, carnival style of reggae with raging guitars, pumping grind organs, and Caribbean rhythms, he also added a heavy dose of comedy & danceable rock into a mix of chronic celebration. He naturally broke away from musical conventions, but when he contributed to other artists' music, he enlarged the sonic soul of the songs through conventional avenues. He gave them his considerable musical soul. It gave the songs wings like eagles in flight. This quality was vital to his legend as a journeyman musician. It is what made him among the most sought-after session musicians in the business.
David Lindley was musically spawned from the wild nights at El Monte Legion Stadium in the '60s, absorbing one of his significant influences, electric violinist Sugar Cane Harris. As a founding member of the 1960s experimental world music rock band, Kaleidoscope, he dug deep into the roots of international music. On a tour of England with Terry Reid, he would discover his love for reggae music on a chance visit to local clubs. 
In 1973, he took the musical life lessons learned into legendary sessions that added dimension and breadth to the songs of one of America's finest singer-songwriters, Jackson Browne. He called forth his deepest soul on Browne's finest albums, For Everyman and Late for the Sky.
 This sonic journey with Jackson Browne began earlier, in 1969, backstage at Troubadour when David first played on one of the singer-songwriter's signature songs:
"We started to play my song These Days, and my world changed. His playing was so emotional and immediate – it cast a spell over me and everyone there. It didn't matter that he had never heard the song before. What he was playing made it more emotional and more real than it had ever sounded in the years I had played it alone."
The classic Jackson Browne albums of the '70s gave his career the jump-start needed to get the word out about the studio magic David could bring to sessions. Over the decades that followed, his contributions made a difference to the music of Warren Zevon, Ry Cooder, Linda Ronstadt, Graham Nash & David Crosby, Bonnie Raitt, James Taylor, and Bruce Springsteen.  He toured with Trio in the 1980s, the famous collaboration with Linda Ronstadt, Dolly Parton, and Emmylou Harris.  According to David in the 2009 FolkWorks interview, during a live performance, Dolly Parton introduced him as "David Lindley from Mars!" While it is tempting to say, he brought something otherworldly to American music; it is more deeply true to acknowledge that he brought the world to us. His more recent love for the middle eastern stringed instrument, the oud, illustrates this.He was like a studied hermit who ventured out from his cave. He was an explorer, a pioneer, a gentle rebel, and a student of exotic instruments. He has also been a disseminator of music and its instruments from every corner of the world to every corner of the planet. In my last 2019 interview with him published in San Diego Troubadour, he made a surprising comment for such an accomplished musician.
"I've learned more in the past three years than I have in my entire life."
The comment left me with the impression that he was still looking for challenges to help nurture and grow his already considerable talent. This was a simple, clear statement of the genius of David Lindley. As he reached deeper into the diverse roots of his instruments, it became clear the universality of music from all cultures is what drove David Lindley as an artist and a human being. As Jackson Browne acknowledged in his recent statement on social media, it is hard to say goodbye.  But, in some sense, he will never hit his final note, like his violin solo on 1974's "For a Dancer," his life in music continues in some other realm.If we listen carefully, we may hear him calling us to a deeper experience of the joyful sound of his music that moves us all.  David Lindley's life was and will continue to be about this.
https://folkworks.org/wp-content/uploads/2023/04/David-Lindley.jpeg
400
670
Terry Roland
https://folkworks.org/wp-content/uploads/2020/11/FolkWorks-logo-large.png
Terry Roland
2023-04-03 11:53:56
2023-04-05 12:20:37
For David Lindley: "Into a Dancer He Has Grown"
(March 21, 1944 – March 3, 2023)