ANATOMY OF A BAND: NEVENKA
Look: the constant marigold
Springs again from hidden roots.
Baffled gardener, you behold
New beginnings and new shoots
Spring again from hiddle roots.
--from Marigolds by Robert Graves
[Editor's note: much of this text is excerpted from Joel Okida's review of Nevenka, from FolkWorks hardcopy Volume 6 Number 6 November/December 2006. The title of his article, When Marigolds Sing so moved director Trudy Israel that she used this name for Nevenka's fourth CD, published after Joel died. Additions are by current members of Nevenka, as notated. Trudy Israel knew nothing about this article until it was completed by Leda and Steve Shapiro and the Nevenka women. She was "Honored, extremely touched, grateful, and a little embarrassed!"]
When first heard, the layering of voices wash over you, or perhaps, more accurately, permeates through you, pulsating, sometimes forcefully, at other times, almost pleadingly. The chorus en masse harmonizes and then altos underscore the refrain followed by the soprano section riding on top and then again the chorus weaves in with an intense drone. These hum-like intonations coupled with a degree of dissonance are not often encountered by audiences attuned to western melody and harmony. Still, the effect can be hypnotic if not almost haunting as each song displays another example of exhilarating vocalization presented within the context of a simple folk song.
The effect is heightened or at least contrasts with other forms of singing by the fact that many songs are sung without gesture or physical display. This places the entire focus on the purity of the voices. This is not to say that there is no emotion involved. All members radiate the joy of singing through very expressive faces, handclapping and "yelps" which accent specific upbeat songs. Other songs may include instrumental accompaniment by a band, or percussive augmentation and instrument playing by the choir.
This is Nevenka, an Eastern European Folk Ensemble of vocal enchantresses, who caress a song and then unleash their powerful harmonic blend. Nevenka (derived from neven – a marigold flower and a woman's name common to many of the Balkan countries), is a female choral group whose seeds were planted in Los Angeles, back in 1976. Their specialty is bringing the folk music of Eastern Europe to the now open ears of the southland and beyond. They are rooted in the traditions of the songs, but arrange and sing the pieces with the style and strengths of their members. Nevenka is led by Musical Director, Trudy Israel, who handles all arrangements along with singer and Assistant Director, Jennifer Jurick.
===============================
Trudy is a wonderful mentor to me – not only because of her extensive knowledge about Balkan music (I am still learning new facts from her, after 19 years in Nevenka!), but because of her kind and supportive attitude towards others. She is able to look past small errors and see the big picture, and she encourages us all to do the same. Her leadership makes Nevenka feel more like a family than a choir.
- Jennifer Jurick
===============================
However, all of the members contribute in different ways to make personal the songs they sing. Trudy offers some insight and reveals some of the magic behind Nevenka. "Each of our members brings something to Nevenka. Many of them teach and direct new songs or work on style and pronunciation with the group. I like it that way because we have many very talented women. Nevenka is democratic in that sense."
===============================
We are a diverse and opinionated group of singers; while we like each other, and love singing together, it takes someone with talent - ie Trudy - to wrangle us into a coherent unit. She sets the tone that keeps the atmosphere warm and supportive. She keeps us focused and motivated, and finds ways to let every member shine, whatever our talents.
- Ellen Bridle
===============================
I joined Nevenka in 1987 and have loved every minute of it - from performing with Aman Folk Ensemble, to recording on 3 of our 4 CD's, to reincarnating ourselves with each new member's contributions, to marveling at Trudy's ability to lead us through each stage with a democratic, loving spirit.
- Robin Van Zak
===============================
Trudy has a vision, a belief in the group as well as its members as individuals. She always sees the best in each of our abilities, even when we don't believe in it, ourselves.
- Jessica Ng
===============================
Because the songs are sung in the country-of-origin's language, (Russian, Bulgarian, Croatian, Greek, etc.), for English-speaking audiences it is the dynamism and uncommon sound of voice that provides the emphasis, carrying the lyrics and perhaps adding a bit of mystery to each song. "Exposure to world music has developed a whole generation of people who appreciate music with complex harmonies, dissonance and non-western rhythms and scales. I think part of the beauty of Eastern European songs is the way the words flow. When I hear an opera (European), I don't want to hear it in English, I want to be transported to another place and time. I think it's the same for Balkan music," confides Trudy.
===============================
Trudy has an amazing capacity for kindly, patiently, and gracefully guiding a large group of strong minded women. Her unwavering love of the music carries us through rehearsals when we might be tired or grumpy. She lifts our spirits through song, and always offers not only her knowledge of Eastern European song but also her personal support for anything going on in our personal lives. She has created a community I am so grateful to be part of - music and friendship with women I am honored to know.
- Anna Cross
===============================
When I was growing up, I would fall asleep to the sounds of Nevenka rehearsing in my living room. Trudy was always at the helm, guiding the group with her special mix of humor and openness. She always understood how to shape a show in a way that would keep an audience's interest throughout the performance. Now I sing with Nevenka and my son falls asleep to the sounds of us singing in my living room. Trudy is an ever-present reminder that Balkan singing is a form of celebration - of the music, the traditions, and this very special group of women.
- Shira O'Keefe
===============================
Trudy Israel has a generous heart and a warm, inviting spirit. She welcomes people into her home and her world with open arms and an abundant table; echoing the ubiquitous hospitality found in the countries whose music we are privileged to sing. Her graciousness is the glue that holds Nevenka together as we continue the tradition of women coming together to sing, celebrate, and support one another through life. We are most fortunate to have her as our director and friend.
- Liseli Walan
===============================
It is with this kind of music that one's attention turns to the range and variety that the voice can produce. Nevenka's sound covers a vocal array due to their broad repertoire of Eastern European folk music. Any number of individual voices may be showcased in solos and then blend with a "drone" in duets and chorus. You may experience Trudy's rich emotive voice in an inviting and imploring solo on the Greek rebetiko song, Pos tha Perasi I Vradhia, followed by Jennifer Jurick's transcendent solo in the starkly beautiful El Sueno de la Hija del Rey, a Sephardic tale sung in Ladino. When you hear these contrasts you begin to understand the scope of this type of singing.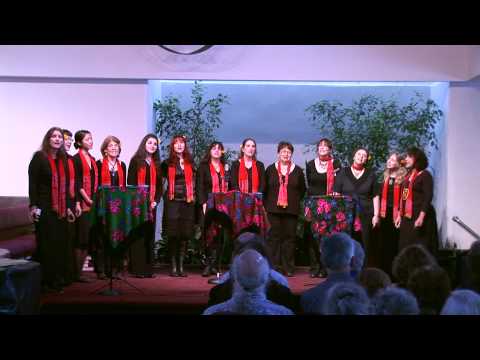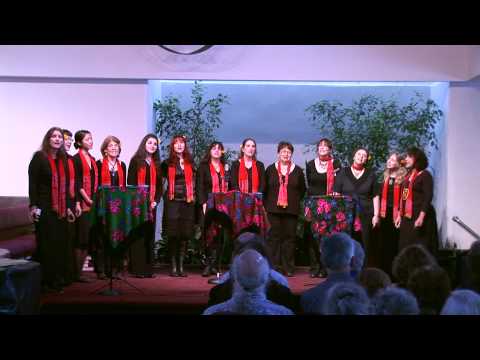 Yet another dimension is demonstrated when a trio leads the ensemble through Ja Snoshti Xodix, a Bulgarian song exemplifying the vibrant drone consistent with and reminiscent of The Bulgarian State Radio and Television Female Vocal Choir known for their Le Mystere des Voix Bulgares recordings. These recordings introduced Bulgarian music to a wider audience back in the late 1980s. "One generalization about Balkan vocal styling, is that it should NOT be operatic, reminds Trudy. "Most of the traditional folk songs are sung in chest tones, even the soprano parts."
There are other groups both here in the US and, of course, in Balkan countries, who sing similar types of music. And yet, there is uniqueness to the Nevenka sound. Trudy describes her approach to the music. "What I really like is the diverse styles of music we sing. We limit our repertoire to Eastern Europe, but there is a wealth of varied musical styles within each country and within the regions of each country. I think we do a good mix of roots music and composed pieces."
===============================
Trudy has a loving heart and works hard to make sure that everyone in Nevenka has a chance to shine. She has excellent taste in music and a keen sense for matching vocal styling to the regions from which our songs originate. She is also forever young and a lot of fun-- she knows when it's time to take a break and throw a party!
- Justine Kragen
===============================
Trudy is the like the friend and mother and for that reason it is easy to rally for weekly rehearsals and put in the time and effort for creating meaningful music together. She has a lifetime of experience with this music, has drilled down deep to know and love the music and people who live and love this music too. Perhaps because of her dance background for so many years in Aman, the meters of this music run in her veins like blood. And that paired with her beautiful voice and fond friendships, creates a magnetic environment that is rigorous and joyful at once. You can't help but absolutely love Trudy!
- Molly White
===============================
Trudy's love and respect for traditional folk music shines through, but she also has the ability to move forward and grow; with her guidance, the singers of Nevenka grow along with her.
-Leslie Yeseta
===============================
Trudy goes on to say, "In the past, we've tried to be as authentic as possible, drawing our arrangements, vocal styles, and instrumentation from original recordings, but authentic is sort of a floating definition when you look at the development of Eastern European folk music over the past several decades. With the advent of world music, the purists have had to put up with the fusion of vocal styles and instrumentation, while the non-purists have welcomed the new music coming out of these cross-pollinations. The advent of world music has allowed us to experiment and be more free with arrangements and instrumentation in recent years."
===============================
Trudy Israel's musical curiosity, imagination and deft curatorship has made Nevenka a valuable contributor to LA's vibrant world music scene for more than 40 years. I consider myself very lucky to have been a part of Nevenka. Gathering around her kitchen table in song is one of the most joyful experiences I have ever had.
-Ronda Berkeley
===============================
In Nevenka, every singer is entrusted to bring ideas and artistry to the music - but when Trudy speaks, it inevitably brings us closer together to a single voice, and to the true intention of the song. With both her graceful spirit and her profound knowledge of Balkan music guiding us, she is our director in the truest sense.
- Emi Macuaga
===============================
Trudy has vision. She never wanted to see Nevenka as merely a repository of the music that launched us -- the Aman repertoire. The Nevenka she curates is a workshop, not a museum. She is always looking for new material to challenge us. For years, she dreamed of developing a "girl band" within your group, and she has recruited the talent to make that happen. While we still love doing large shows with the many talented musicians who often partner with us, the girl band makes us nimble and independent.
Trudy exudes "kefi." Too bad English doesn't have a ready translation! It's Greek, but the closest equivalent might be "joie de vivre." Trudy is a connoisseur of joy and passion. Often, just before a show, she will give us a pep talk. But it's never about the technical stuff. She will say "let's get out there and show them the feeling and love we have for this music." She knows that what people take home is not a word expertly pronounced or flawless intonation or a vocal ornament perfectly executed. It's the feeling that resonates in the moment...and follows our audience home.
-Susie North
===============================
The members that comprise Nevenka come from many ethnic and musical backgrounds. They also cover a wide age range. There is a very basic common thread that ties them together. Trudy elaborates: "The common thread that holds us together is the desire to make music out of the mainstream. We have a 30 year age range, but age does not seem to be a barrier. In Bulgaria, the village women used to have what they call a "sedenka," which were working parties where women of all ages would sew, embroider, and sing together. I think of us that way, only the work is putting songs together." She adds that, "When people audition for the group, we look for a few things. They must have good pitch, a strong chest voice, good pronunciation and most of all, they have to be nice. We have no divas in Nevenka! Everyone is a team worker."
===============================
Unlike most artistic directors, Trudy is not a diva herself in any way. She has an MO that discourages us from being about ego or sovereignty. We're sort of a no-diva zone. We've had a few of them along the way but they don't last long because they don't thrive in such a democratic and collegial group.
-Susie North
===============================
As the newest member to join Nevenka (I joined 2 years ago) I was a bit lost at first. It was a challenge trying to learn about these new languages, strange timings, rhythms and musical intervals. But Trudy always made me feel like I belonged, that I was more capable than I believed I was and showed me immense patience as I found my way.
I am grateful for the opportunity to sing such amazing music with this group of talented women and with Trudy at the helm.
- Dawn Lunsford
===============================
To underscore the different backgrounds of the current line-up of Nevenka, Trudy revealed the "other" musical lives that some members pursue concurrently with their more traditional Balkan singing. "Many of our singers are in two or three performing groups, from Medieval/Renaissance to folk rock to gamelan to bluegrass to opera and even gothic rap!"
The Balkans are made up of many countries, and within those nations there are many languages and even beyond that there are regional dialects. Trudy explains what it takes to learn a typical song. "A few of us danced and sang with the Aman Folk Ensemble and we were trained to understand the music we sang, both in style and tradition. Over the years, we've had many workshops from Slavic teachers. While we have only two ethnomusicologists in the group, another four or five members have been studying the music of these cultures for a number of years. We also have native speakers work with us on the words and pronunciation."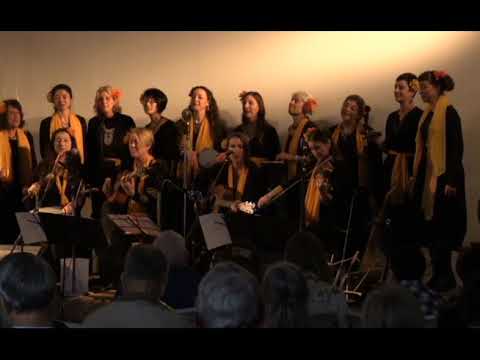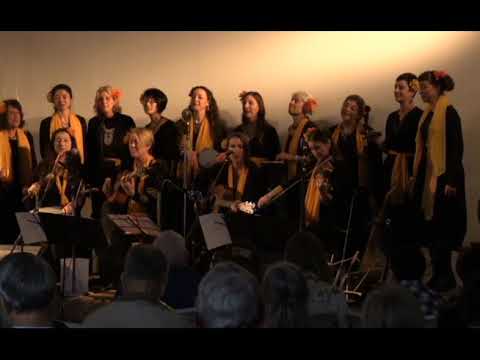 Nevenka currently has four recordings available. The last one, When Marigold Sing, is the one named in Joel Okida's honor and memory. The next to last, Reflections of Eastern Europe, took them in a slightly different direction than the previous two. Trudy explains the change in emphasis. "We had friends who played hot tamburica (Croatian string band) music so we featured more Croatian music then. Over the years, we've been drawn to more Bulgarian, Sephardic, Georgian, and Greek music. The type of music is often dictated by the members in the group – their vocal strengths and backgrounds."
HOW I CAME TO SING WITH NEVENKA
Ellen Bridle - I fell in love with Balkan music the moment I first heard it, when I was around 14 or 15. I was first drawn to the wacky rhythms and crunchy harmonies, but I love the beautiful arranged multipart pieces too! Dance was my first passion, but I've had some injuries, and singing lets me connect with and be part of that glorious sound. I can have a totally crappy day, and an even more crappy drive to rehearsal, and usually by the 3rd song or so, it all feels worth it. I sang in a Bulgarian chorus in Boston, and when I moved to LA in 2005, I couldn't find anything. But when I was visiting Boston in 2009 and went to a chorus rehearsal, I met the daughter of a Nevenka member! I joined Nevenka straight away when I got back to LA. I've loved being part of it; it's such a wonderful group of women, and talented musicians; best of all, we all support each other.
Jennifer Jurick – I discovered Balkan music while a student at the University of Oregon. One day I saw a flyer recruiting members for an Eastern European Folk Ensemble, led by professors Mark Levy and Carol Silverman, and I thought it sounded fun. I joined their group and quickly fell in love with Balkan dancing and singing – it has such energy and life, you can't help but smile while performing. When I returned to Los Angeles, I learned about Nevenka and came to visit a rehearsal. That was in 1999 and I've been singing with them ever since!
Emi Macuaga – There are many things I love about Balkan music: the spirit, crunchy harmonies, history, sisterhood (including the oral traditions of the songs), instrumentation, and variety of musical styles. I originally discovered Nevenka online, then heard of them again through Tzvetanka Varimezova and Super Devoiche (the UCLA Balkan choir). I joined Nevenka in 2011.
Susie North - I first heard Balkan vocal music as a recreational folk dancer during my college years, in the late sixties. I'd always loved singing, and the music really drew me in: the harmonies, the rhythms, the hearty vocal style. When my days with Aman Dance Ensemble were winding down (in around 1978) it was the prospect of joining Nevenka – which was then filled with friends of mine who had left Aman – that made the move bearable. I wanted to stay connected to the music and the people, but with a schedule that would allow me to work full time and then start a family.
Shira O'Keefe - I first found Nevenka as a small child, and I grew up with Balkan music because my parents were in AMAN and my mother was in Nevenka in the early years. It was always a fantasy of mine to be a part of Nevenka, and to sing with Trudy and Susie, but I didn't live in Los Angeles as an adult. When my family moved here in 2011, Trudy was looking for support in the alto section, and as luck would have it, I'm an alto! I love the variety of Balkan harmonies, rhythms, styles, and languages. And I absolutely love singing with a multi-generational group of strong, intelligent, passionate women!
Leslie Yeseta - Nevenka has been in my awareness almost the whole of my existence, having grown up as Aman spawn. I'm honored to be able to help carry on the tradition of this amazingly beautiful, sometimes simple, sometimes extremely complex music.
Robin Van Zak - I started folk dancing in 1969 and joined Slaveja (the singing group for Avaz) in 1983. After Slaveja disbanded, I was invited to join Nevenka in 1987 and have been with them ever since.
Liseli Walan - My heart leapt when I heard the Balkan choir Savina perform at the World Music Festival during my final year at Berkeley in 1987. A nostalgia for my childhood in Slovenia mixed with images of my mother folk dancing as a Duquesne Tamburitzan, and I found myself at an audition the following week. I experienced Trudy's warmth for the first time when Savina did a wonderful Smog Meets Fog joint concert with Nevenka in Los Angeles. At the "kefi" after party, as Trudy called it, we sang late into the night. In 2003, I was living in Southern California, when the Balkan strains called upon me to search out Nevenka. I've been joyously singing with them ever since!
Molly White - I earned an MA in ethnomusicology with areas of specialty being Latin American folk and popular music, as well as Indonesian gamelan music. I had heard Balkan singing, and had read articles and books about it in my studies, but had never focused on that music because I was already so heavily involved with other genres. In 2004 I visited Bali and when I returned, I decided to join the Cal Arts Gamelan. When I walked into rehearsal I reunited with my friends Justine and Steve from UCSC college days, and Justine mentioned that I might like to join the choir she was singing with, Nevenka. I attended a concert and was introduced to Trudy. I was so impressed with the concert, and Trudy was so humble and kind, and seemed so genuinely interested in learning about me, my interests, and experiences, that I immediately wanted to learn as much as I could about Balkan vocal music. It was mysterious, haunting, and beautiful, and the challenge of holding one note against others in dissonance was a complete thrill, and still is! After an informal "audition" at rehearsal, I joined Nevenka. It must have been 2005? Wow!
Terri Prizant - Since I was a teenager, I hardly ever participated in my own culture, as I just loved world music and dance. As a teenager, I joined the Aman Folk Ensemble, (the company from which Nevenka was spawned.) Bulgarian harmonies are what really got me hooked, especially the Philip Koutev singers. But of course an honorable mention goes out to the amazing Croatian group Lado as well. I was lucky enough to dance in the company with Trudy, but after our dancing time with Aman was done, Trudy had already been directing Nevenka, a fine group of singers. She has a magnetic personality and the leadership qualities to have kept the group together through thick and thin. And she now has built a fantastic professional group of singers and musicians. I think they let me sing and play with them because I always bring a nice bottle of really good wine.
Justine Kragen - Trudy and I met a few times over the years because one of her dearest friends and fellow AMAN alum, Michelle Green, is my mom's much loved first cousin who has lived most of her adult life in France. Fast forward to a party for Michelle and her husband Noé who were visiting from Paris in 2004: I had just moved back to town after a number of years in Santa Cruz with my then partner Steve McDonald. We had each earned a BA in music from UCSC and had recently started an original band together called Vermouth. As the party progressed into the night, and many songs were shared by many people, Steve and I played a couple of our tunes and Trudy subsequently invited me to come to a Nevenka rehearsal. I had seen Nevenka perform before and jumped at the opportunity. Years later, Steve recorded, mixed, and mastered When Marigold's Sing in my mom and greatly missed late step-father Tony's house, and continues to run sound at many of our live shows. Last year, Steve met his awesome girlfriend Nechelle, and we discovered quite coincidentally that she is close friends with Michelle Green! What a small, wonderful world!
Rebecca Stout: As I wracked my brain this morning trying to come up with the perfect words to tell you how much Trudy Israel means to me as a director, friend and mentor, I began to cry. The tears just came pouring out. I remembered so many of the major life experiences I have survived with the help of Trudy Israel and Nevenka. It's a miracle this group has been together so long. It's a miracle I was ever accepted into in the first place. It's a miracle I've stuck with it for fifteen years. It's a miracle I haven't lost my mind. It's a miracle I surrender my "artistic vision" to Nevenka on a weekly basis. It's a miracle that Nevenka continues to support me, no matter how often I fall short. But Trudy Israel has shown me something: I CAN BECOME. Read more...
===============================
BALKAN MUSIC CONCERT
Nevenka and True Life Trio (from the Bay Area) with Tzvetanka and Ivan Varimezovi
Saturday, June 9 - 7:30pm
Unitarian Universalist Church of Studio City
12355 Moorpark St, Studio City, CA 91604
===============================
Nevenka has performed in music festivals, auditoriums, churches, and even in local nightclubs where, as musical worlds collide, they continue to rise above, enlighten and surprise receptive audiences, their powerful voices embracing the traditions of eastern European folk music while expanding the boundaries of singing itself.
Nevenka can be found online where you can find out where they are playing or how to purchase one or all of their CDs.
Joel Okida's bio:
Joel Okida is a struggling artist, struggling writer, and struggling musician. It occurs to him that life is all about the struggle. Fortunately, he did not take up acting. However, he's not half-bad as a zydeco dancer and the ability to make a mean gumbo and lovely walnut tortes has gotten him by.
(Rest in peace, Joel!)