Waist Deep In the Big Muddy:
How One Song Broke the Blacklist,
Ended the War and Changed America
Waist Deep In the Big Muddy is the Mona Lisa of protest songs, not because it is the greatest antiwar song ever written—though it surely is that—but because it occupies a historical place that will never be duplicated. It is the song Pete Seeger wrote and sang that fully restored his place in the American pantheon and public media after 17 years of being blacklisted from network television. In 1950 The Weavers—the folk quartet he, with Lee Hays, Fred Hellerman and Ronnie Gilbert, founded in 1949 and shot to the top of the Hit Parade with Leadbelly's theme song Goodnight Irene—were cited by the entertainment industry's blacklist Red Channels—which in turn gave rise to a book that specifically targeted folk singers called Marxist Minstrels. The Weavers were effectively destroyed just as they were really getting started and saw two years of nightclub and concert bookings cancelled overnight.
Pete Seeger, the only one of them capable of pursuing a solo performing career, never appeared on a network television show until 1967 despite hit songs like Turn, Turn, Turn (the Byrds), If I Had a Hammer (Peter, Paul & Mary), Where Have All the Flowers Gone (The Kingston Trio), Kisses Sweeter Than Wine (Jimmie Rodgers), Guantanamera (The Sandpipers), Wimoweh (recorded under the title The Lion Sleeps Tonight by the Tokens), Tzena, Tzena, Tzena (the Weavers), Woody Guthrie's This Land Is Your Land and So Long, It's Been Good to Know You (the Weavers), Leadbelly's Goodnight Irene (the Weavers) and his own hit recording of Malvina Reynolds song Little Boxes. That's a dozen hit songs—enough for a Greatest Hits album, which Pete eventually had on Columbia Records—the same label that recorded Billie Holiday, Bob Dylan and Bruce Springsteen.
And yet Jack Linkletter's folk music show Hootenanny on ABC refused to book him despite the fact that the only reason folk music was popular enough to justify a prime time TV show was due to Pete Seeger having created the folk music revival through the Weavers—of whom poet and Lincoln biographer Carl Sandburg said, alluding to the Civil War poet Walt Whitman, "When I hear America singing, the Weavers are there." Jack Linkletter famously said, when asked why Pete Seeger was never on his show, "He can't hold an audience." Put that on your short list of the stupidest, most ill-informed comments ever made about a major artist.
Pete—like the gentleman and humanitarian he was—stood above the fray and encouraged fellow performers—every one of whom owed their careers to him—to appear on the show regardless because it was good for folk music. To their everlasting credit both Bob Dylan and Joan Baez—the two leading figures in the 1960s folk revival with Baez on the cover of Time Magazine and Dylan on the cover of Life Magazine— nonetheless refused to appear on it because they wouldn't book Pete.
So what happened in 1967 that broke the blacklist for Pete Seeger after 17 years? The Smothers Brothers Comedy Hour on CBS happened. They invited Pete Seeger to appear on their show that September and miraculously the show's producers did not intervene. However when it came time to rehearse the song he had chosen to sing for his appearance the CBS censors—euphemistically known as their Division of Programs and Practices—did intervene and said Pete could not sing his song—Waist Deep In the Big Muddy.
It was the height of the Vietnam War, and this World War II veteran—a member of Tom Brokaw's Greatest Generation who served on the Island of Saipan in the US Army during the war—had something to say about this war of choice that Lyndon Johnson and his Secretary of Defense Robert McNamara had escalated after running a peace campaign for reelection against Barry Goldwater in 1964. Pete—like a growing number of Americans regarded this war as unnecessary, unjust and immoral. And while other songwriters focused on the horrors of Vietnam to make their case, Pete Seeger took another tack altogether, and a long look back to the Good War for which he had served his country. He recalled a story that resoundingly answered LBJ's successful election campaign argument that we should "never change horses in midstream."
He put a platoon in midstream under the command of a "big fool" who "said to push on." Until he drowned and left his platoon to be rescued by the sergeant who counseled withdrawal. It was brilliant, and coming as it did from a veteran who had served his country and helped defeat Nazism—only to be targeted as an "Un-American" by HUAC—the House Committee on Un-American Activities—and cited for Contempt of Congress because he refused to name names (a story I have told in detail in a previous column called Pete Seeger's Finest Hour)—Pete's protest song had credibility. That was not lost on the CBS censors who told Tommy and Dick Smothers that Pete Seeger would have to sing a less pointed song if they wanted him to appear on their broadcast. When Tommy Smothers asked them what they objected to about Waist Deep they replied, "Someone in the audience might think he was referring to President Johnson!" "Why that's ridiculous!" said Tommy Smothers, "who could think that?" (After all, the funny man in the Smothers Brothers had a well-trained sense of humor—and perfect timing.)
Pete was not about to walk off a show it had taken him 17 years in the wilderness to get on; once again, he was a gentleman and would not have put the Smothers Brothers in such an uncomfortable position. So he sang his antiwar song for all occasions—and a hit song to boot—Where Have All the Flowers Gone. No one noticed, except of course for the Smothers Brothers and particularly Tommy Smothers, who was determined that Pete was going to have his say, and that it was going to be on their show.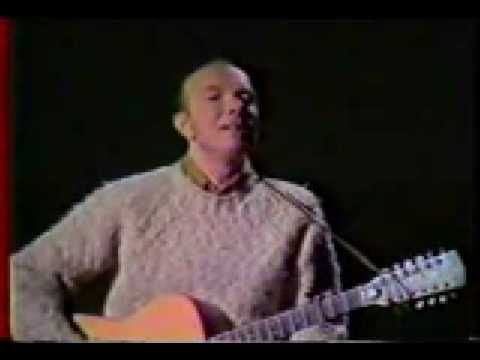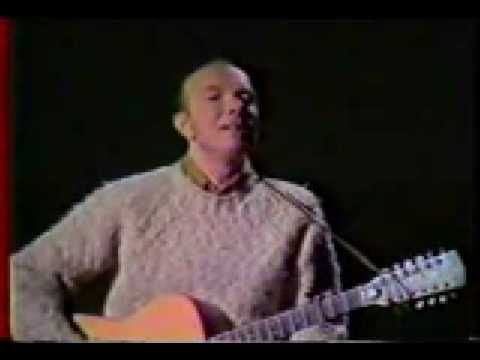 To their everlasting credit the Smothers Brothers invited Pete Seeger back the following year—and America in 1968 was even more in doubt about the Vietnam War—indeed opposition was growing so fast that it finally reached a credible campaign for the White House when both Eugene McCarthy and Bobby Kennedy ran on an antiwar platform. But that was later in the year. And the most trusted man in America—CBS news anchor Walter Cronkite—did something he had never done before and would never do again—he broke his detached persona of news anchor who had no personal opinions he could reveal to tell the American people his serious doubts about the course the war was taking and of our prospects for winning it.
When Lyndon Johnson heard that broadcast—his second most famous broadcast after raising his eyeglasses and clearing his throat for John F. Kennedy while reporting his death—LBJ confided to his closest advisors, "If I've lost Cronkite, I've lost the country." But that too was later in the year, though not by much. Before Senator Eugene McCarthy, before Senator Bobby Kennedy, and before CBS News Anchor Walter Cronkite, a World War II veteran got on TV's flagship station and voiced his own doubts about the course his country had taken in napalming a tiny Southeast Asian country back into the Stone Age.
On February 25, 1968 Pete Seeger sang Waist Deep In the Big Muddy, and this time the CBS censors did not object. Had they too joined the growing opposition to the war?
Every time I read the papers that old feeling comes on
We were waist deep in the Big Muddy
And the big fool said to push on.
Lyndon Johnson, like Len Chandler's song said, had beans in his ears.
You know who was listening? Walter Cronkite, that's who. After all, if it worked for the Smothers Brothers, why not Uncle Walter? Indeed, just two days later, on February 27, Cronkite broadcast his Special Bulletin, and famously said, "We are mired in stalemate."
He might as well have said, "We are waist deep in the Big Muddy." That is why Pete Seeger's antiwar song is the Mona Lisa of protest songs. It was not only the song that broke the blacklisting of America's greatest folk singer, it played a significant role in changing "the hearts and minds" of the American people. Can a song change the world? Well, this song did. It helped to end the War in Vietnam.
And this from a performer who "couldn't hold an audience."
Folksinger Ross Altman will roll out Pete Seeger's classic anti-Vietnam War protest song Waist Deep In the Big Muddy along with other Seeger favorites joined by many other performers at six tributes to Pete being held over the next three months. Here they are:
1) Saturday, March 1, A Tribute to Pete Seeger on Uncle Ruthie's Halfway Down the Stairs on KPFK 90.7 FM 8:00 to 9:00am; Ross for the hour with Fred Sokolow;
2) Saturday, March 1, "A Pete Seeger Sing-Along" at the Church in Ocean Park, 4:00-7:00 PM; 235 Hill St., Ocean Park, CA 90405; $10; 310-399-1631 ;
3) Saturday, March 8, a "Celebration of Pete Seeger--His Songs and Spirit" with the Geer Family at the Will Geer Theatricum Botanicum, 1:00 to 4:00pm; $10; 1419 N. Topanga Canyon Blvd., Topanga, CA 90290; 310-455-2322
4) Sunday, March 9, a "A Time to Sing: Tribute to Pete Seeger" at The Coffee Gallery Backstage in Altadena, 6:00pm; $20; 2029 N. Lake Blvd in Altadena, CA 91001 626-798-6236 , a benefit for Pete's Clearwater Foundation
5) Saturday, April 5, a "Pete Seeger Memorial Concert" at the First Unitarian Church of Los Angeles, 2:00 to 5:00pm; 2936 W. 8th St., LA, CA 90005; $20; 213-389-1356 , a church benefit produced by Ed Pearl for the Ash Grove Music Foundation
6) Sunday, May 18 "Sing Out for Pete!" at the Topanga Banjo-Fiddle Contest & Folk Festival at 4:30pm on the Railroad Stage (a solo performance); Paramount Ranch 2903 Cornell Road, Agoura Hills, California 91301; 805-370-2301
Ross Altman's performance of Waist Deep In the Big Muddy can be heard on The Greatest Protest Songs of the 20th Century, the Pacifica Archives recording of his concert at the Autry Museum of Western Heritage in September, 1999
Ross Altman has a PhD in English; he may be reached at This email address is being protected from spambots. You need JavaScript enabled to view it..