VOICE NOTES:  A FOLK DIVA'S GUIDE TO THE GALAXY Number 43
Winter Soup and The King's Singers!
In a kind of departure from my usual blog post topics, for February 1 I couldn't resist offering something indirectly related to music this time:  my favorite recipe for a winter soup that should appeal to most everyone, and soothe the throat and tah dah!  your vocal cords as well!
Here is a great soup I really enjoy making.  It has so much to recommend it – light protein, fresh greens and citrus, all great ingredients if you're feeling cold-ish or just tired.  You don't need any fancy equipment, just a good sized soup pot for the stove top.  Enjoy!
Lemony White Bean Soup with Turkey and Greens
by Melissa Clark, NY Times
Yield: 4 servings
3 tablespoons olive oil
1 large onion, diced
1 large carrot, diced
1 bunch sturdy greens, such as kale, broccoli rabe, mustard greens or collard greens
1 tablespoon tomato paste
¾ teaspoon ground cumin, plus more to taste
⅛ teaspoon red-pepper flakes, plus more to taste
½ pound ground turkey
3 garlic cloves, minced
1 tablespoon finely grated fresh ginger
1 teaspoon kosher salt, plus more to taste
1 quart chicken stock
2 (15-ounce) cans white beans, drained and rinsed
1 cup chopped fresh, soft herbs, such as parsley, mint, dill, basil, tarragon, chives or a combination
Fresh lemon juice, to taste
Step 1:  Heat a large pot over medium-high for a minute or so to warm it up. Add the oil and heat until it thins out, about 30 seconds. Add onion and carrot, and sauté until very soft and brown at the edges, 7 to 10 minutes.
Step 2: Meanwhile, rinse the greens and pull the leaves off the stems. Tear or chop into bite-size pieces and set aside.
Step 3: When the onion is golden, add tomato paste, ¾ teaspoon cumin and ⅛ teaspoon red-pepper flakes to the pot, and sauté until paste darkens, about 1 minute. Add turkey, garlic, ginger and 1 teaspoon salt, and sauté, breaking up the meat with your spoon, until turkey is browned in spots, 4 to 7 minutes.
Step 4:  Add stock and beans, and bring to a simmer. Let simmer until the soup is thick and flavorful, adding more salt if needed, 15 to 25 minutes. If you like a thicker broth, you can smash some of the beans with the back of the spoon to release their starch. Or leave the beans whole for a brothier soup.
Step 5:  Add the greens to the pot and simmer until they are very soft. This will take 5 to 10 minutes for most greens, but tough collard greens might take 15 minutes. (Add a little water if the broth gets too reduced.)
Step 6:  Stir herbs and lemon juice into the pot, taste and add more salt, cumin and lemon until the broth is lively and bright-tasting. Serve topped with a drizzle of olive oil and more red-pepper flakes, if desired.
Find the recipe here on The New York Times
While You Cook:

 

The King's Singers!
Searching for singalong videos I found my old friends from lockdown, the famous King's Singers from Cambridge.  Here is a fabulous singalong (there is music for you to read and follow along with), of a favorite trad song "Down To the River To Pray" featuring their two awesome countertenors!  You'll be amazed at the sound they achieve.  As you watch, look above the heads of the singers and you'll see your follow-along score.
Background on the King's Singers:
The King's Singers were officially born on May 1st 1968, formed by six recently-graduated choral scholars from King's College, Cambridge. Their vocal line-up was (by chance) two countertenors, a tenor, two baritones and a bass, and the group has never wavered from this formation since. 2018 marks the 50th birthday of the group, and to celebrate, The King's Singers are presenting their anniversary season: GOLD. Everything in this GOLD season, from triple-album to book and concert tour, celebrates the amazing musical heritage of The King's Singers, and also looks at the bright future of vocal music in all its forms.   Find out more about these brilliant guys HERE!
Take care everyone, keep singing and stay well!
Love and Blessings,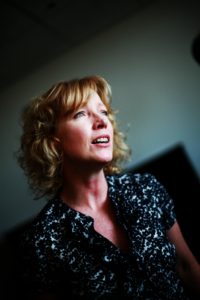 Susie
________________________________________________
Award-winning recording artist, Broadway singer, journalist, educator and critically-acclaimed powerhouse vocalist, Susie Glaze has been called "one of the most beautiful voices in bluegrass and folk music today" by Roz Larman of KPFK's Folk Scene.  LA Weekly voted her ensemble Best New Folk in their Best of LA Weekly for 2019, calling Susie "an incomparable vocalist."  "A flat out superb vocalist… Glaze delivers warm, amber-toned vocals that explore the psychic depth of a lyric with deft acuity and technical perfection."  As an educator, Susie has lectured at USC Thornton School of Music and Cal State Northridge on "Balladry to Bluegrass," illuminating the historical path of ancient folk forms in the United Kingdom to the United States via immigration into the mountains of Appalachia.  Susie has taught workshops since 2018 at California music camps RiverTunes and Vocáli Voice Camp.  She is a current specialist in performance and historian on the work of American folk music icon, Jean Ritchie.  Susie now offers private voice coaching online via the Zoom platform.   www.susieglaze.com
https://folkworks.org/wp-content/uploads/2023/01/Screenshot-2023-01-29-at-11.18.02-AM.png
950
1420
Susie Glaze
https://folkworks.org/wp-content/uploads/2020/11/FolkWorks-logo-large.png
Susie Glaze
2023-02-01 10:52:02
2023-02-01 10:52:02
VOICE NOTES:  A FOLK DIVA'S GUIDE TO THE GALAXY Number 43
Winter Soup and The King's Singers!