VOICE NOTES:  A FOLK DIVA'S GUIDE TO THE GALAXY Number 42
Winterize Your Voice!

We often talk about "winterizing" your home or your car during the winter months, but what about your body and specifically, your singing voice?  We want to pay attention to our health now for many reasons, obviously during the winter months, but for singers we especially need to pay attention to our environments, and how we take care of ourselves.  Your overall health will directly impact the health of your vocal cords.
When there are colder temperatures outside we're often stuck inside with heating elements that produce a dry environment.  Keeping the vocal cords healthy is just one more reason to keep hydrating.  And it isn't just about water:  there are also many foods that help the body hydrate, including fruits and vegetables.  Also, you might consider getting a warm-mist humidifier for your home, either office or bedroom, whatever works.  Do keep a bottle of water or tea or something to drink nearby so you can sip it as you go about your day.  Warm liquids will help with getting rid of excess congestion.  Also (and more about this below) remember that adequate sleep is a must for healthy vocal cords. 
Colder Weather and Singing:

 

Comfort Your Cords!
You already know that when you have a cold your sinus cavity and throat can be plagued with congestion.  This phlegm can coat the vocal cords and thus prevent them from vibrating together as they usually do.  They are usually swollen with this kind of irritation that comes from the post-nasal drip of congestion, and you'll not be singing to your potential, with the resonating chambers being actually clogged.  I've found that a small amount of ibuprofen will reduce this swelling, and can help you recover your voice if you have to sing with a cold.
Sleep! 
One year when I lived in New York I was performing in a theatre piece that required a lot of singing.  This was in the winter and I was exposed to cold weather every day.  That and the stress of the heavy singing load caused a case of laryngitis.  When consulting with a throat doctor, he informed me about what happens to the vocal cords when we sleep.
During waking hours, the vocal cords are always standing at the ready to provide speech, thus there is a tension that is maintained within those muscles.  During sleep, however, the cords separate and relax, thus healing themselves of any stress or strain collected during the day, and healing if they are irritated by congestion. Thus, even if you are completely silent throughout your day, the vocal cords are at attention and ready, holding the necessary amount of tension in order to be ready to speak.  Therefore, it's only during your sleeping hours that the vocal cords truly rest and heal themselves.
If you contract a cold there are some things you can do to care for your throat and vocal cords.  First:  warm liquids will help to dissolve some congestion and soothe your throat from the soreness of the post-nasal drip.  Secondly, get a lot of rest, and if you can, add a warm-mist humidifier to your bedroom that runs during the night.
When you go to sing, swallow to clear your throat and never grind or cough.  This irritates the throat and cords.  Then warmup with some easy, light and soft scale patterns, not pushing for volume or intensity.  This will warm the muscles and shake off some congestion.  If you feel tension or pain, soothe your throat with warm liquids and back off of pushing or straining.
Hum a 1 – 6 – 2 – 5 – 1 chord progression and hum some intervals like 1 – 3 and 1 – 5;
Lightly sing "Mah-Meh-Mee-Moh-Moo" on single notes;
Lightly swing your melody note from low to high in a "siren" fashion (also known as the "siren arpeggio"), starting from the lowest note to the highest you can reach; and
Always sing gently!
Here's a good article from Healthline about how to handle sore vocal cords!
Take care everyone, keep singing and stay well!
Love and Blessings,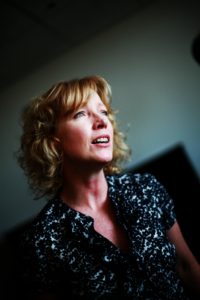 Susie
________________________________________________
Award-winning recording artist, Broadway singer, journalist, educator and critically-acclaimed powerhouse vocalist, Susie Glaze has been called "one of the most beautiful voices in bluegrass and folk music today" by Roz Larman of KPFK's Folk Scene.  LA Weekly voted her ensemble Best New Folk in their Best of LA Weekly for 2019, calling Susie "an incomparable vocalist."  "A flat out superb vocalist… Glaze delivers warm, amber-toned vocals that explore the psychic depth of a lyric with deft acuity and technical perfection."  As an educator, Susie has lectured at USC Thornton School of Music and Cal State Northridge on "Balladry to Bluegrass," illuminating the historical path of ancient folk forms in the United Kingdom to the United States via immigration into the mountains of Appalachia.  Susie has taught workshops since 2018 at California music camps RiverTunes and Vocáli Voice Camp.  She is a current specialist in performance and historian on the work of American folk music icon, Jean Ritchie.  Susie now offers private voice coaching online via the Zoom platform.   www.susieglaze.com
https://folkworks.org/wp-content/uploads/2020/10/Winter_Landscape.jpg
339
500
Susie Glaze
https://folkworks.org/wp-content/uploads/2020/11/FolkWorks-logo-large.png
Susie Glaze
2023-01-16 08:52:37
2023-02-01 10:54:37
VOICE NOTES:  A FOLK DIVA'S GUIDE TO THE GALAXY Number 42
Winterize Your Voice!