the CONTINUING TRADITION Number 9
Live Maine Fiddle Camp is BACK!
2022 IN-PERSON MAINE FIDDLE CAMP – BEST EVER!!!
Well folks, LIVE, in person Maine Fiddle Camp 2022 is history and it was the "best ever"! There were a lot of obstacles to overcome, and a lot of people worked very hard to make this happen. I will try to list these folks here. It takes a village as they say and, with the obstacles of Covid and a new venue it definitely took a team to pull this off!
Frigate plays in the Amphitheater 
It's not hard to know where to start here, because the return of LIVE Maine Fiddle Camp wouldn't have gone anywhere without the vision, hard work and persistence of our fearless leader, Doug Protsik. Doug spent many hours negotiating with the folks at Pilgrim Lodge, and even more hours "on the ground" in collaboration with Pilgrim to get their facility in shape to meet our needs. Pilgrim Lodge is basically a "kids" summer camp" and was set up to have kids (maybe 100 of them), who were dropped off by parents, stay in cabins with counselors. Not much thought had been given to having the campers "stay over" in tents or RV's and that has always been a BIG Part of MFC. So we had to develop tenting areas and parking areas as well as providing toilets for tent and RV campers as well as sinks, showers, etc. Next was dealing with the daily program. At "old" MFC, everything musical except the daily "lessons" revolved around the "Main Tent." At Pilgrim, not only was there not the space to plant a big tent, but there was also a LOT of space that we didn't have at NEOFA that we wanted to use. These spaces were the main "Dining Hall" building (and the deck that surrounded it), the Amphitheater adjoining the west side of the Dining hall in front of the lake, and the old "Camp Lodge" building with two great wood-floor (danceable) spaces. With Covid still a factor, after trying many different things, we decided that the amphitheater, a beautiful (although uncovered) space would be used as much as possible because it was OUTSIDE! The dining hall would have the MFC stage and sound system set up in it and would be used for camper concerts and Old Time Variety Shows with masks and ventilation. The Old Lodge would be used for the dances with as much ventilation and masking as we could muster. For teaching workshops we used outdoor spaces along the "cabin boardwalk", tent spaces, and the many indoor spaces we now had available. In the event of rain, outdoor workshops would move into cabins, not unlike what we used to do at NEOFA.
If you want to get a glimpse of "live" MFC at Pilgrim Lodge, just check out the MFC YouTube channel Playlist. Videographer Alex Naar recorded a lot of the second August week and more and more of it will be available as Alex gets it processed. The Old Time variety Show on the last night of Fiddle Camp traditionally "wraps it all up" and the lullabye is the last performance of the show. Here that is in its entirety. John Pranio's Lullabye.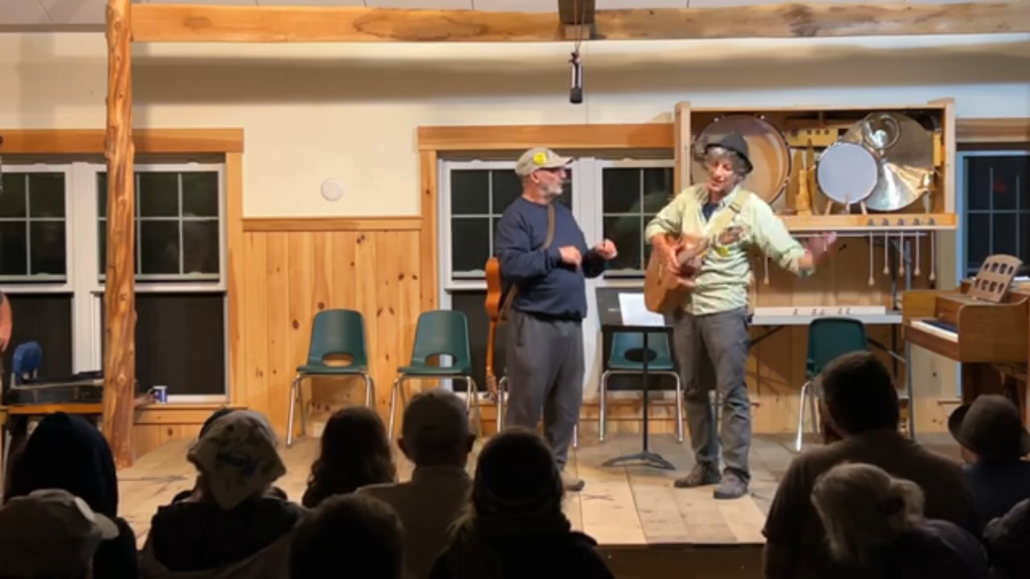 THURSDAY NIGHT "LULLABYE", KENNY AND JOHN DISCUSS WHAT IS AND WHAT IS NOT A LULLABYE
THE OLD LAMPLIGHTER
JO-ANNE
NOBODY that has attended Maine Fiddle Camp doesn't know who Jo-Anne Bouthot is. She has handled camp registration and all "people-related" issues at Camp for a decade or two as well as answering questions from campers and dealing with the myriad of problems that come up. This year her job was made even more challenging by the new venue, Covid, and by the fact that we wanted to make it easy for folks to sign up with the looming possibilty that Camp might be cancelled because of the pandemic (so,.. "preregistration and "pay-by-check"). This was an immense amount of work, but Jo-Anne took it all in stride.
CHRISTINE
Next, I'd like to give a shout out to Christine Woodman, our camp nurse. With all the unknowns around Covid, in addition to having to operate at a new venue, MFC had to develop a whole lot of new safety protocols and Christine was in the middle of all of this. First off she was responsible for writing the protocols, but then setting up the infrastructure and then being at camp for pre-camp screening (and during camp screening in many cases). In addition to just being there for overseeing testing and consulting with 250+ campers and staff each session, Christine gave an update every morning in her characteristic straight-forward (and humorous) style. As it turned out the whole plan worked very well. A few campers tested positive and had to leave camp (everyone had only "mild symptoms"!), but all in all the bubble remained intact and while we did stress indoor masking and doing as much outside as possible, camp went on with no great disruptions.
BOTTOM LINE
Maine Fiddle Camp's return to live camp was an unqualified success! Covid was an overriding issue and added hours and hours to the registration process, but once folks were inside the bubble, things were pretty much like normal (as normal as they could be, seeing as we were in a new venue). At this point we are proceeding with plans for IN PERSON MFC in 2023!! If you want to be kept informed, go to the MFC website  and sign up for the newsletter
MAINE FIDDLE CAMP, A MULTIGENERATIONAL TRAD MUSIC CAMP
So, we always bill Maine Fiddle Camp as a multi-generational camp. Many music camps have separate sessions for adults and kids, or have "family camps" in order to include kids, but at MFC we just bring everyone together. There are separate instructional tracks for youths and adults, especially for fiddle, but the rest of the time (as Red Green says) "we're all in this together". So here was the test.. 2022 second August week I always like to sing the song "Stepstone" by Woody Guthrie on the last night. My regular accompanist, Pam Weeks, was not in Camp that week but I still wanted to do the song. It requires an "arranged" fiddle accompaniment and vocal harmony. So who do I ask to learn this song "on the fly" and accompany me? I had had Amelia Morgan and her twin sister, Adelaide, and their dad in my guitar class in June. I was impressed with how willing they were to, pretty much, try anything. Both kids willing to pull out their fiddles to help the guitar class, wow.. The girls had been gigging in South Dakota with their dad and knew a lot of songs plus had developed this amazing "sister harmony" thing.. I figured what the heck, why not ask Amelia if she'd accompany me (Adelaide was back home during that Camp). This all happened on the "day of" the concert which I had already signed up for (no going back).. She immediately said yes. I wasn't surprised, I guess, but had been a bit nervous about it. Not every 16 year old would be comfortable walking up on stage with someone 60 years older and performing a song she had never heard before with only an hour or so of preparation. I wrote down the words for her to study ahead of time and then we went up on the hill behind the dining hall to 'woodshed' on this. The video below is the result. I had a really bad cold, so was not in my best voice, and the videographer (Amelia's friend with Amelia's phone) kept putting the head of my guitar in Amelia's face but this is the kind of collaboration that can happen at Maine Fiddle Camp (and makes MFC different from other trad music camps)!!!
A REMINDER – Tuesday night online Jam session and mini-concert.
Pam Weeks and I have been hosting an ONLINE jam session and mini concert every Tuesday night. This is a free, guided "fiddle tune" jam session for all instruments geared toward the intermediate player, Tuesdays from 7-8PM EST. Tempos will be moderate and chords will be called out the first time through. The jam will be proceeded by a short mini concert at 6:45. This jam is fairly unusual in that we ask for and almost always honor tune suggestions on the FB chat. We always have lively chat going on and sometimes a "stump the band" situation (we are rarely stumped!) Check it out. The jam will be streamed on Facebook Live, accessed through Pam's FB page: https://www.facebook.com/pamweeks.73. For more info email Pam at fiddlerpam@gmail.com
FIDDLE HELL

Fiddle Hell in Westford, Massachusetts, is back again live this year! Dates are Nov 3-6. I'll be there Thursday thru Saturday. More info HERE.  Please come to Massachusetts and be part of this!! You will not regret it!
Thanks for stopping by everyone. See you next month! – bill
https://folkworks.org/wp-content/uploads/2022/04/the-CONTINUING-TRADITION-grey-277x300-1.jpg
300
277
Bill Olson
https://folkworks.org/wp-content/uploads/2020/11/FolkWorks-logo-large.png
Bill Olson
2022-10-29 10:58:10
2022-10-29 10:59:11
the CONTINUING TRADITION Number 9
Live Maine Fiddle Camp is BACK!