the CONTINUING TRADITION Number 6
Camp Zydecow, Cherryfield, Maine 2022
Hi folks, I spent this past weekend in Cherryfield, Maine at "Camp Zydecow", a small but very enthusiastic Cajun/Zydeco music and dance weekend that is the brainchild of the amazing Su Peck. Where the heck is Cherryfield, Maine? (you might ask.) It's a small village in "Downeast Maine" located on the Narraguagus River about 70 miles west of Bangor and 6 miles from the Atlantic Ocean. The main industry is harvesting wild blueberries, though lobster fishing figures into the local economy as well.. Su's original plan for the weekend got scuttled by Covid, but she ran it last year and it was SO successful she expanded the offering for 2022. This year there were about 100 attendees. The bands from New England were JimmyJo and the Jumbol'Ayuhs (my band) from Maine, Planet Zydeco from VT, and Magnolia Cajun band from Rhode Island.

From Louisiana, Cajun band Bruce Daigrepont and Gina Forsythe were back and new this year Curley Taylor and Zydeco Trouble.
Su remarked when she introduced Curley Taylor Saturday afternoon, that never in a million years would she have expected that the band would be playing on her back porch in "friggin' Cherryfield, Maine". But this did indeed happen and keep in mind the event is held in a neighborhood (and Zydeco music is traditionally played quite "loudly"!! hah hah) Curious neighbors, who weren't quite sure WHAT they were hearing, started showing up. They did not want to leave.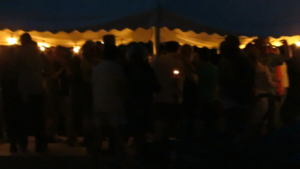 Even with the temperature peaking in the upper 80's, there was considerable activity on the dance floor all day, but when Zydeco Trouble got on stage, as the sun started to set, the dance floor was PACKED!!
Then, of course there was the FOOD. Saturday evening was a spread of Cajun cuisine PLUS and old fashioned Downeast Maine lobster bake. The Louisiana folks joked about the "really big crawfish", but seemed to enjoy the feed! It took a lot to pull this off and there were plenty of volunteers working on setup and food and cleanup. This was such a wonderful weekend and it was great bringing "Acadie South" and "Acadie North" together for music dancing and food!! Here's the FB group address if you want to join and learn more: 2022 Camp Zydecow | Facebook 
see y'all next month – bill
Here are a couple videos from the weekend:
https://folkworks.org/wp-content/uploads/2022/07/curley-taylor-1.png
900
1600
Bill Olson
https://folkworks.org/wp-content/uploads/2020/11/FolkWorks-logo-large.png
Bill Olson
2022-08-03 12:16:11
2022-08-03 12:44:27
the CONTINUING TRADITION Number 6
Camp Zydecow, Cherryfield, Maine 2022