September Song
These Precious Days
VOICE NOTES:  A FOLK DIVA'S GUIDE TO THE GALAXY Number 51
September Song
I had the great good fortune to record a version of the classic Kurt Weill/Maxwell Anderson song "September Song" for an album I released in April of this year.  When my producer, Joe Craven, and I went to examine the song for inclusion on the EP "Do You Have This in Blue" I had a look at the original form of this song, originally written for a Broadway show in the late 1930s and later made famous in pop circles by Frank Sinatra on his 1965 release "September of My Years." 
From Wikipedia on the song's origins:
"September Song" is an American standard popular song composed by Kurt Weill with lyrics by Maxwell Anderson. It was introduced by Walter Huston in the 1938 Broadway musical production "Knickerbocker Holiday." The song originated from Walter Huston's request that he should have one solo song….if he was to play the role of the aged governor of New Netherland, Peter Stuyvesant. Anderson and Weill wrote the song in a couple of hours for Huston's gruff voice and limited vocal range.

"Knickerbocker Holiday" was roughly based on Washington Irving's "Knickerbocker's History of New York" set in New Amsterdam in 1647. It is a political allegory criticizing the policies of the New Deal through the portrayal of a semi–fascist government of New Amsterdam, with a corrupt governor and councilmen. It also involves a love triangle with a young woman forced to marry the governor Peter Stuyvesant while loving another. The musical closed in April 1939 after a six-month run.

In "September Song", a man now recognizes the "plentiful waste of time" of earlier days, and in the "long, long while from May to December", having reached September, he is looking forward to spending the precious days of autumn with his loved one.
In our version and arrangement, we decided to forego the long verse leading to the well-known refrain, mainly because it is a memory and recollection of an older man, thinking of how he managed his relationships with women.  Being a woman myself, I thought I would just cut to the chase.  And for me, the meaning behind this song took on a richly melancholy tone, thinking of the time in my life when I will live the last "precious days."
To enhance the length of the track, we embellished the refrain's structure with an extended instrumental section.  Players on this track are:  Steve Rankin, rhythm guitar, Joe Craven, percussion, violin and electric mandolin, Mark Indictor, violin, and Fred Sanders, bass.
September Song
Songwriters: Kurt Weill / Maxwell Anderson

Verse:
When I was a young man courting the girls
I played me a waiting game
If a maid refused me with tossing curls
I'd let the old Earth take a couple of whirls
While I plied her with tears in lieu of pearls
And as time came around she came my way
As time came around, she came
When you meet with the young girls early in the spring
You court them in song and rhyme
They answer with words and a clover ring
But if you could examine the goods they bring
They have little to offer but the songs they sing
And a plentiful waste of time of day
A plentiful waste of time
Refrain:
Oh, it's a long, long while from May to December
But the days grow short
When you reach September
When the Autumn weather turns the leaves to flame
One hasn't got time for the waiting game
Oh, the days dwindle down to a precious few
September, November
And these few precious days
I'll spend with you
These precious days
I'll spend with you
September Song lyrics © Kurt Weill Foundation For Music Inc., Sony/atv Music Publishing Allegro (uk), Imagem Cv, Chappell & Co., Inc
FAR-West Music Conference October 12-15 Woodland Hills, California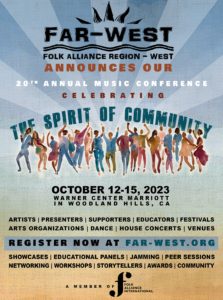 This is event is jut around the corner!
The 20th Annual FAR-West Music Conference October 12-15 at the Warner Center Marriott in Woodland Hills, California.
FAR-West, the Western region of the Folk Alliance International, is holding their first in-person conference in FOUR YEARS!  This year join us face-to-face where the folk music industry and community promotes a diverse mix of traditional, contemporary and multicultural folk music, dance, storytelling and related performing arts in the West. Whether you are an artist, industry professional, presenter, DJ, educator, hobbyist, or fan, there is something exciting here for everyone.
Registration includes full access to all conference events, the Saturday Best of the West luncheon and Sunday breakfast at the Annual General Meeting.  Throughout the weekend there is so much great stuff going on:  there is the Venue's Choice concert on Thursday night, official showcases on Friday and Saturday nights, private showcases, educational panels and workshops, networking and peer sessions, jams and open mics, mentor sessions and so much more.         REGISTER HERE
New events and content are being added every day, so register now and check back for updates.  Sign up on the FAR-West mailing list here for all updates on the conference.
JOIN THE MAILING LIST HERE  Click on "Mailing List Sign Up."   
A member of Folk Alliance International, FAR-West states consists of the Alaska, California, Hawaii, Idaho, Montana, Nevada, Oregon, Utah, Washington and Wyoming, the Northwest and Yukon Territories of Canada, and the Canadian Provinces of Alberta and British Columbia.
As always, thanks for reading!  See y'all next time, and Happy Fall!
Love and Blessings,
Susie
________________________________________________
Award-winning recording artist, Broadway singer, journalist, educator and critically-acclaimed powerhouse vocalist, Susie Glaze has been called "one of the most beautiful voices in bluegrass and folk music today" by Roz Larman of KPFK's Folk Scene.  LA Weekly voted her ensemble Best New Folk in their Best of LA Weekly for 2019, calling Susie "an incomparable vocalist."  "A flat out superb vocalist… Glaze delivers warm, amber-toned vocals that explore the psychic depth of a lyric with deft acuity and technical perfection."  As an educator, Susie has lectured at USC Thornton School of Music and Cal State Northridge on "Balladry to Bluegrass," illuminating the historical path of ancient folk forms in the United Kingdom to the United States via immigration into the mountains of Appalachia.  Susie has taught workshops since 2018 at California music camps RiverTunes and Vocáli Voice Camp.  She is a current specialist in performance and historian on the work of American folk music icon, Jean Ritchie.  Her newest CD is "Do You Have This in Blue?" released April of 2023, produced by Joe Craven, with guest players Laurence Juber, Bill Cunliffe and Joe Craven.   Find it on Streaming Platforms Here!  Susie now offers private voice coaching online via the Zoom platform.  Email Susie Here.     Visit Susie's website here!
https://folkworks.org/wp-content/uploads/2023/08/Sunlight-Through-Forest-Photo.jpg
480
312
Susie Glaze
https://folkworks.org/wp-content/uploads/2020/11/FolkWorks-logo-large.png
Susie Glaze
2023-08-31 17:16:26
2023-09-30 16:45:30
September Song
These Precious Days
VOICE NOTES:  A FOLK DIVA'S GUIDE TO THE GALAXY Number 51