How Did You Celebrate Martin Luther King's Birthday?
How Did You Celebrate Martin Luther King's Birthday?
Lisa Finnie Broadcasting Live From "The Curvaceous Slopes of California"
On The Dylan Hour and Masters of Song, 11:00am—1:00pm KCSN 88.5 FM
1/17/2017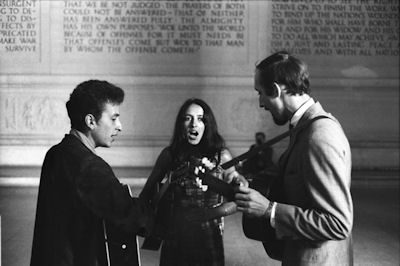 87 years after the most important moral leader of 20th Century America was born on January 15, 1929, his I Have a Dream speech from the 1963 March on Washington was played in its magnificent entirety by host Lisa Finnie to open her January 15 Dylan Hour radio broadcast on Martin Luther King's birthday. Well, as poet e.e. cummings once wrote, "albutnotquitemost." Before Dr. King began Lisa played Bob Dylan performing Kris Kristofferson's song They Killed Him—about Dr. King, and Gandhi and Jesus—all great dreamers who paid for their dreams with their lives. That was the theme for this broadcast.
ON DREAMS & DREAMERS: REMEMBERING DR. MARTIN LUTHER KING, JR.
Lisa followed Rev. King's I Have a Dream with Dylan, Joan Baez and Len Chandler's entire performance from the March on Washington, where Dylan premiered his new song Only a Pawn in Their Game, about the assassination of NAACP Field Secretary Medgar Evers June 12, 1963—just two and a half months before the March, on August 28, 1963.
Bob Dylan's 115th Dream—Dylan's amazing retelling of the Columbus story, as he arrived first and at the end of his quixotic and rhapsodic encounter with the unfriendly inhabitants (not the Native Americans) from whom he barely manages to escape he sees
Three ships a-sailing
They were all heading my way
I asked the captain what his name was
And how come he didn't drive a truck
He just said "Columbus," and I just said, "Good luck!
I Shall Be Released (performed on Martin Luther King's birthday in 1986 with Stevie Wonder's band backing); Amnesty International's official theme song for political prisoners—for whom they organize letter-writing campaigns to seek their freedom.
Talking John Birch Blues—the song Dylan was told he couldn't sing on the Ed Sullivan show in 1963, and because of which he walked off the show rather than sing something else; unlike the Stones and the Doors, Dylan did not acquiesce to the CBS censors. So he introduced this brilliant satire in his1963 performance at Town Hall in New York City by saying, "There's nothing wrong with this song…" a simple but eloquent defense of satire.
Talking World War Three—
One time a crazy dream came to me
I dreamt I was walking in World War Three
(lyrical change: "It was Martha and the Vandellas, the all-girl Motown group playing Leader of the Pack." (Another delightful lyrical change, of last line "You can't fool all the people all the time"—"Carl Sandberg said that…"—biographer of Lincoln, instead of old Abe, who said it first) (Philharmonic Auditorium)
The Times, They Are A-Changing (February 2010 performed live for President Barack Obama at The White House, part of a celebration of music from the civil rights era); Dylan sings it straight from the heart, as a kind of secular gospel song—the most moving performance he has ever given of the title song from his third album, 1964; incandescent.
The second hour of Lisa's program is devoted to "Masters of Song," featuring a different artist each week; today she celebrates the great gospel singer Mavis Staples civil rights album, We'll Never Turn Back, produced by Ry Cooder.
1) Down In Mississippi by Mavis Staples from Masters of Song, in the hour after The Dylan Hour. 12:00 to 1:00pm.
The rest of the set; Side One:
2) Eyes on the Prize—a civil rights adaptation of the gospel song Hands On the Plow;
3) We Shall Not Be Moved—sung not like a militant protest song but like a prayer—the best performance I have ever heard;
4) In the Mississippi River (about the murder of Emmett Till and others, where his body was found August 28, 1955—eight years before the March on Washington.)
5) I'm On My Way (to Freedom Land); adapted by Pete Seeger from I'm On My Way to Canaan Land, an old spiritual);
6) This Little Light of Mine—performed like a hypnotic chant of a spiritual (lyrical reinterpretation: "Don't let the liars turn you around"; "Ain't gonna fight in no rich man's war;…you cant' fool all the people all the time—come get together let my little light shine—when hatred calls let it shine." Side Two:
7) Running for Freedom ("Trying to make a hundred—99 ½ Won't Do—My God Is a Freedom God");
8) My Own Eyes ("We Took a Walk to DC—about the March on Washington); ("With my own eyes I saw it, so I know that it is true;" then she recounts the racism her father Pop Staples—who founded the original Staples Singers—saw and lived through—the song ends with one magnificent chord which lets you know this was produced by Ry Cooder);
9) Ain't Gonna Let Nobody Turn Me Round—Ain't gonna let intolerance turn me round "Gonna keep on a walkin', keep on a talkin', marching up to Freedom Land"; one of the great songs from the civil rights movement, included in Guy Carawan's book Songs of Freedom, Oak Publications;
10) We'll Never Turn Back—the title song, (another great anthem from Alabama and Mississippi: We've been buked and we've been scorned
We've been talked about sure as you're born
But we'll never turn back
No we'll never turn back
Until we've all been freed
And we have equality
Yes we'll have equality; …
We have hung our heads and cried
and a verse she added for Dr. King:
Cried for those like you who've died
Died for you and died for me
Died for the cause of equality
—sung not like a protest song but a love song);
11) Until Justice Rolls Down Like a Mighty Stream—line from Dr. King's I Have a Dream; I'll be rested when the roll is called; see Medgar Evers…see Andrew Goodman…see Mickey Schwerner…see James Chaney…see Emmett Till…Carol Robertson…Addie Mae Collins…Herbert Lee…I'll be rested when the roll is called…see Fred Hampton…Brother Malcolm…Robert Kennedy…Reverend Martin Luther King…when the roll is called…come on home and rest your weary bones…I'm gonna sing with the Heavenly Choir…with Mahalia Jackson (who told Dr. King, "Tell them about the dream, Dr." at the March on Washington); a hymn to all those who sacrificed their lives for the right to vote in the 1960s. That is the 1965 Voting Rights Act which the current Supreme Court has just gutted, a year before this election, to keep black citizens from exercising their right to vote.
12) Jesus Is On the Main Line—Tell Him What You Want—a great Mavis Staples Gospel song—
If you want equality, tell Him what you want—
if you want to be free, tell Him what you want—
just call Him up and tell Him what you want—
imagining a telephone call with Jesus:
Just call Him in the morning and tell…
He's bread when you're hungry…
Just tell Him what you want.
Bob Dylan and Mavis Staples performed live in concert at the Shrine Auditorium last June, a portentous foreshadowing of things to come—reviewed in FolkWorks IN CONCERT AT THE SHRINE AUDITORIUM – JUNE 16, 2016
Lisa Finnie's Sunday morning broadcast took place just five days before the Inauguration of a president-elect whose only newspaper endorsement came from the Ku Klux Klan's official paper: The Crusader.
We've come a long way, baby. However, as Dr. Martin Luther King, Jr. reminded us time and time again: "The arc of the moral universe is long, but it bends toward justice."
Los Angeles folk singer Ross Altman has a PhD in Modern Literature; Ross may be reached at greygoosemusic@aol.com
https://folkworks.org/wp-content/uploads/2020/10/Bob_Dylan_Joan_Baez_and_Paul_Stookey.jpg
266
400
Steve Shapiro
https://folkworks.org/wp-content/uploads/2020/11/FolkWorks-logo-large.png
Steve Shapiro
2017-01-17 02:05:29
2020-11-02 14:42:17
How Did You Celebrate Martin Luther King's Birthday?