THE AUDACITY OF FOLK
Somewhere back in the salty mists of time—1951-1955—Edward R. Murrow sponsored a series of five-minute CBS radio programs called "This I Believe." He invited correspondents far and wide to distill their personal perspectives on life to fall within the rubric of that title—not necessarily religious but neither excluding religion—to include the widest array of thought. That idea has stayed with me all these years and I've often wondered how I might have replied to the question of what I believe, or how I believe. Some of these fragile thoughts finally wound up in a five-minute song called The Audacity of Folk.
Here are some of these coordinates translated into a prose presentation. I believe in science more than philosophy or religion—so that makes me an empiricist. In spiritual terms I come from Missouri, the "Show Me State." But in terms of personal taste I would also say I prefer literature to all three—and literature in the broad sense includes song, as my old mentor literary critic Kenneth Burke defined it. That's why I felt the recent loss of Philip Roth so keenly—even though he had retired from writing more than five years ago. The latest New Yorker has a lovely one-page appreciation of him by editor David Remnick.
Remnick mentions that he recently asked Roth what he thought of Dylan being awarded the Nobel Prize in Literature when—as he didn't have to say—it had never come to him. Roth replied, "Oh, it's OK—I only hope that next year Peter, Paul and Mary will win it." I couldn't stop laughing—for his delicious sense of irony that epitomizes a literary response to the radical nature of their choice, especially in light of the fact that the Swedish Academy has announced that there will be no literature prize this year due to the sex scandal that has embroiled their own Academy leader. One more year that it did not go to our greatest (alas, no longer) living writer—and now the writer whose only sex scandal was the eroticism of his second novel, Portnoy's Complaint, at least lived to see the authority and majesty of the award diminished by the personal peccadillo of its own awarding agency: anyone who appreciates irony will appreciate that.
The chorus of my (unreleased) song starts with an adaptation from a great line I heard thirty years ago from a just rediscovered and re-released documentary, The King Record: From Montgomery to Memphis, in which Dr. King is quoted saying "I don't march because I like it—I march because I must." That describes my belief in why I sing—not because I like it but because I must. People are always asking me if I "like my work"—being a folk singer—and my reply takes them aback, because it comes from King: "I don't sing because I like it—I sing because I must." I really have no choice in the matter—it's a felt obligation—a calling—as Murrow so eloquently put it: "This I believe."
Then the chorus—after paying homage to Emmett Till, Charlottesville, Joe Hill and Phil Ochs, for the internal rhymes that bring their names to the fore—concludes with my allusive homage to President Obama's noteworthy book: "I believe in the audacity of folk."
The song's verses fill out the anatomy of my belief system as represented by the places where I sing every year—over the past thirty and more years—for these beliefs are defined by what I do, not simply what I think or feel. To begin with I just spent the evening of last Monday, June 4—as I have since 1989—singing my song Tiananmen Square and bearing witness in the Chinese human rights community in front of the Chinese Embassy downtown, for the Tiananmen Square massacre that took place on June 4, 1989. It has become a ritual that now closes their evening of witnessing to see that the 3000 students who sacrificed themselves during Beijing Spring to advocate for democracy in China are never forgotten. After my song I segue into the larger song it celebrates—We Shall Overcome—which ends the two hour demonstration. They have translated the song into Chinese and print it out on their flyer with a few other Chinese songs that are sung during the evening.
Next year will be the 30th anniversary of the massacre. I always introduce the song by telling them about Auschwitz survivor Ellie Wiesel and his words of comfort: "Those who listen to a witness become a witness." And there are many such actual witnesses of what happened in 1989 who share their memories each year, including my friend Leslie Levy—who still occasionally dresses up as "The Goddess of Democracy" for human rights demonstrations here and elsewhere. I was also interviewed by a local Chinese TV news outlet who wanted to know the background of my song. I told them that when I saw the students in Tiananmen Square those many years ago demonstrating for democracy, they reminded me of Students for a Democratic Society in the 1960s for whom I organized as president of SDS at UCLA. And the immediate inspiration for the song was seeing a photo in the LA Weekly of Chinese students holding up a large sign saying "We Shall Overcome."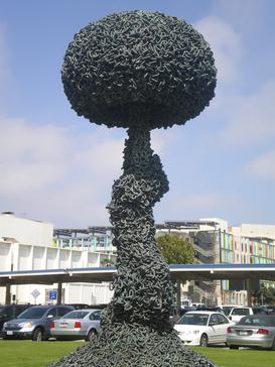 Another verse in the song builds on the annual demonstrations and candlelight vigils we have in downtown Santa Monica to commemorate the anniversaries of the US atomic bombing of Hiroshima and Nagasaki on August 6 and 9, 1945. We now hold these demonstrations in front of Paul Conrad's sculpture Chain Reaction which commemorates the bombing with his words: "This metal sculpture of a mushroom-shaped cloud is a warning and a reminder: Let it never become our epitaph." I sing a Japanese song in Japanese in front of it by Ishigi Astu called Furusato ("The old home place") I learned from Pete Seeger, with an English verse by Ewan MacColl, and I also tell the story of the Japanese girl Sedako—one of many children who died of leukemia from the aftereffects of radiation unleashed from the bombs. Her true story is memorable in that she was told that if she folded a thousand paper cranes she wouldn't die. She folded more than 800 paper cranes before her death. It is a children's book classic I used to teach at Peace Camp in Los Angeles sponsored by Women's International League for Peace and Freedom (WILPF) for children as a way to introduce them to a difficult subject in our history. Her story is timeless.
The next verse in the song summarizes the amazing speech that Robert F. Kennedy gave at the University of Cape Town in South Africa on June 6, 1966 (6-66-66) just two years before he died—the fiftieth anniversary of which we just observed. He tells the students there that they can defeat Apartheid with this eloquent encomium:
"Each time a man stands up for an ideal or acts to improve the lot of others"
Robert F. Kennedy spoke
"Or strikes out against injustice he sends forth
A tiny ripple of hope."
(Spoken)
 "and crossing each other from a million different centers of energy and daring those ripples build a current which can sweep down the mightiest walls of oppression and resistance."
These are the words that now ennoble the surrounding wall of his gravesite at Arlington National Cemetery. They are also to be seen and heard in a new documentary film that was just broadcast on PBS on June 6, the 50th anniversary of his death. That tiny ripple of hope is what keeps me going.
But all is not ancient history in my song: it opens with the interfaith vigil I joined with the Church in Ocean Park's minister Janet McKeithen last year on the Santa Monica boardwalk to remember the 49 LGBTQ victims at Pulse night club in Orlando, Florida, the largest massacre from gun violence before 58 were gunned down at a country music concert in Las Vegas last year. Reverend McKeithen spoke and sent forth "a tiny ripple of hope," and I sang We Shall Overcome.
Upcoming this September 2 on "Labor Day Sunday" I will sing songs and tell stories from the labor movement and working people for the 37th consecutive year at the Church in Ocean Park during their regular Sunday service—10:15 AM to 12:00 PM at 235 Hill St in Santa Monica (310) 399-1631; free and open to the public though they do take up a collection during the break. Those who wish to hear some current and past examples from Emma Goldman to Emma Gonzalez of The Audacity of Folk are welcome to come down and join us.
On Sunday, July 22nd Ross Altman will be honored with the Tony Salin Memorial Award by the Baseball Reliquary during their annual Shrine of the Eternals induction ceremony at the Pasadena Central Library; 2:00 PM. This honor is in recognition of his 2016 album The National Pastime—his tribute to baseball heroes and history; free and open to the public. Pitcher Tommy John and the late Rusty Staub and baseball organist Nancy Faust will be inducted into the Shrine of the Eternals~ all are invited; and Ross will sing too! (www.baseballreliquary.org)
Ross Altman has a PhD in Modern Literature from SUNY-Binghamton; he belongs to Local 47 (AFM); Ross may be reached at greygoosemusic@aol.com.
https://folkworks.org/wp-content/uploads/2020/10/This-I-Believe-head.png
200
335
Ross Altman
https://folkworks.org/wp-content/uploads/2020/11/FolkWorks-logo-large.png
Ross Altman
2018-06-25 06:31:18
2021-04-13 14:44:04
THE AUDACITY OF FOLK