The Folk Legacy Trio: All My Life's A Circle
At The Coffee Gallery Backstage, Altadena, CA
Saturday night April 20th
The saying "If you build a better mousetrap the world will beat a path to your door!" has been credited to Ralph Waldo Emerson and several others but does it really matter?
OK, I admit that I'm an old folkie from the sixties and my musical tastes are skewed in that direction. But all you had to do was sit in the audience at the Coffee Gallery Backstage on Friday or Saturday night last week and listen to the newly formed Folk Legacy Trio and you would understand immediately why some artists have to beg their fans to come see them and why some don't have to try. Professionals. Three guys with close to ninety years of stage experience between them, singing songs that everyone knew and a few they didn't. Their soon to be released CD will be titled Standing On The Shoulders after a song by Noel Paul Stookey of Peter Paul and Mary fame, and more than once, they respectfully and humbly reminded the packed Coffee Gallery house that they "stand on the shoulders" of the great folk artists who came before them. Homage where it was due. And where better than in the room Bob Stane, a grand steward of Southern California folk music built? Full circle.
The Folk Legacy Trio is not a tribute band. Or is it? Yes, they sing the songs that made the sixties hum with life. Songs made famous by the Kingston Trio, The New Christy Minstrels, John Denver, The Limeliters, and on and on. But these voices no longer try to emulate the sounds of those groups. Yes, each of them has performed in folk music groups and much more than that. George Grove played banjo and sang with the Kingston Trio for forty years. Rick Dougherty sang as a member of The Limeliters and the Kingston Trio for a total of twenty-six years. Jerry Siggins was the lead singer for the iconic Diamonds for twenty-seven years.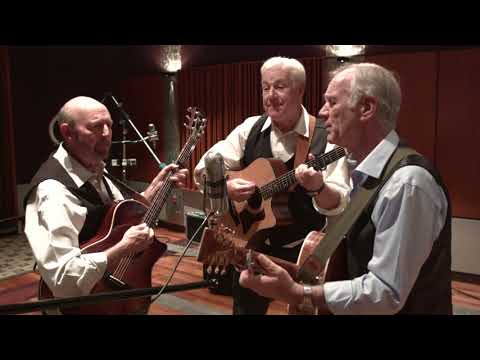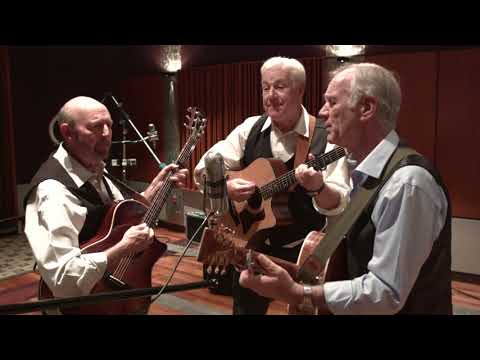 Now, they get a chance to create their own identity and sing the songs they've loved all their adult lives. Not harmonies studiously copied from record albums but their own harmonies that have been honed and perfected from years of singing on thousands of stages. Vocal power? These three guys can blow the walls down. Dougherty's tenor voice soars majestically on John Denver's Country Roads and Harry Chapin's All My Life's A Circle. Adding to that, his impish humor is a delightful distraction during the set. Jerry Siggins stands in the center, towering above the other two who flank him. He leads off most of the songs with his expressive and comfortable story-telling style. George Grove's baritone has an edge that delivers lyric narrative and his long neck Vega banjo and solo guitar parts punctuate each song impeccably. George's vocal delivery and precise banjo work are a standout in the group's rendition of the Kruger Brothers song "Forever And A Day". All three play rhythm guitar when needed and the sound is full and orchestral. Supporting them on stage was bass guru Alexis Sklarevski who provide the pulsing heartbeat of the music.
The formula is simple. Take a bunch of songs that dominated the music scene during the sixties and seventies, sprinkle in a few newbies, and bring them back to a new life in living color. The boys showed up at The Coffee Gallery stage wearing three-piece suits with ties for the first half. The jackets and ties were shed after the intermission. Patter on stage was meted out by all three and we got the feeling that this was an act that was designed for larger venues, most likely the world of Performing Arts Centers and concert stages. The show at the Coffee Gallery was filmed and recorded and one would hope we'll get a chance to see and listen soon. In the meanwhile, a visit to their website is recommended to those who have read thus far.
If there is a way to revisit this wonderful era of music and bring it back, these are the guys who could do it. They just might.
Set list from the Coffee Gallery performance:
There's A Meeting Here Tonight
Green Green
Jamaica Farewell
The Mermaid
Kisses Sweeter Than Wine
Greenback Dollar
Let It Be Me
In The Early Morning Rain
The World I Used To Know
Early In The Morning Rain
Intermission
Power & Glory
City Of New Orleans
Lemon Tree
Forever And A Day
Miner Medley
Tom Dooley
Homeward Bound
Country Roads
California
Encores
Where Have All The Flowers Gone
All My Life's A Circle
Art Podell was one half of the iconic Greenwich Village duo Art and Paul before moving to L.A. in 1961. An original member of the New Christy Minstrels, Art wrote songs for many of the artists of the day. He continues to perform and write and he rotates as a host of KPFK's Roots Music and Beyond.