ATASH'S RAUCOUS UNIVERSAL LOVE VIBRATION
Silverlake Lounge and Garage Gallery, June 24-25, 2016
It was not just another normal Friday night. Brexit was sinking in, Ralph Stanley had exited to the high lonesome holler in the sky, and the Dodgers had yet to find a consistent starter not named Kershaw. On the ground, I forgot my wallet at home, got all the way to ordering my first Pacifico before I realized my empty pocket, skedaddled back to my parking metered car, and jammed home in disgrace. (OK, maybe not disgrace so much as annoyance: I live only 10 minutes away from the Silverlake Lounge.)
Despite the brain flatulence, I made it back to the club in time for part one of my night's musical adventure. All was not amiss, the planetary axis had shifted just so: Atash was in town to layer up a healthy serving of their raucous universal love vibration.
Not one to play favorites, the Atashians from Austin gathered several continents' worth of groove, with textures, melodies and beats from the Indian subcontinent, Middle East, North Africa, Jamaica, Guinea, and the good ol' USA. Oud, tabla, djembe, violin, traps, guitar, bass, sitar, jingle-jangles and handclaps funneled through the group via the PA to us. Ebb, flow, descend, ascend, wobble and straighten.
Maelstrom central was inhabited by bandleader/mystic Mohammad Firoozi, or just plain Mo to his friends. His was a hand-jivey storytelling, where lines were drawn and clouds were shaped and hearts were happy. Happiness, the space between two sadnesses, or so Mo told me the short cinema poet had once said.
No wonder Mo's traffic conductor moves gave the band some hints to find those detours from the arrangements' cul de sacs and arroyos. As he's said and the Atashian moments made crystal, there can be nothing without music, music is everything (or at least everywhere in some of us).
Sitting in for Atash's diversi-jam mini-tour was guest six-stringer Fareed Haque, who played a beautiful rare ES 335 lookalike whose brand escapes me though Fareed told me while we were sorting out the world's problems. At one point, morphish electronic pedaltry transformed his axe's sonic into violin tonals, momentarily flipping the Italian fan-gal's wig (metaphofollicularly speaking).
Though only a few dozen stalwarts made it to the Silverlake dive for the early show, all were invited to the afterparty at the Garage Gallery, situated around the corner from the Teragram Ballroom off 7th near DTLA. "What me worry?" was my mantra as I swam downstream for more Atash. More frivolity ensued, surrounded by striking murals and hanging art, vibrating colors and pleasant nightmares, cartoon faces and the visions of madwomen.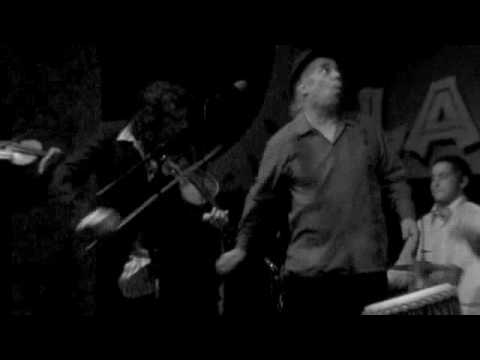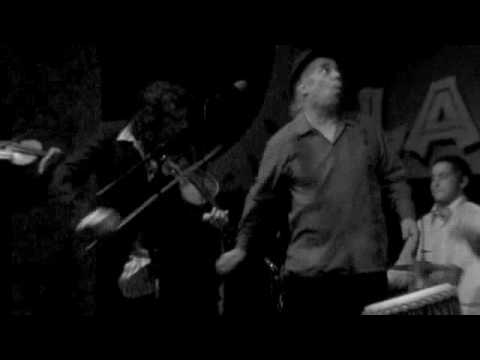 Both ends of the blazing musical candle bore fruit, the dance of convo with Mo, ebullient frontman and multidimensional raconteur, still stirring the pot, still grabbing that soundwave careen with both chakras, still pledging not to give up the flight, still starting mystical birds on fire with he and his band's inner mounting flame. "What we do is go around and play music and tell people we love them," he smiled.
Surprise to Atash were the bellydancers, but a nice one, the gallery curator's gift to creativity. Bellydance turned to choreo-gogo, the veils replaced with less fluttery costumes, the makeup still perfect. Apart, encircled by her hulahoop, the willowy weird ginger who'd told me cumbia was the only rhythm she couldn't dance to, to which I responded with a chortly "seriously…uh!" disbelief, as cumbia is one of the most danceable of rhythms in my flow.
There might have been several reasons to give up, happily refused by a few, but largely embraced with both hips by the small but mighty on hand drenched in Atash's torrent of love.
Tom Cheyney has been writing about the global and roots music scenes in Los Angeles and around the world since fax machines were high tech.