190 PROOF & 24 CARAT GOLD - MERLE HAGGARD AND KRIS KRISTOFFERSON
The Saban Theatre in Beverly Hills - February 11, 2016
Merle Haggard and Kris Kristofferson were originally scheduled to perform December 9, 2015, on my birthday (see my preview written this past November). In violation of the first law of show business the show did not go on. It had to be rescheduled when Haggard came down with pneumonia. It was then supposed to take place February 3, 2016. Jill Fenimore and I got a fabulous parking spot right across the street from the Saban Theatre in Beverly Hills but when we got to the box office found out that the concert was cancelled—for the second time. I guess that's why they call it double pneumonia. We expected it would not be rescheduled until later in the year, and then last night I got a surprise email from Luanne Nast, publicity manager of the Canyon Club—parent club of the Saban—that The Hag and Kris would be giving their concert tonight, February 11, at the Beverly Hills "Temple of the Arts"—that occasioned my original title preview of the concert—The Beverly Hillbillies Ride Again.
The ill-fated phantom concert finally took place as twice rescheduled, and the third time was the charm; it was worth the wait. Kris Kristofferson walked out first, with just his acoustic Gibson and a harmonica, and swung right into the cautionary tale Shipwrecked In the Eighties about a man in despair looking for a reason to go on who clings to "an old Holy Bible" and the saving grace of grim humor in the comforting half-remembered lines of some great fellow songwriters—including a nod to Bob in the line "I said that"—during which his gravelly voice tore the cover off the ball and knocked it out of the park:
Like an old Holy Bible you've clung to
For so many seasons
With the rules of survival in words
You could still understand.
When they proved something wrong
You believed in so long you go crazy
And you're so close to foldin' the cards
That you hold in your hand
Singing, holy Toledo I can't see the light anymore
(Hank Williams said that)
All those horizons that I used to guide me are gone
(I'm damn sure Van Morrison said that ...)
And the darkness is driving me farther away from the shore (I said that.)
Throw me a rhyme or a reason to try to go on.
(From the album Repossessed)
We knew we were home.
Kris never drags out his song endings; no ritardando, no dramatic guitar flourish, no vocal pyrotechnics, just one crisp arpeggio and a loud grateful "Thank you!" to the audience for listening. When the story is done, it's done; that's all folks. It's a graceful departure from the self-important overdone arrangements of some pop performers (as an old leftist I won't name names).
That's why he seemed shocked and taken aback when later in the concert Merle Haggard's nonpareil band The Strangers refused to let one of his classic songs end with a whimper—Sunday Morning Coming Down so inspired their amazing impromptu musicianship they kept it going for an instrumental encore that played through the entire bridge and final chorus. The Strangers showed you what a gorgeous melody Kristofferson had crafted—the first of his songs to be recorded by the late great Johnny Cash—as they passed it around the band from pedal steel to saxophone to lead guitar to keyboard to fiddle. It was a master class in arrangement and brought the most beatific smile to Kristofferson's beautiful bearded countenance. He placed his workingman's hand over his heart in a final note of appreciation for what they had added to his song.
In case you had not realized it until then, this was a concert that no one could have rehearsed—not in its entirety—what was happening on stage was so very much in the moment—an on-going conversation in music among all participants—inspired by the over-the-top responsiveness of the audience as well—who were jumping to their feet in a standing ovation at every opportunity. As we realized—given how long it had taken these advanced septuagenarians to finally get there—that this may well be the last time we would see them in concert—it became apparent that we were lucky privileged witnesses to the very best in country and folk music America has to offer—to two great irreplaceable artists who had left a permanent stamp on our nation's musical heritage. Who knew? We were there when it happened—a once-in-a-lifetime historic concert.
Merle Haggard's most surprising song of the night should not have surprised me at all. There are probably more psychiatrists per square foot in Beverly Hills—home of the Saban—than any city outside of Vienna, where Dr. Freud practiced in the late 19th and early 20th centuries. I even know one of them. Haggard knew his audience and pulled a song out from his 1979 album Serving 190 Proof—"Heaven Was a Drink of Wine":
That psycho, that psychologist
Asked me about my drinking ways
Every question that he asked me
All related back on to my childhood days
But if the truth was known
I never took to drinking long, long as she was mine
But when she left me I went to hell
Heaven was a drink of wine
It brought down the house, and paid for his psychologist's bills—a brilliant satire on the head-shrinking profession. Not surprisingly, it wasn't the only drinking song of the night; I Think I'll Just Stay Here and Drink, is still a humorous and politically incorrect slap in the face to every AA member since Bill W, and what makes Haggard so refreshing an antidote to the more acceptable and wholesome family entertainment Haggard has never tried to peddle. He is country to the core—human failings and all. And that was before he did Tonight the Bottle Let Me Down—"for all the female alcoholics here tonight"—which got another huge laugh. At the same time he has never walked in lock step with the country singer image as defined by Nashville, or even the outlaw image Willie Nelson brought to Texas; to wit, he does not wear a cowboy hat, but a Frank Sinatra style Fedora, which inspired another song from the same 1979 album—My Own Kind of Hat:
Cowboys and outlaws, right guys and southpaws
Good dogs and all kinds of cats
Dirt roads and white lines and all kinds of stop signs
But I stand right here where I'm at
'Cause I wear my own kind of hat.
That distinguished black Fedora is just a symbol, of course, but it separates him from the pack—no other country singer wears one—or has a saxophone player in his band. Merle's music embraces jazz, country, folk and blues—and his Fender Telecaster comes straight out of rock-and-roll. The pedal steel guitar and fiddle maintain a country swing musical vocabulary, but all the other instruments in the band expand that basic sound to include the Great American Songbook from the 30's and 40's as well. Hag draws on musical influences from Bob Wills to Hoagie Carmichael—whatever he needs for a particular song. And The Strangers have been with him since the beginning—pushing up to forty-seven years since 1969—when his mega-hit Okie From Muskogee showed that Woody Guthrie wasn't the only Oklahoman to leave his home state stamp on American music. Their gear set-up filled the entire Saban Theatre stage from the far left to far right.
And their richly brocaded sound filled the entire theatre—as full as any symphony orchestra. It wasn't exactly country music, or folk music, or any other one-dimensional genre: it was great American music—a classic sound that Merle Haggard has spent a lifetime refining.
And what a pleasure it was to have The Strangers back up Kris Kristofferson, who more often appears these days—when he appears at all—as a solo singing/storyteller performer. They knew exactly how to do it—never weighing in with everything they had (until that one aforementioned encore to Sunday Morning Coming Down) but finding just the right two or three instruments to flesh out Kristofferson classics like Loving Her Was Easier Than Anything I'll Ever Do Again, Me and Bobbi McGee and his heart-stopping portrait of Johnny Cash's personal demons, The Pilgrim, Chapter 33:
He's a poet, he's a picker, he's a prophet, he's a pusher
He's a pilgrim and a preacher, and a problem when he's stoned
He's a walkin' contradiction partly truth and partly fiction
Taking ev'ry wrong direction on his lonely way back home.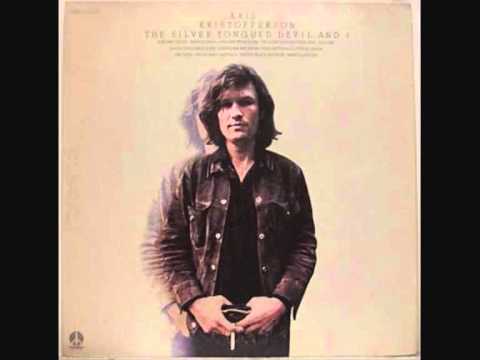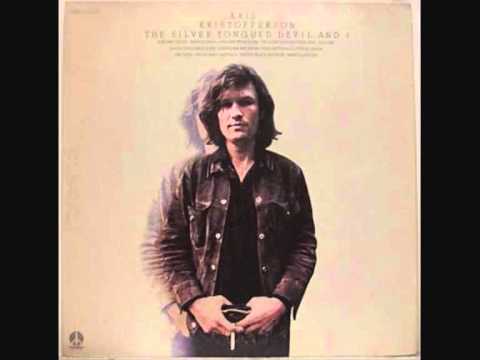 The most moving and intimate song of the night to me was also a Kristofferson classic: Help Me Make It Through the Night. Later in the song he made one ever-so-subtle lyrical change that made it even more poignant: instead of the title line he adapted it to read:
Help me make it through tonight.
It adds immediacy and a visual close-up to the love-making scene he evokes from the first line:
Take the ribbons from your hair
Shake it loose and let it fall…
The audience's uncharacteristic hushed silence spoke volumes; they hung on every deliberate perfectly chosen word.
This Rhodes Scholar-turned country singer-turned actor and activist's efforts help support the Office of the Americas, LA's answer to the Fort Benning, Georgia "School of the Assassins" which trains Latin American junta movements from the dark days of Reagan's aid to the Contras in Nicaragua and Death Squads in El Salvador. Political activists organized by former priest Blase Bonpane and former nun (Blase's wife) Theresa Bonpane have spent the better part of four decades raising awareness and trying to close the School of the Americas to get the US out of the Central American dictator business—with the essential assistance of celebrities like actor Martin Sheen and singer-songwriter-actor Kris Kristofferson. The subject never came up at this up-tempo and celebratory concert where music held center stage, but this U.S. Army veteran has another life, and those of us on the left who work for grassroots social change and do what we can to support resistance movements south of the border that have brought to light the CIA's involvement in propping up corrupt tyrannies with no regard for human rights are deeply indebted to artists like Kristofferson who put their money where their mouth is. Every song he sings resonates with the passion of the peasants and poorest of the poor fighting for just a little bit of the democracy we too often take for granted up here.
Kristofferson has eloquent songs that speak to these concerns, but unfortunately this may have been neither the time nor place to sing them. So I will just mention their titles and suggest that readers find them on YouTube; the song I quoted from in review of Marc Cohn's recent concert at Pepperdine—They Killed Him—and a song adapted from a scene in Steinbeck's Grapes of Wrath, where a waitress overlooks the list price of some candies behind the counter and gives them away to the hungry eyes of two desperate Okie children—only to have their unpaid bill paid by two anonymous passing truckers. This Kris Kristofferson song is called Here Comes That Rainbow Again, a paean to what Lincoln called "the better angels of our nature." If you want to hear it performed by the greatest voice in country music track down Johnny Cash's recording of it.
The Merle Haggard song I would put on that top shelf is Are The Good Times Really Over For Good?—his homage and lament for an America remembered from childhood "Before Nixon lied to us all on TV," "When a Ford and a Chevy would still last ten years like they should." Some songs—like wines—improve with age, and this is surely one of them—the further that America recedes into the past the more crystal clear and profound Haggard's portrait of our lost integrity and best days becomes. It is now a patriotic anthem of simple but genuine power, glory and even hope. This poet of the common man has touched a chord that resonates with an abiding faith in what America stands for. Only someone with great love for his country could have been so greatly disappointed in her.
When I hear artists like Kris Kristofferson and Merle Haggard the concert at hand reflects only a part of the musical experience for me; it is enhanced by the rich recorded legacy and committed life of their best work. And there are no better songwriters working today than Kristofferson and Haggard. They are the American poets who will be remembered and quoted a hundred years from now, while Pulitzer Prize-winners in poetry will be gathering dust on some distant library shelf. Jill and I joined the standing ovation. Bravo!
Saturday March 5 from 5:00pm to 7:00pm Ross Altman will perform a program of Woody Guthrie Dust Bowl Ballads and popular songs from the 1940s at the opening of a book exhibit about photographer Dorothea Lange and her classic Dust Bowl portrait Migrant Mother, Nipomo, California 1936, at the Old Town Newhall Library, 24500 Main St. Santa Clarita, CA 91321 661-259-0750 .
Saturday March 12 at Theatricum Botanicum in Topanga Canyon Ross Altman performs in their third tribute to the late Pete Seeger—RePete 2016! See their website for details.
Ross Altman performs in the Voice in the Well Production Chimes of Freedom Flashing with spoken word artists Sunday March 20, 2016, 5:00pm to 7:00pm; $10 at Beyond Baroque Literary Arts Center, 681 Venice Blvd, Venice, CA 310-822-3006
Sunday May 15 at 4:30pm on the Railroad Stage at the Topanga Banjo-Fiddle Contest Ross Altman performs his new show When a Soldier Makes It Home: Songs for Veterans and Their Families; for information about their 56th annual folk festival.
Los Angeles folk singer and Local 47 member Ross Altman has a PhD in Modern Literature; Ross may be reached at This email address is being protected from spambots. You need JavaScript enabled to view it.