Richard Thompson Played Real Good for Free
At the Levitt Pavilion in MacArthur Park - July 10, 2014
But the one man band
By the quick lunch stand
He was playing real good for free
~Joni Mitchell
If you wanted to see the best concert in town last night you were at the Levitt Pavilion in MacArthur Park where Richard Thompson held court for an hour and a half—alternating between his Fender Stratocaster—the instrument behind his last album Electric—and his Irish-made Lowden guitar—the instrument behind the collection he had on sale for the folkies in the audience like me—Acoustic Classics—gathered together from live performances. It was a tour de force of masterful guitar accompaniment highlighting his dark world of original songs—but for two encores, which we'll get to in a moment—going all the way back to Fairport Convention in the 1960s and later when he and his wife Linda added folk rock to the British Invasion.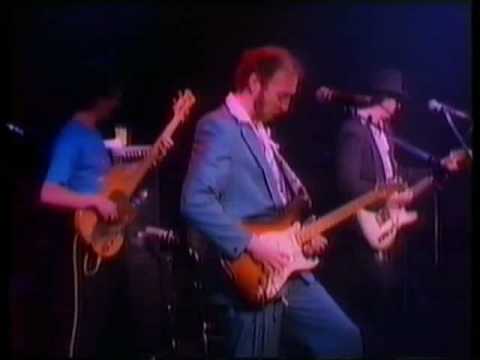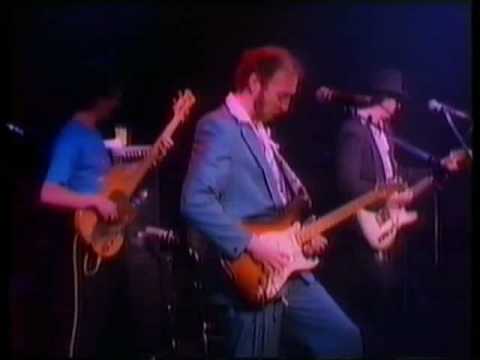 There was hardly a dry eye in the house—well, open air park—as the 65-year-old acoustic/electric troubadour regaled his devoted fans and curiosity seekers like myself with songs like Stuck On the Treadmill, Dry My Tears and Move On, The Shame of Doing Wrong, Can't Win and the feel-good song of the night, Wall of Death—a musical litany of heart-wrenching struggle to stay afloat in a sea of bad relationships and worse political oppressors. During one of his many quips to the rock-and-roll out the welcome mat crowd of 1500-plus Angelinos of all races and colors he made the crowd-pleasing remark that his bellwether of jack-booted arch-conservatism was still the Iron Lady—Maggie Thatcher—whom he described as "Reagan with breasts"—to their obvious delight.
As number 69 on Rolling Stone's list of the 100 greatest guitarists of all time—just ahead of the King of the Delta Blues Robert Johnson—it was a rare privilege to hear Richard Thompson play without having to pay for it. And what a show he put on—with spontaneous standing ovations underscoring his dazzling guitar solos that provided the musical backdrop to such lines as, "The nerve of some people," and "Who do you think you are" repeated over and over as a refrain to Can't Win. The phrase six-string orchestra is often thrown around, but with Richard Thompson, drummer Michael Jerome and bassist Taras Prodaniuk it's no exaggeration.
His occasional raging guitar dynamics almost obscures his wonderfully attuned ear to beautiful melodic progressions, as in the electric (If You Don't Want Me I'll) Dry My Tears and Move On and acoustic Saving the Good Stuff for You, a brutally honest self-portrait of his failures with women—starting with the divorce from his wife Linda Thompson, with whom he recorded and toured after leaving Fairport. His best songs may be dark portraits of difficult times but they resonate to anyone still reaching for a way out of the maze of human suffering—almost like Dante's great opening for the Inferno: "In the midst of this journey of our life I came to myself in a dark wood…" Thompson's songs are road maps on this journey, and like Dante's guide Virgil he is struggling towards the light and never phones it in, either as a songwriter or live performer. Last night he succeeded in establishing a warm, vibrant connection with a large park full of people from all walks of life—and some of the best musicians I know, including Clifford Tasner, Paul Zollo and Jeff Gold and recording engineer Scott Fraser —who I kept running into as the evening progressed.
One of Richard Thompson's signature songs is a brilliant reply to the best-selling book When Bad Things Happen to Good People, Rabbi Harold S. Kushner's attempt to find solace in the midst of the incongruity of the title that has tested human faith ever since theologians tried to answer its implicit question of how evil can exist if God is good.
But Richard Thompson is not looking for easy answers or comforting bromides that are the business of institutionalized religion of all faiths. He refuses to avert his gaze from the truth glaring him in the face of his own experience, the tragic death in 1969 of Fairport Convention's drummer Martin Lamble and Thompson's girlfriend Jeannie Franklyn in a van accident and poses the reverse conundrum: Good Things Happen to Bad People. Take that, God; and your earthly representatives. That's why Thompson is an indispensable songwriter and outwits the positive thinkers who start their paeans to religion with hymns to prophecy and a course in miracles.
Thompson is having none of it. Despite his own membership in the Sufis, a Muslim sect, he remains a secular truth teller, take it or leave it. And fifteen hundred folks last night were happy to take his unblinking pessimism over toothless optimism—because his guitar, like Virgil, points us toward a way out of that dark wood. Indeed, his very last encore takes us right up to it, from his forthcoming EP, Fork In the Road. For Richard Thompson life reveals itself in those existential moments when we can decide for ourselves how we want to live. He doesn't need to be a Minister, Pope or Rabbi—as he portrayed himself in the Otis Blackwell penultimate encore he is Daddy Rolling Stone, one of the founding fathers of the modern folk rock gospel of limited aspirations based on a good and just society and profoundly loyal friendship and love—as he dramatized in perhaps his best known song 52 Vincent Black Lightning (unsung last night) about finding goodness where you least expect it—in a biker who leaves his legendary motorcycle to a girl who loved him and his accidental death has left bereft.
But his first encore was the most welcome of the night—from another founding father—Dylan's This Wheel's On Fire suddenly rang through the MacArthur Park air and lit up the night sky:
If your memory serves you well
We will meet again someday
…This wheel's on fire
Rolling down the road
Notify my next of kin
This wheel shall explode.
And in one of those remarkable moments of consanguinity, I found out from my concert companion Ellen that halfway round the world in Ireland—as Richard Thompson was singing Dylan and The Band's Basement Tapes classic Neil Young was ending his own concert with Bob's Blowing In the Wind. How did she know? Praise iPad!
I only wish Richard Thompson had picked up his Irish Lowden guitar one more time and sang Dimming Of the Day—my favorite of his songs. But in lieu of hearing my own favorite I can hardly complain: his stage manager was kind enough to give me one of his signature guitar picks at the end of the concert. So if the next time you hear me play there seems to be an inexplicable improvement from what you remember you'll know from whence it comes—a bit of Thompson's guitar wizardry may have rubbed off on my strings.
Next Thursday, July 17, at 8:00pm the Levitt Pavilion Free Summer Concert Series continues with Loudon Wainwright III. NB: get there early; it was hard to find parking.
Ross Altman will perform a solo acoustic tribute to Pete Seeger Saturday, July 19 at 2:00pm; Santa Monica Public Library; 601 Santa Monica Blvd Santa Monica CA 90401 outside, in the North Courtyard; sponsored by the Topanga Banjo-Fiddle Contest Free Family Concert Series;.
Ross Altman may be reached at This email address is being protected from spambots. You need JavaScript enabled to view it.