TITLE: Sing With Me
ARTIST: Tracy Newman
LABEL: Run Along Home
RELEASE DATE: June 21, 2019
When I heard that Tracy Newman was coming out with another children's CD, I was excited. It's not that I'm particularly into children's music, but I've got grandchildren and they sure know what they like. Fortunately, Tracy is a grandmother too and has transitioned her singer-songwriter energies into creating some of the most enjoyable and creative children's albums over the past few years.
Tracy Newman is a multi-talented, well-known television producer, writer and musician. She is a founding member of the improvisational theater troupe The Groundlings. Best known for her television work, Tracy's credits include Cheers, The Nanny, The Drew Carey Show and Ellen for which she won a Primetime Emmy Award for co-writing "The Puppy Episode" (aka The Coming Out episode) and a Peabody Award. In 2001, she co-created the sitcom According to Jim starring Jim Belushi.
Tracy's true love has always been her music. She wanted to be a folk singer from an early age and has always performed and written songs, some of which were featured in TV shows. In recent years, her music has taken center stage and she's released a number of albums with her band Tracy Newman and the Reinforcements.
In 2014, she released her first children's album, I Can Swing Forever. This was followed in 2018 with the CD, Shoebox Town. Both were critically acclaimed and received wide recognition and numerous awards. Tracy's way with words and phrasing, so unique and brilliant in her television work, transitions beautifully to her songwriting and arrangements. She has a unique way of getting her words across in creative, yet simple and enjoyable songs.
The fact that she's evolved into creating music for children should not be a surprise to those who are aware of Newman's background. As far back as 1965, Tracy performed on a WNET public television series for children called What's New. In six episodes, she presented folk songs from all over the world, using many different instruments. Watching clips from these episodes on YouTube, you'll see how her ability to relate to children with her music is something that obviously comes quite naturally to her.
Tracy's latest children's album is called Sing With Me. The CD features 15 songs for children and their families. The songs were mostly written by Tracy.
The CD kicks off with I Like To Walk My Dinosaur, an upbeat romp that is a classic example of Tracy's way with words and phrasing. It is perfect accompaniment to creative interplay with children. Surely, we've all had the joy of walking our pet dinosaurs while trying to keep them from scaring our friends!
Birdie, Fly Down Down is when I knew my grandchildren were hooked on this new collection. This children's song by Patty Zeitlin got the kids up and dancing... and nothing is better than that!
Sing With Me is the title track, written by Los Angeles based singer-songwriter John Zipperer. Anyone who has seen John and his band perform knows that the song, like much of his repertoire, will get the audience singing along. Tracy has changed the song slightly to fit her style and slant a touch more to children. The arrangement keeps the fun of the original and still makes you want to get up and jump around with the kids.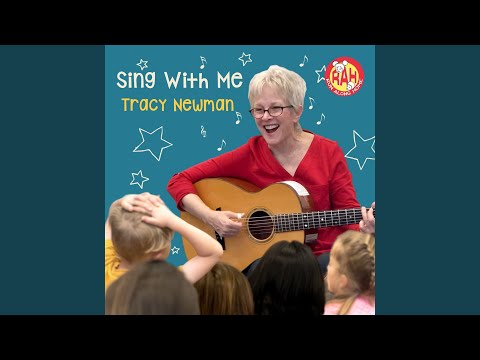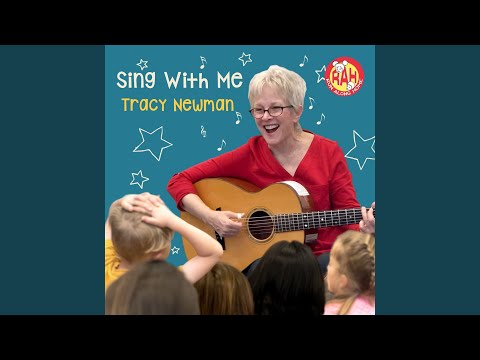 Daisy's Baby Sister is another clever Tracy Newman original. It's an astute and inventive song about the relationship between two small siblings and their parents. The song captures the joy of the simple interactions between everyone in the growing family.
The Ice Cream Man, also written by Tracy, brings back the summer memories of running out when the ice cream truck would come around. Generations of the family will share similar memories of these special times. Sing along with your children!
All folk singers need a "train song." And of course, all little children love a train! My eldest grandson has been hooked on "choo-choos" since his earliest days. Nothing excites him more, and that goes for his enjoyment the first time he heard Tracy's I Hope You Get A Chance To Ride A Train. This delightful song makes me smile and reminds me why I enjoy Tracy's children's albums so much; they are FUN and something I can enjoy listening to with my grandchildren.
Halle and I is another song that gets the little ones up and dancing. It's not just the children that have a love affair with horses!
Walking Bear about learning to walk is particularly fun for my family since it's about Logan learning to walk. Logan is Tracy's grandson, but this is also the name of our grandson and he loves hearing his name in song! The song brings back those times of learning to walk when the children are not too stable on their feet, certainly among the most fun time of raising children. It's a delightful and gratifying age and Tracy captures it in a subtle yet beautiful way.
Tracy's Newman's song Cheese is a cheese lover's dream. My middle son always had a thing for cheese when he was young. My grandchildren love cheese for a snack. And of course, we still try to get them to say it when we take their photos. The song is a fun tribute to America's favorite dairy product.
We are using the song Tilapia to try to interest the little ones in eating fish as well as talking about nutrition and eating healthy. (Admittedly, they aren't there yet.) Tracy's children's songs teach as well as entertain.
Hey Ho, yet another Tracy Newman original, is a fun song about enjoying life. She picks up on the simple joys of going out to play on a beautiful day and creates a song that showcases an appreciation of nature and the things around us. "Swimming, fishing, hiking all day, Summer's here and fun's on the way." This is another one my grandchildren like to dance to.
The Smile Song is another of Tracy's creative songs about something straightforward and uncomplicated. This time it's the simple smile of a child. As parents and grandparents, we work hard to make them smile, because the joy of seeing them smile is so very heartwarming. Those days when they are learning to smile, seeing their first teeth come in, and the funny faces they often make are captured in this charming song.
In every album, Tracy includes something that surprises me. For example, in her first children's CD, it was her recording of Run Along Home a song my wife's parents sang to her and her siblings as a child and that we sang to our children at night before we tucked them in. Our children now sing it at night to their children. Hearing it on Tracy's I Can Swing Forever CD was sure a surprise, and we love the bridge that she added to it. On this album, her recording of the traditional nursery rhyme Crooked Man is a version with music and additional words by Pamela Polland. Polland is a singer-songwriter who recorded for Epic and Columbia Records in the 1960s and 1970s. She was a founding member of the band The Gentle Soul, and toured with Joe Cocker and Leon Russell for the Mad Dogs and Englishmen tour in 1970. Her 1995 album Heart Of The World was a personal favorite and I recall writing a rave review for it at the time. This is a great arrangement of the rhyme. I'd love to hear the details of how Tracy came across it.
The album ends with another Tracy Newman original, Rain, Rain, Don't Go Away. I love her twist on turning a scary rainy night into a chance for learning about the real benefits of rain. Smart parents. Smart song. And an endearing way to end the collection.
As a parent (or in this case grandparent), I'm happy to say that Tracy's albums are ones that you can enjoy along with your children and grandchildren and will help you make wonderful family memories that will live a lifetime as you sing, dance and learn together.
Information on Tracy Newman's children's albums can be found at her labels' website: Run Along Home.
Additional details about Tracy can be found at her website.
And, of course, her albums can be found streaming, MP3 and CD formats on Amazon.
Russ Paris runs a number of different music related websites, has hosted Russ & Julie's House Concerts in Oak Park, CA since 1997, and along with his wife Julie, is a recipient of both the "Legend Award" by the Topanga Banjo-Fiddle Contest & Folk Festival (2013) and the "Best of the West" Ambassador Award by Folk Alliance Region West (2015).