People Get Ready for the
10th Ever Los Angeles Old-Time Social
Folks, this is a big deal. Ten years ago, a homegrown Los Angeles old-time music festival sprouted in Historic Filipinotown (just up the hill from downtown Los Angeles) from a desire to have an old time party ahead of the Topanga Banjo – Fiddle Contest. The First Ever Los Angeles Old Time Social (LAOTS) was a Friday night concert and then a Saturday backyard jam party/ square dance and was inspired by the spirit of the Portland Old Time Gathering and Berkeley Old Time Music Convention festivals. This is the tenth EVER and it's time to really celebrate! I remember the genesis of the first LAOTS quite well. It was an unsurprisingly hot day in 2006 and I was playing old-time fiddle with friends,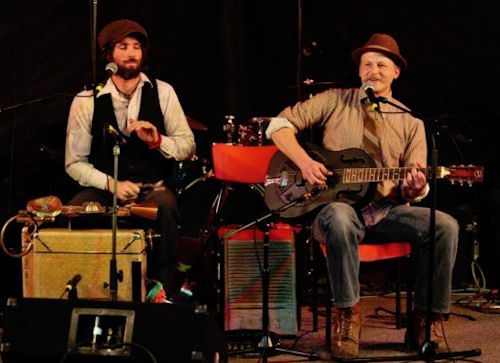 students and a few out-of-towners, while eating grilled goodies and slurping down various yeast-powered libations. The day had an unforgettable musical aura about it. Fortunately, somebody thought it might be worth repeating. From that gathering, the Los Angeles Old-Time Social was born and quickly grew into a sleepless three-day event of music parties, workshops, a formal concert, a cakewalk, and a square dance. All of it is fueled by our passion for old-time music and a strong desire to bring the music and culture to the greater Los Angeles community. The Los Angeles Old-Time Social is produced by local old-time trio Triple Chicken Foot (Ben Guzman, Mike Heinle and Kelly Marie Martin). A couple of years ago they invited a core group of volunteers to join in the planning process with the intention of ensuring the longevity of the festival. This small group of coordinators put their resources together with virtually no budget, to make this wonderful event happen. Needless to say, it's entirely the volunteer efforts of old-time musicians, callers and traditional dancers that continue to put this festival on. I'm the workshop coordinator and I'm very excited for this year's special guests!
In celebration of the 10th Ever LAOTS, we are bringing in some extraordinary guests .Wait, you see!
On Thursday, May 14 at 8:00pm, we'll launch things off with the annual LAOTS Kick-Off Party! It's a great informal party with entertainment to boot. Expect to see the likes of several local old-time musicians: Tom Sauber and Tom Carter, Sausage Grinder and Mr. Joe Fontenot, the 81-year old Creole accordion player. Banjos, fiddles, washboards, steel guitars, Cajun accordions and jugz! You can't go wrong there. If you're new to old-time music you'll get a chance to hear the "local" take on it and even meet many of the musicians that help make up our LA scene.
On Friday May 15th at 8:00pm, we host the formal old-time concert at the Velaslavasay Panorama Theater. The show will feature the juggling old-time country blues duo The Gallus Brothers from Washington, Georgia's Beverly Smith & John Grimm and, last but not least, Riley Baugus, Sabra Guzman & The Stuart Brothers of Virginia and North Carolina. It will sell out and pre-sale tickets will be available soon.
All of this culminates in the big, final day-Saturday May 16th from Noon to 11:00pm with workshops galore, a cake walk and a square dance.
Here are some of the workshops to expect this year!
–Fiddle/Banjo Duets with Travis and Trevor Stuart
–Old-Time Guitar with Beverly Smith
–Early Italian Mandolin/Guitar with Paul Rangell
–Old-Time Fiddle and Bowing with David Bragger
–Buck Dancing with Ruth Alpert and Rebecca Stout
–Appalachian Flatfoot Dancing with Charmaine Slaven
–Square Dance Calling with Susan Michaels and Charmaine Slaven
–Banjo and Fiddle—Lucas Hicks & Devin Champlin
–Harmony Singing with Sabra Guzman and Kelly Marie Martin
And more…so check the website for the latest updates regarding workshop details and locations!
See you at the Festival!
David Bragger is a Los Angeles-based instructor and player of old time fiddle and banjo music. He also photographs, films, and collects the lore of traditional artists, from puppeteers in Myanmar to fiddlers of Appalachia The Old Time Tiki Parlour
https://folkworks.org/wp-content/uploads/2020/10/Stuart_Brothers.jpg
361
408
Steve Shapiro
https://folkworks.org/wp-content/uploads/2020/11/FolkWorks-logo-large.png
Steve Shapiro
2015-03-04 03:34:49
2020-11-18 10:22:57
PEOPLE GET READY – LOS ANGELES OLD-TIME SOCIAL