Normal 0 false false false EN-US X-NONE X-NONE MicrosoftInternetExplorer4
Whatever, it was enough to kill J.D. Salinger too, who passed away the following day. That night I went to hear poet and proto punk rocker Patti Smith read from her memoir Just Kids, looking back on the waning days of the 1960s when she lived with gay photographer Robert Mapplethorpe right next to folk anthologist Harry Everett Smith in New York's famed Chelsea Hotel. I wondered what the 2007 inductee into the Rock and Roll Hall of Fame might have to say about the state of the union.
She brought her guitar with her and sang as well as read and reminisced. By the time she concluded two hours later-at the Hammer Museum in Westwood – I was ready to give my country another chance, secure in the knowledge that Washington, DC and the USA have little, if anything, in common.
In the Capitol Barack Obama raised some eyebrows when he promised to end "Don't Ask, Don't Tell." For Patti Smith, that insidious policy ended forty years ago, when she met Robert Mapplethorpe. They became lovers when they were both 20, before he had come to terms with his homosexuality. When, at last, it became too painful to ignore, she asked, and he told.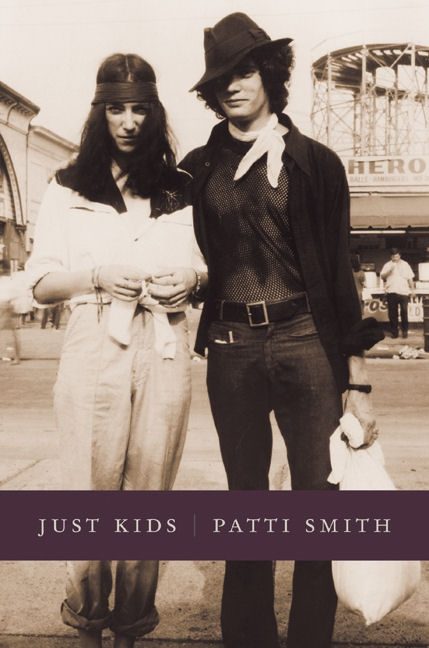 The future notorious photographer's incendiary homoerotic images single-handedly convinced Senator Jesse Helms to de-fund the NEA-since they had once given Mapplethorpe a grant. Though he died of AIDS twenty years ago he resoundingly came to life in Patti Smith's back pages. They became artists together-he and Patti-in their young twenties, with barely any money between them, but enough luck and imagination to sustain them. He took the great cover photograph of her for her first album, Horses. They remained friends throughout their lives-and just before Robert Mapplethorpe died Patti Smith promised him that someday she would write about what they meant to each other. Her book Just Kids is a promise kept.
Many other people from those days came to life as well. Once Patti was down to her last seventy-five cents, and went to the automat to see if she could afford anything to eat. She picked the cheapest thing they had, but was still a dime short. Just when she was about to put it back and leave, a deep, sonorous voice rolled out of the darkness behind her: "Maybe I can help." When she turned around to see whom her guardian angel had sent she recognized Allen Ginsberg. He paid for her dinner and invited her to share his table.
About a half hour into their meal he suddenly stared quizzically at her and asked, "Are you a girl?"
She was tall and skinny, and even then had preternaturally long hair that covered her deeply angular features. "Yes," she replied; "I hope you're not disappointed." "I'm sorry," Ginsberg said; "I didn't mean to embarrass you-but I thought you were a very pretty boy."
Patti then realized why he had paid her tab and invited her to join him. His reputation for picking up young boys was secure, the subject of many of his poems. "I don't mind if you'd like me to leave," she added. But then the courtly poet reassured her he was quite happy to continue their conversation. Thus one of her many literary friendships was born, and continued throughout the social and cultural upheavals they both participated in.
Before they said goodbye, however, Allen Ginsberg expressed his concern that were she to write about their encounter she might portray him in a bad light, as a predator who was only trying to pick up young boys. "Oh no," Patti reassured him; "what I will remember is that I was hungry and you fed me." And remember she did.
She wasn't only low on food in those days-at one point she could not afford a roof over her head either. Smith recounted her period as a homeless poet and struggling artist in NYC, during which she wound up sleeping in Central Park. Well aware of the risks involved, she announced with a mixture of pride and relief that no one bothered her during her nighttime sojourns there, and she was never attacked or hassled.
Feeling as out of place, she said, as her hero Holden Caulfield, she then paid tribute to J.D. Salinger, whose death at the age of 91 had just been reported that day. He wrote her bible, she recounted, a spiritual guidebook for the dispossessed. Then she sang an old song for him, which she entitled simply, Grateful. It was, as she described all of her songs that evening, "a little song," but it filled the outdoor courtyard where I was lucky to find a seat, watching her entire performance on a huge video screen, a direct feed from the indoor Billy Wilder Theatre, which was packed and had been closed to further admittance.
The overflow courtyard was also filled to capacity, with an audience hungry for inspiration and the sense that-despite the discouraging news of yet another 5-4 Supreme Court decision designed to exclude ordinary people from having a say in government by opening the floodgates of corporate influence peddling in the electoral process-we were still capable of effecting change.
Here she paid tribute to another old friend, the just departed people's historian, Howard Zinn. She put down her beautiful old Martin acoustic guitar, and this punk rocker who had first made her mark by rattling the cages of contemporary soft rock and sensitive singer-songwriters like James Taylor and Carole King with sonic thunderstorms, now recited with quietly reflective conviction her anthem, People Have the Power, which she introduced as-not surprisingly-Howard Zinn's favorite of her songs.
By the time she finished this rhapsodic ode to people's power, you almost believed her. But I couldn't help ask myself the question, if the people have the power, then why don't I still have a health care plan, despite a majority of Democrats occupying both houses of congress and the White House. And if, as Leonard Cohen assured me, democracy is coming to the USA, then why are we escalating yet another war in Afganistan, after we the people voted for peace in the last two elections.
It has become increasingly hard for me to reconcile poetry and power. But for two hours on Thursday evening, Patti Smith inspired me not to quit believing in We the People. Then the high point of the evening, at least for me, came when she shared the stage with a friend who paid tribute in song to the folk musicologist whose name had helped to fill all those seats (with free tickets I should add-a gift to the community from the Hammer Museum).
The evening was entitled Smith on Smith-that is, Patti Smith (no relation) on Harry Smith, the compiler of the seminal boxed set that inspired the rediscovery of American roots music in the late fifties and 1960s folk revival-Harry Smith's Anthology of American Folk Music, on Folkways Records, and now available on Smithsonian Folkways Recordings.
The friend Patti Smith invited to share the stage was an old time musician, Bobby Neuwirth, the shadowy and somewhat mysterious co-star of DA Pennebaker's Bob Dylan documentary, Don't Look Back. Like all the others Patti Smith recounted during this magical history tour of her long memory, they met at the Chelsea Hotel-which first became a bohemian artist's landmark in the early 1950s as the home away from home of Welsh bard Dylan Thomas, who was staying there when he died in 1953 of a "massive insult to the brain" after downing 18 straight whiskeys at the nearby White Horse Tavern.
She was sitting in the lobby of the Chelsea in 1969 when Neuwirth suddenly materialized in front of her, a tall, thin, strikingly handsome poetic type with soft curly hair and dark sunglasses. She knew immediately who he was, she later told him, from having seen him in Don't Look Back. They struck up a conversation, which blossomed into a life-long friendship, and there he was on Thursday to help her pay tribute to their mutual friend, Harry Smith.
He came on stage with an old-time five-string banjo, and started talking about how Harry Smith had slowly, meticulously begun to compile the document that became his folk music anthology. Harry Smith did not just piece together individual selections from previously released Folkways recordings, nor did he rely on anyone else's collections, even the Folk Music Archives of the Library of Congress.
Rather, Harry had spent his life collecting original 78 recordings of the crème de la crème of America's folk music pioneers—from Charlie Poole and Uncle Dave Macon on down to Blind Lemon Jefferson and the Carter Family. First published in 1958, the same year the New Lost City Ramblers (see my recent review of their just released box set) started recording their revivalist versions of many of these same songs, Harry Smith made available to a new generation the original recordings.
Bobby Neuwirth performed one of them on Thursday, which he introduced with utter charm as "the dirtiest song he knew," I Wish I Was a Mole in the Ground, from Volume 3 of Smith's Anthology. Both his banjo playing and vocal captured the authentic down home texture of the song perfectly. A lovely roughhewn blue plaid woolen shirt and suspenders set off the pack porch music with a poet's eye for detail, and a musician's ear for tempo and clarity of phrasing. More than anything explicitly political or overtly inspirational, it convinced me once again the state of the union was sound.
Bobby Neuwirth left the stage as quickly and gracefully as had arrived, and turned it back to Patti Smith to finish her remembrance of things past. And indeed she had one more story to tell and one more song up her sleeve. The story was of meeting and befriending playwright Sam Shepard (whose new volume of short stories was just reviewed in the LA Times), and who unbeknownst to me once led a double life as the drummer for the Holy Modal Rounders, another seminal 1960s revival group that absorbed and benefited from Harry Smith's groundbreaking anthology. She happened on a performance they were giving in Greenwich Village once evening and found herself in an audience of only six enthusiastic members. Undiscouraged by the small turnout they put on a great show, which she described as "psychedelic hillbillies." Of all the performers on stage, Patti Smith couldn't take her eyes off their bearded scruffy drummer, whose eyes she recounted had a steady gaze that bore right through her, and yet left her feeling surrounded by warm safe curtain. She had to meet him, and wasn't put off by finding out his name was the somewhat theatrical "Slim Shadow." When he found out she had no place to stay she wound up on his (very chaste) couch and yet another protective wing helped her ride out a harsh New York winter in 1969.
One evening the man she knew as Slim asked her if she had ever tried the lobster at-I forget the name of the restaurant, but apparently it was well known. She had to admit that not only had she never tried their lobster, she-a penniless poet down to the bone-had never even tasted lobster. Visibly, horribly struck at her gustatory deprivation, "Slim" insisted that she had to accompany him there for her first lobster dinner.
At the restaurant, which suitably dazzled this un-scrubbed longhaired bohemian, she placed her order for lobster and drawn butter, her misgivings being whether "Slim" actually had the money to pay for it. Based on what she had seen at their first meeting he couldn't be too solvent as the drummer for the Holy Modal Rounders.
Then, just as Patti was starting to think that she could get used to eating lobster, a female friend across the room began hailing her and interrupted her focus. Patti sighed and left the lobster and "Slim" to go and say hello to her friend, who could barely contain herself with excitement. "Oh my God, Patti, I had no idea you knew Sam Shepard!" she exclaimed. "Who's Sam Shepard?" asked Patti. "You don't know?" her friend went on, "why he's got three plays playing off Broadway right now, and he's won six Obies! He's one of America's great dramatists." "You must be mistaken," replied Patti, "that's not Sam Shepard-it's Slim Shadow, the drummer for the Holy Modal Rounders." Patti's friend was firm, and unequivocal: "I don't know what he may have told you-but there is absolutely no question that is Sam Shepard!"
Patti Smith thanked her friend and returned to her table, noticing at once that her friend "Slim" seemed a little subdued and shaken by her encounter, his eyes uncharacteristically darting from side to side. Suddenly Patti leaned over the table right on top of her succulent lobster, and posed the telltale question, "Is your name Sam?" "Yes," he replied, "and now for God's sake, please eat your lobster." "At least," she thought to herself, "I can stop worrying that he may not be able to pay for it."
Then the coup de grace-she thanked "Sam Shepard," who was also in the audience, yet another presence that helped restore my confidence in the state of the union.
Finally, after that brief diversion, Patti Smith picked up her guitar one more time, and returned to the theme that gave this evening such a pointed pleasure-a tribute to her old friend, the late Harry Smith, who lived in room 705 of the Chelsea Hotel her upstairs' neighbor when she and artist Robert Mapplethorpe were Just Kids, the title of her memoir. No arid scholar he: when Patti introduced Harry to Bobby Neuwirth, his first question was, "Do you have any Dexedrine?" When Neuwirth said, "No," Harry Smith asked, "Do you want some?" Then Harry asked, "Do you have any pot?" Again, when Bobby said, "No," Harry asked, "Do you want some?" With one foot in the hazy, crazy 60s, and the other planted firmly in the American heartland of decades before, Harry Smith did have a favorite song that he always asked Patti to sing for him.
And she sang it in his memory tonight-nothing she wrote, or from the beat, psychedelic, punk or post-punk years in which they were friends-"Hear that lonesome whippoorwill," she started, "he sounds too blue to cry," and before you knew it, we were transported back to a country we could all recognize, an America that is stronger than a Supreme Court decision, and more hopeful than a paint-by-the-numbers political speech designed to please everybody and offend nobody.
Four brief verses by Hank Williams, sung by Patti Smith, in tribute to one of the founding fathers of the folk music revival, Harry Smith, made me realize that the power of poetry far surpasses the poetry of power.
As I left the Hammer Museum in Westwood, I couldn't help but feel that with all of our problems, frustrated aspirations and challenges that lie ahead, the State of the Union is strong. Not because the president-even one I voted for-said so, but because Patti Smith sang Hank Williams, and in her thoughtful, caressing voice I could hear, "the midnight train is winding low-I'm so lonesome I could cry."
Ross Altman has a Ph.D. in English. Before becoming a full-time folk singer he taught college English and Speech. He now sings around California for libraries, unions, schools, political groups and folk festivals. You can reach Ross at Greygoosemusic@aol.com.
https://folkworks.org/wp-content/uploads/2020/10/Patti_Smith_Horses.jpg
500
500
Ross Altman
https://folkworks.org/wp-content/uploads/2020/11/FolkWorks-logo-large.png
Ross Altman
2010-02-21 21:47:02
2021-04-13 15:02:48
Patti Smith's Magical History Tour