OLD-TIME MUSIC EXPLOSION IN SOCAL!
Where do I even begin?
This has been the most exciting period of old-time music ever in SoCal. And it's not even finished with us! In fact, it's still getting started.
On Monday September 18th, Foghorn Stringband will be returning for another Tiki Parlour-hosted concert at Timewarp Records. They tore the house down in January to a sold out audience. They're back for more and now there's a chance to see them again OR for the first time if you missed out in January. They are true old-time barn busters! Here's a video we shot at the Tiki Parlour during their last visit. Click to get your tickets.
I'm very happy to announce my 2nd year as the artistic director of the Santa Barbara Old-Time Fiddlers' Convention & Festival. On October 8th, old-time musicians from all over the country will be converging at this newly re-imagined (and restored) old-time festival. Kirk Sutphin (NC), Travis Stuart (NC), Kevin Fore (NC), Tom Sauber (CA), Tricia Spencer (KS), Howard Rains (TX), Clarke Buehling (AR), Echo Mountain (CA) and the Hi-O Revelers (WA) will be performing and teaching along with other great old-time musicians. There will be jamming all over the grounds as well as organized jams with great hosts. Serving as the backbone of the festival, the contest will feature many instrument categories (fiddle, banjo, guitar, Mando, band, singing, etc.) and cash prizes too! Contest pre-registration is now.
Last year we introduced the Instrument Petting Zoo. It's intention was to expose children to the wonders of traditional music by allowing them to touch, play and investigate a variety of instruments. It turns out that the adults had as much fun as the kids! It was one of the big hits of the festival last year. This year it will be even bigger. You can pre-purchase festival tickets.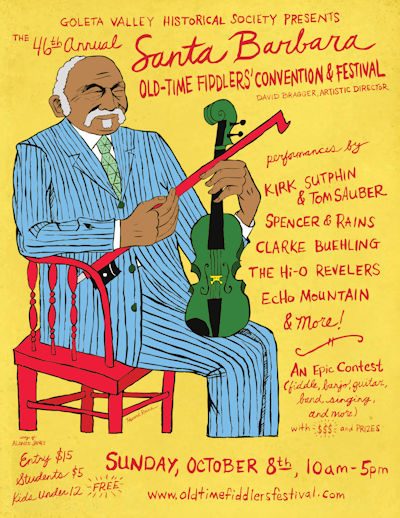 During the Los Angeles Old-Time Social in May, Rafe Stefanini stayed out for a week and I had the honor of recording a couple tunes with him at the Old-Time Tiki Parlour! We traded banjo and fiddle for three numbers: Wade Ward's "Nitches Over the Hill," "Cripple Creek" and an unnamed tune from African American fiddler Will Adam. The videos are worth a thousand words! Have a gander!
Just after this year's rocking Los Angeles Old-Time Social and the concert debut of the UCLA Old-Time String Band Ensemble in May, a very important trio of old-time musicians came to town for an Old-Time Tiki Parlour concert and recording session: Molsky's Mountain Drifters!
Bruce Molsky's super trio (Bruce Molsky, Alison DeGroot and Stash Wyslouch) totally rocked Los Angeles with their first performance here. It was an evening of ripping fiddle tunes, shredding guitar and banjo AND wonderful old songs All three musicians can do anything with their instruments and so they did! They tapped every possible emotion that night. This concert was definitely one for the history books! Earlier in the day, I filmed them for a secret project. Here are two of the videos for your viewing and listening pleasure: Fiddler's Dream and Ain't Gone Work Tomorrow. Cheers!
David Bragger is a Los Angeles-based instructor and player of old time fiddle and banjo music. He also photographs, films, and collects the lore of traditional artists, from puppeteers in Myanmar to fiddlers of Appalachia The Old Time Tiki Parlour
https://folkworks.org/wp-content/uploads/2020/10/Molskys_Mountain_Drifters.jpg
306
400
Steve Shapiro
https://folkworks.org/wp-content/uploads/2020/11/FolkWorks-logo-large.png
Steve Shapiro
2017-08-29 23:18:58
2020-11-18 10:22:52
OLD-TIME MUSIC EXPLOSION IN SOCAL!