Louisiana's Best Kept Secret
- JoJo Reed and the Happy Hill Zydeco Band
Coming To Long Beach Bayou Festival June 23, 2018
Coming to The Long Beach Bayou Festival on Saturday, June 23, 2018, Zydeco accordionist JoJo Reed and the Happy Hill Zydeco Band is Louisiana's best kept secret. How this mountain of Zydeco Gold has flown under the West Coast radar is one of the mysteries of the genre. JoJo and the band will be playing some of the best Zydeco dance hall music coming out of Louisiana today, and the West Coast is lucky to have this gifted artist in this rare appearance. Reed, who spent some time here in the late 1990s is charged up and ready to go. "I'm really excited about coming back to California!" he exclaims.
While Reed hasn't been seen on the West Coast since 2014, he was a huge hit in his first West Coast appearance 1989 when he played at Verbum Dei Catholic High School. He gradually grew his California fan base playing at local dances in Los Angeles, San Diego, Bakersfield, Alameda's Eagles Hall, and was sought out regularly to play Portland and Denver.
Born in 1970 in the prairie town of Mamou, Louisiana, JoJo was destined to become one of the powerhouses of Zydeco. In the 33 years since his first paid gig in 1985 at age 15 playing Eunice, Louisiana's 4th of July Celebration, Reed has racked up a massive resume of awards and prestigious gigs. He's completed nine CDs and is currently working on his 10th album; has played in all but a handful of states in the U.S., and nearly every city in Texas and Louisiana. In 1996 he received the Certificate of Appreciation For Devoted and Invaluable Service to Zydeco Music at the Plaisance Zydeco Festival, and was a featured artist at the grand opening of Arlene's Casino in Las Vegas in 1997. That same year, Reed performed at the grand opening of Los Angeles' prestigious Getty Museum, and was awarded the Clifton Chenier Award at the Liberty Theater in 1988. He was riding high.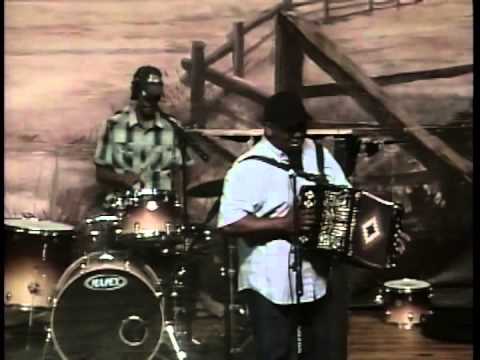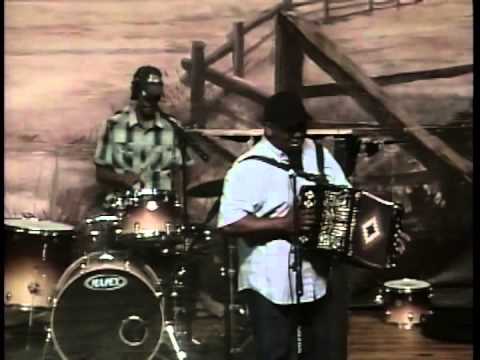 Then life threw him a curve ball. On April 25, 1998, Reed was hit by a drunk driver in a near-fatal accident, and friends and family weren't sure he would pull through. JoJo suffered a crushed leg and several other major injuries. His life was put on hold as he slowly recovered. A year later he was back on stage tearing it up, punching out the staccato notes and the moaning wail of his accordions, the dancers gyrating in an exuberant frenzy on the dance floor. He was back. And he was back big, playing to a sell-out crowd of 60,000 fans at Texas' annual Fiesta San Antonio Taste of New Orleans festival.
Playing his hard-driving, high-energy cover of Morning Train at the 2010 Memorial For Roy Carrier in Lawtelle, Louisiana proved Reed was back to stay. Check it out here: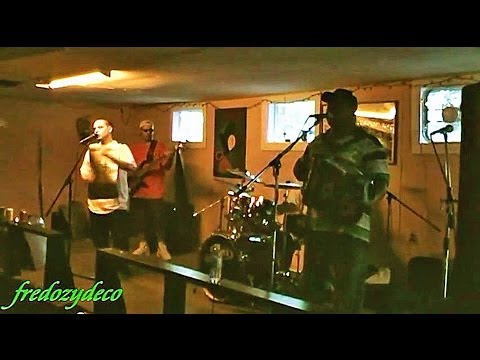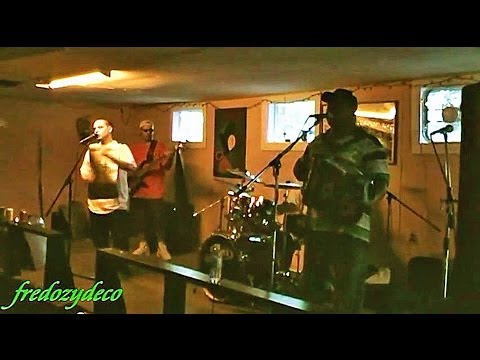 (Yes, that's Jeffrey Broussard accompanying him on guitar.)
In 2016 Reed received the Boozoo Chavis Award at the Fifth Annual Zydeco Music and Creole Heritage Festival and he is still going strong.
When asked about the importance of the dancers, Reed says, "they're very important 'cause they motivate me. If I'm playing a place and it's packed and no one is dancing, it effects how I'm feeling. I think I must be doing something wrong. If everyone's out on the floor dancing, it energizes me. I get excited and play my best." Because of this, Reed has developed a sixth-sense about the crowd. "I look out at the crowd and I can tell what they're going to respond to and I play what's gonna make 'em jump."
A prolific songwriter, Reed has written countless tunes and his original song, inspired by real-life events, Not Your Baby's Daddy, became a huge hit on Louisiana's radio stations. "I write about what I live," he states. Still The Same Old Me was when I returned after traveling all over the US. People thought I'd made it big. I went to California and Maine and back home. They thought that I thought I was better than them, but I told them, "I'm just the same old me. I love fast cars and pretty women. Nothing has changed," he says with a chuckle.
He muses, "Back on the Scene is about when I got back after the accident. Keith Frank produced that one." My Time To Shine includes autobiographical Betty Lou and Oh Yeah, as well as I'm a Po Po Man, all upbeat dance tunes with a high-energy, reliable beat that dancers love.
Growing up in Eunice, Louisiana surrounded by the rich matrix of the uniquely American French Cajun and Creole cultures of southwest Louisiana, JoJo didn't come from a musical family. Naturally gifted, he started playing harmonica when he was six years old. In high school he entered and won many local talent contests, flawlessly imitating Michael Jackson's dance moves while the other kids were doing rap and hip hop. Even though he grew up in town he lived a rural life. "I was into riding horses. I had chickens, ducks, turkeys," he reminisces. "I didn't start playing (accordion) until I was a teenager."
On the way to high school one day, he heard Rockin' Sidney's new tune Don't Mess With My Toot Toot on the car radio. "I listened to it every morning," he says. "I bought the 45 rpm, learned the words, and made an "accordion" out of a laundry soap box. It looked just like the real thing. I dressed up in cowboy boots and took first prize lip synching that song at the local 'Puttin' On The Hits' talent show." Laughing, he says, "I was the only country boy. Everyone else was doing Run DMC and Rap. I got the name JoJo Reed, Zydeco Kid."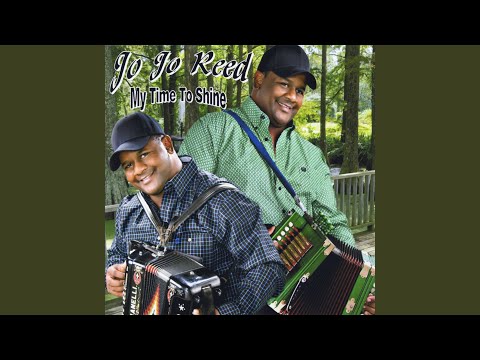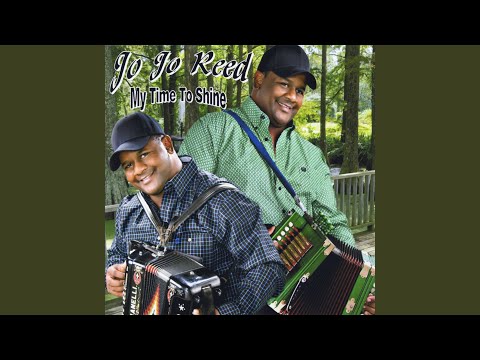 Two years later he got his first real accordion-a Hohner single row. He locked himself in his bedroom and practiced day and night. A couple of months later, he could play. "I started going to small political functions and playing. I did a lot of stuff free for fundraisers. The more I played, the more recognition I got. Then I put a band together and people started calling me for trail rides and I was getting paid to play professionally."
The fast tempo of Zydeco attracted him. "Back then, the tempo was faster," he says. "I just liked that fast, jumpy music. That's what took off." His friends Keith Frank and Leroy Thomas were playing in their Daddy's bands, and JoJo was invited to get up and play with them. "Once I learned it, they would let me come on stage and play with their band." Of his unique style, Reed says, "It's high energy! I don't like the slow stuff. I like dance music. Boozoo used to say, 'Zydeco is dance music! Ya gotta play it fast!' Clifton Chenier used to say, 'It's snappy! It's got a snap to it and that's how you dance.'"
JoJo then picked up the triple row as well and people started to notice. "I played differently than everyone else," he replies. When asked what he was doing differently, he says, "When I play the triple-row, most guys play one row at a time. I was crossing back and forth, playing two rows at a time. People were asking me how I could do that and keep it in the same key. Once I really started playing, Willis (Prudhomme) was asking me to show him how I was doing the things I was doing," JoJo laughs again. "I'd just do stuff and it would happen. I don't know how I learned it. I didn't have a book that taught me to play. I was practicing so much, it just came naturally."
In addition to Rockin' Sidney and Clifton Chenier, Reed's zydeco influences include Beau Jocque, Willis Prudhomme, John Delafose, Boozoo Chavis, and his good friends Geno Delafose, Keith Frank, and Chris Ardoin. He mentions a subtle distinction between the music around Eunice and that of the Lafayette area and names Corey Ledet, Joe Hall, Nathan Williams and Zydeco Joe. "They play a different style than I do. It's more Cajun-ish," he states. "The music around Mamou is more high-energy, more influenced by blues and rock-and-roll. Beau Jocques is more my style and is the style I'm playing today."
Regarding other musical influences, this warm, jovial musician enthusiastically adds, "I listen to everything. I listen to BB King because I play guitar and I play the blues. I listen to John Mayer. He has that soul and he's a great guitarist too. He plays my type of music. I just like John Mayer. He talks about the things I think about."
Speaking of the blues, having played harmonica since he was six years old, Reed can really wail on the blues harp and has an entirely separate base of enthusiastic blues fans. He plays regularly in Alexandria and Shreveport as well as at festivals and clubs all over the country. Being a mean bass guitar player with a little lead guitar thrown in has given him the versatility to play many genres. "I do Elvis, Rick James, Conway Twitty, George Strait. I do songs I can sing that people can relate to."
There's a lot more to this mountain of a musician than an inexhaustible flow of talent. Reed is known for his kindness, respect and generosity. Reed mentors many boys who need a Father figure, even making sure they get to and from school. After playing Verbum Dei at age 18, he started working with kids. "I still do stuff for kids today. I try to put them on the right track and get them involved in the music so they will keep the culture going," he says. "I work with them privately. Parents bring their kids to my house. I have a miniature studio. I sometimes go to their houses. I invite them to come hear me if I'm playing locally." Ask him the secret of learning to play accordion and his answer is, "Practice, practice, practice!"
Herman Fuselier, Louisiana's iconic radio show host and entertainment and cultural writer for The Daily Advertiser has this to say, "He's very humble. He's done more benefit fundraisers for other musicians then he can remember. After his accident, many were pulling and praying for him."
When he's not onstage, JoJo can be found working with his Dad in their flooring business, doing janitorial work, building hot rods, bringing up his 17 year old daughter Jillian. "My Dad was my greatest influence. He always talked to me as if I were another adult. He taught me that respect comes first. If you want respect, you have to earn it. He also taught me to help. If someone needs help, I just go do it. Always help first. Money isn't a part of it."
When asked about his dream gig, Reed thinks a moment and says, "I've always wanted to play at a music awards show. BET or the Country Music Awards, that kind of thing." Remembering the stadium with 60,000 fans he adds, "I kinda miss the big stage. If you haven't lived it, you don't know. It's totally different." His biggest dream? "I've always wanted to become an actor. You know, like Dr. Dre and Ice Cube. I want to see my name on the Hollywood Walk of Fame. I haven't given up yet."
Asked to sum up his life, JoJo pauses, "I've never been sad. I've always been who I am. That's why I did the song, The Same Old Me, because I've always been me. I'm happy to be who I am. I love helping people. Kids, elders, it's just who I am."
You can find JoJo at the Long Beach Bayou Festival on Saturday, June 23, 2018. His music is available for download and CD on Amazon and CD Baby. He will be bringing CD's to the festival and autographing them after his set, so don't miss him. He's looking forward to meeting YOU.
Looking forward to seeing you all on the dance floor,
Karen Redding is a Los Angeles-based Cajun and Zydeco dancer, dance instructor and hard-core Louisiana music enthusiast. She has taught Zydeco dancing for the Los Angeles Music Theater, the Ford Amphitheater, The Irvine Barclay Theater and at all the southern California Cajun and Zydeco festivals, as well as teaching weekly Zydeco dance classes for four years. She wrote a weekly newsletter on Cajun and Zydeco events for 15 years and books Louisiana musicians at local venues in the greater Los Angeles area. Contact Karen Redding This email address is being protected from spambots. You need JavaScript enabled to view it.
---