NAMM Media Preview Day
Wednesday, Jan. 20, 2016
We're excited to attend another NAMM Show as media representatives for FolkWorks. The National Association of Music Merchants annual 4-day trade show at the Anaheim Convention Center is a giant kaleidoscope of sights and sounds, with something for everyone. This year we thought we'd attend their Media Preview Day – maybe the lines for ID badges would be shorter!
Yes, the lines were shorter, in fact where we entered, there was none at all: a great improvement over the
usual 30-minute or more lines once the show really opens.
The Anaheim Convention Center is a big place, but this show will fill it all to overflowing.
There was a flurry of activity as crates and boxes were moved from outside to the exhibit floor, and their contents unloaded and arranged. What new beauties will come out of that Collings crate?
---
An exhibit from NAMM's museum, the Museum of Making Music in Carlsbad, was being set up with some beautiful instruments from their collections. We look forward to studying that more closely.
---
Rickenbacker Guitarshad their booth completely set up, with a panoply of guitars. It was strange to see it in this pristine state, knowing that for the next four days it will also be filled shoulder-to-shoulder with people.
---
The Media Preview Day program was a series of 5-minute presentations on new products from a variety of manufacturers. As always, what you see at NAMM ranges from the familiar, through innovations based on tradition, such as Deering Banjos' new tenor banjo uke.
---
Then there are the entirely new ideas… this is the Kadabra, by Tribal Tools.
---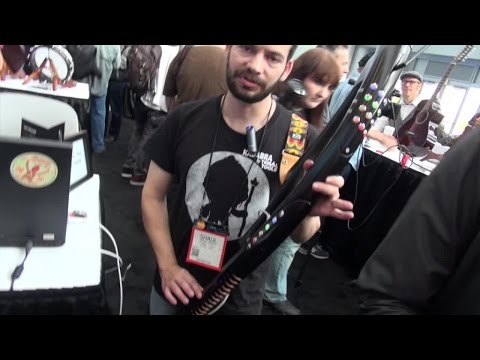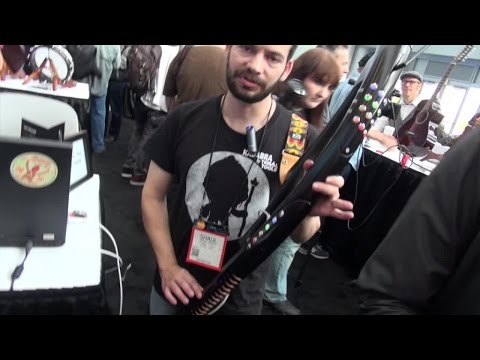 ---
And from the world of tradition, and certainly familiar to FolkWorks readers, a limited edition "D-222" dreadnought guitar, from C. F. Martin & Co. This is a special 100th Anniversary edition, number 1 of a series of only 100 instruments.
---
Stay tuned for more from us and other FolkWorks media representatives!
Michael Frey and Becky Nankivell are members of the FolkWorks Board.