The Woody Guthrie Prize:
What Is It and How Do You Get It?
A FolkWorks Commentary
I had no problem with the first recipient of the "Woody Guthrie Prize," which was awarded to Pete Seeger last year. With Pete's name on it you could count on a little press.
Unfortunately, between the time the prize was announced, and the time Pete was to receive it at an event in New York City co-sponsored by the Woody Guthrie Center in Tulsa, Oklahoma and the Grammy Museum in Los Angeles—and for which Arlo was to serenade Pete as the highlight of the ceremony—Pete—whose timing was usually impeccable—passed away. Kind of took the wind out of the Clearwater's sails. Nonetheless, they went ahead with the ceremony and it became one of hundreds of memorials for America's Tuning Fork, albeit with a lot more cachet due to Arlo. But all in all it was not an auspicious beginning for the "Woody Guthrie Prize" to be bestowed upon a dead man. If it was to amount to anything they would have to be very careful on whom they bestowed it the second time around.
I'm not sure they have done the prize any favors by choosing gospel singer Mavis Staples. Woody wrote one song on Jesus Christ, and it wasn't a gospel song, it was an outlaw ballad—a masterful one, comparing Jesus to an ancient Jesse James, right down to the tune. Don't expect to hear Mavis Staples singing it anytime soon.
Staples, who became famous as a member of the Staples Singers before striking out on her own, will be honored nonetheless as the second recipient of the Woody Guthrie Prize on Wednesday, January 22, 2015 in the Grammy Museum's Clive Davis Theatre with all the politically correct pomp and circumstance at their disposal.
The night before, however, at a small bookstore in Larchmont, The Chevalier Bookstore, Darryl Holter, long-time labor activist and the artist who should have received this prize will be introducing his brand new recording based on two years of intensive research—Radio Days: Woody Guthrie in Los Angeles, 1937-1939. That comparatively miniscule celebration is July 21 at 7:00pm and it is free, though they do encourage you to buy a book—any book—or better yet, Darryl's album documenting Woody's real breakthrough into political awareness, for LA is where Woody joined the labor movement. Or you can spring for the $30 ticket to see Mavis Staples, a fabulous singer to be sure, who would be a worthy recipient of the Mahalia Jackson Prize, just as soon as they create one.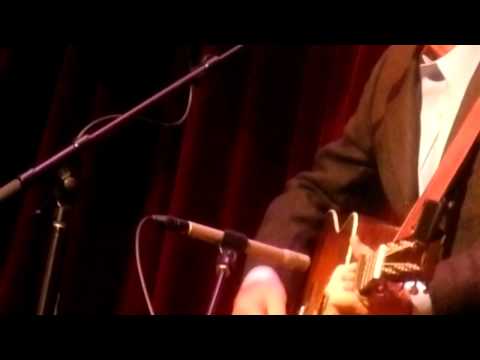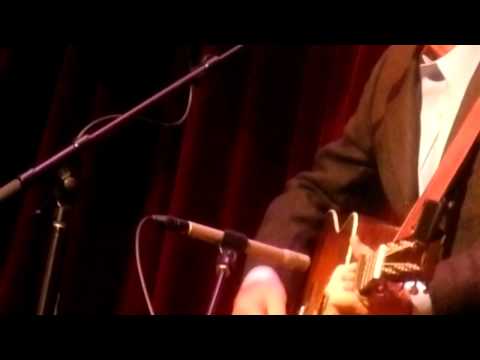 Now you tell me: based on the Woody Guthrie Center's own guidelines for determining who deserves the Woody Guthrie Prize—"The Woody Guthrie Prize will be given annually to honor an artist, activist, or thinker who has made a significant contribution to causes that continue the legacy of Woody Guthrie."—who should get it, Mavis Staples or Darryl Holter? In a New York minute I pick Darryl Holter. But don't take my word for it: go and hear Mavis Staples yourself, not at the Grammy Museum necessarily, but later in the year at the Canyon Club in Agoura Hills, where she will be doing what she is known for and what she usually performs, an all-gospel concert with Joan Osborne. That's where you'll see and hear the real Mavis Staples—with no pretense to being something she's not, a Woody Guthrie style progressive.
With one exception: her civil rights album from 2007, produced by Ry Cooder, We'll Never Turn Back. On that album she applied her magnificent blues/soul/gospel voice to some of the classics from the civil rights movement, including Eyes On the Prize, We Shall Not Be Moved and the title song, with these powerful lyrics:
We've been buked and we've been scorned
We've been talked about sure as you're born
But we'll never turn back
No we'll never turn back
Until we've all been freed
And we have equality.
But that foray into modern freedom songs (based on old spirituals) notwithstanding, it's still a long ways away from The Woody Guthrie Prize's own criteria. So let's be honest: bestowing it on her was not primarily to recognize her contributions to social justice—but to put a black face on a symbol of social change—whose guitar bore the inscription This Machine Kills Fascists. That's a high bar to get over, and other than Pete Seeger, a fellow veteran of World War II, I'm not sure that anyone today quite meets that standard.
But somebody once did; and his name was Phil Ochs. The Woody Guthrie Center has therefore managed to save face by creating a new subcategory of their big prize: The Woody Guthrie Legacy Award. Rather than taking the chance that another recipient would pass away between the announcement and the awards ceremony, they are recognizing an artist who has already joined the ranks of the immortals, and they could not have chosen better than Phil Ochs—the most eloquent voice of the antiwar movement. I am happy to cheer this recognition on the part of the Woody Guthrie Center.
If Mavis Staples wants to pay tribute to this honoree, and give me a reason to cheer her selection, let me suggest two songs she might perform at the Grammy Museum ceremony: Phil Ochs' tribute to Woody Guthrie: Bound for Glory (the title of Woody's 1941 autobiography).
He walked all over his green growing land
From the New York island to the California sand…
He wrote the words that needed to be said
And fed the hungry souls that needed to be fed…
But why sing the songs and forget about the aim
He wrote them for a reason; why not sing them for the same?
And now he's bound for a glory all his own
Now he's bound for glory."
The second song would be Phil Och's own paean to America—his This Land Is Your Land, if you will—Power and the Glory:
Come on and take a walk with me through this green and growing land
Walk through the desert and walk through the sand
Walk through the valleys and the rivers and the plains
Walk through the sun and walk through the rain
Here is a land full of power and glory
Beauty than words cannot recall
Oh her power shall rest on the strength of her freedom
Glory shall rest on us all.
I can dream, can't I? And if she wants a standing ovation, sing Woody's Jesus Christ! Of course, I may also change my way of thinking if she brings out Bob Dylan to join her on their Grammy-nominated duet of his gospel song Gonna Change My Way of Thinking. According to a recent interview, he once asked her father for her hand in marriage, so it is not beyond the realm of possibility. Again, I can dream, can't I?
So where does that leave us, with regard to my original question? Who deserves this prestigious prize—and why? On the one side we have a Grammy-winning gospel singer, with one protest album to her name, let's call it Exhibit A; and on the other a scholarly folk singer with one album expressing his love for Woody Guthrie, let's call it Exhibit B. On the basis of all that I have said, I'm not sure; it may be a wash. But I have uncovered another piece of evidence—Exhibit C. That is what persuades me that Darryl Holter is indeed the right choice—and has been unjustly overlooked.
Exhibit C is a one-song single CD, by Darryl Holter, called Looking for Health Care Reform. He put it out in 2009, one year after Obama's election, and well before "Obamacare" became the burning agenda item it soon did. Knowing Darryl, he sent it to the president—a kind of letter in song—just like Woody would often send letters to FDR, First Lady Eleanor (his wonderful song Dear Mrs. Roosevelt), Truman, and even Ike ("Dear Mr. Eisenhower"), his powerful talking blues protesting the execution of the Rosenburgs—one of Woody's last songs, in 1953.
In that great tradition Darryl Holter wrote Looking for Health Care Reform to add his voice to the spreading movement for health care reform that led to Obama's Affordable Care Act—the one that after 41 attempts by the Republican Party to overturn it, was just upheld by the Supreme Court. Darryl gave me a copy of the CD the last time we were on the same bill, and his parting words to me were, "We no longer need this song," i.e. what it was urging has finally come to pass. The song succeeded in its mission.
That is just the kind of thing Woody would have done, for whom a song was his weapon.
And that, ladies and gentlemen of the jury, is what convinces me that Darryl Holter would and should have been the natural choice for an organization honoring "an artist, activist, or thinker who has made a significant contribution to causes that continue the legacy of Woody Guthrie."
With his 103rd birthday coming up July 14, it's time to honor America's greatest folk singer once again. As he once wrote, he was "Born to Win;" Happy Birthday, Woody.
I rest my case.
Darryl Holter performs and signs copies of his new CD, Radio Days: Woody Guthrie in Los Angeles, 1937-1939 at Chevalier's Books, Tuesday, July 21, 2015 at 7:00pm, 126 N Larchmont Blvd, Los Angeles, CA 90004, 323-465-1334 , Free Show | Reservations Recommended.
Mavis Staples is honored with the Woody Guthrie Prize at the Grammy Museum, Wednesday, July 22, 2015 at 8:00 PM, 800 W. Olympic Blvd, Ste. A245, Los Angeles, CA 90015 USA, 213-765-6800 ; $30
Mavis Staples & Joan Osborne at the Canyon Club, October 2, 2015; 8:00pm $38/$48/$58/$78; 28912 Roadside Drive Agoura Hills, CA 91301; 818-879-5016
Saturday, July 25, 2015 Ross Altman and The Found Theatre in Long Beach present the 1965 Newport Festival x 50, hosted by Ross Altman; with Susie Glaze, Jill Fenimore, John Keller; Tom Fair, Rob Sanford, Michael Birnbaum and Angeline Butler, performing songs of Jean Ritchie, Theo Bikel, Pete Seeger, Gordon Lightfoot, Mississippi John Hurt, Mance Lipscomb, Reverend Gary Davis, Ian & Sylvia, Mimi & Richard Farina, Joan Baez & Bob Dylan; a celebration of The Folk Festival That Changed America! 599 Long Beach Blvd (at 6th Ave), Long Beach, CA 90802 562-433-3363 ; 7:00pm $10.
Sunday, July 26, 2015 The Church in Ocean Park, Ross Altman hosts a Memorial for folk singer Guy Carawan, Highlander Research and Education Center in New Market, Tennessee Music Director for 50 years who popularized We Shall Overcome within the civil rights movement and made it an international anthem of freedom; with special guests Angeline Butler, one of the original Nashville student sit-in participants & Columbia Records recording artist and Songmaker & hammer dulcimer player Phee Shirline; 235 Hill St. in Ocean Park; 310-399-1631 ; 2:00pm; Free.
Sunday, August 2, 2015 The Coffee Gallery Backstage in Altadena welcomes English folk singer, sea shanty singer and D-Day veteran Jim Radford, composer of The Shores of Normandy; Ross Altman will open and MC the show; 2029 N. Lake, Altadena 91001; 626-798-6236 ; $15
Sunday, September 6, 2015 at 10:15am Ross Altman honors the Centennial of Joe Hill's execution (November 15, 1915) at his annual Labor Day Sunday appearance at The Church in Ocean Park, "The Music and Legacy of Joe Hill and the IWW,"235 Hill St. in Ocean Park; 310-399-1631 ; Free
Los Angeles folk singer Ross Altman has a PhD in Modern Literature; Ross may be reached at This email address is being protected from spambots. You need JavaScript enabled to view it.