ISRAELI DANCING
No longer your mother's "Mayim Mayim"
Israeli "folk" dancing is not just a form of dance. Of the relatively familiar circle dances, a friend recently observed, "it's kind of like a (circular) group exercise class." Israeli folk dancing is now comprised of line and partner dancing, too. It is no longer your grandmother's "mayim mayim" or "hora," which can still be frequently seen and heard at synagogues on Friday nights. It is a symbolic manifestation of the Jewish spirit and mind.
Israeli dancing is set to DJ'd popular and folk music from the past sixty-six years of Israel's history, where singers, composers, and musicians have been fruitful and multiplied. The difference between Israel's music scene and that of all other popular and/or ethnic music in the world, is that this plethora of professionally produced pop music is flanked by a corps of choreographers from mostly Israel, and increasingly from Jewish communities across the globe. This worldwide association of individuals spend their time, effort and creative talent designing dance steps specific to songs, which they handpick for musicality and meaning. There are said to be over 6000 choreographed tunes; a comprehensive language in itself, akin in number to the number of Chinese characters one has to learn to be literate in China.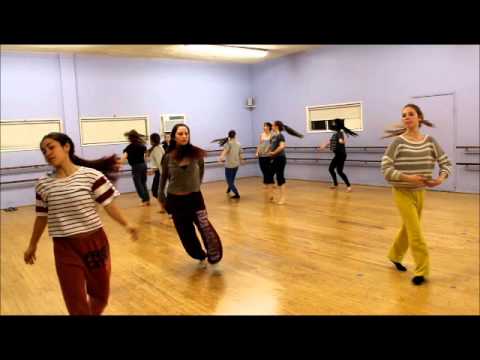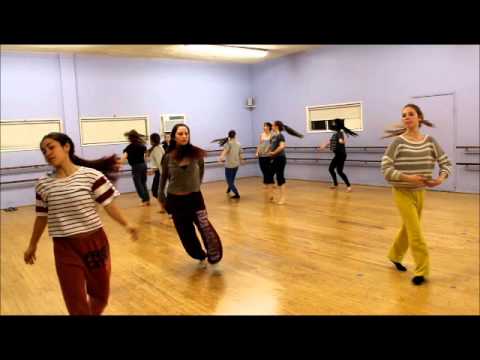 This language is learned best by the immersion method, as opposed to step-by-step "classes," popular for other forms of dance like West Coast Swing or Tango. My parents were avid international folk dancers, and my father always told me, "find somebody to follow," which is easier when dancing behind and/or next to someone. This is why such dances are traditionally done in a circle; there's an intentional community aspect of holding hands and creating an inner circle of those who know the dance well, so that by visual example, the inner circle dancers can show the outer circle dancers how to do the dance. Israeli dancing typifies accelerated learning processes; in business jargon we'd call it "on the job training."
Armchair dancers can watch Israeli dance sessions on YouTube from the beaches of Tel Aviv to the dance halls of every continent on the planet. In the Los Angeles area, observers and participants can witness this phenomenon live, as many as four nights a week. To see it, is to understand the utterly unique nature of this dance. This particular manifestation of the arts, combining music, dance and, in some cases, theatrical performance, might ultimately generate profit, but money is not the motivating factor for the hundreds of dance sessions in Israel and around the world. It can't be; venues are expensive, and session preparation and delivery is labor-intensive. For all involved, this is a labor of love. We do this type of dancing to revel in the arts by crunching our minds and bodies around the challenge of learning something new, together.
In Israel, dance leaders, known as "Markidim" in Hebrew, are often paid by municipalities, public sports complexes, health clubs and gyms to lead dancing, at low or no cost to the participants. Outside of Israel, dances are led by impresarios who teach the dances, and arrange what are basically mini-dance parties. I have danced south of the equator in San Paolo and Melbourne, in Japan, and all over the United States and Israel. If you arrive on the right day in the right place, you can dance all over the world (I missed dancing in Krakow by a day). People will travel for the dance; there are annual dance weekends including accommodations, food and entertainment from Malibu to Timbuktu. Every summer, the northern Israeli town of Karmiel opens its streets for several days to a 24/7 extravaganza of dancing with performances by dance troupes from China to Chile, dance workshops, a "shuk" (middle eastern marketplace), food stalls and dancing through the night on sand-dusted outdoor tennis courts.
Although we resist the term "cult," the worldwide community of Israeli folk dancers form a distinctive group of individuals who seek a combination of exercise and socializing with an ethnic twist. Not everyone is, nor has to be, Jewish. The denizens of Israeli dance don't always speak the same national language, but they tend to be highly intelligent, often highly educated, and, typical of what educators define as "gifted," most are able to memorize patterns quickly, and with a minimal amount of repetition. A touch of innate physical grace might eventually propel a person into the "center circle," but in general, we are routine-seekers. Consistent with attributes of the gifted community, many dancers have difficulty socializing, and even exhibit behaviors on the Asperger's spectrum. This can and does create anxiety here and there, but, odd as it may sound, tension might even account for some of the allure of Israeli dancing; here, grievances are aired; there's always something to talk about.
There has been one major shift in the Israeli dance community over the past twenty years: an increase in partner dances over the more traditional circle dances and Zumba-like line dances. Women always outnumber men in this sport, so efforts are made by women to pre-arrange partners for the couple dances, which men accept, and markids promote by scheduling "sets" of partner dances that can last from thirty minutes to an hour or more. To get your money's worth, you therefore must show up to a dance session like you are boarding Noah's Ark; the Hebrew biblical word, "zugot" is used. This exclusivity factor has overtaken the community, causing Israeli dance to yet again be an outlier, compared to all other types of dancing on earth. But if you've read with interest to this point, do join us. Come in pairs, but be willing to dance cross-gender roles and/or switch partners with each other, and help us lobby for shorter couples sets to foster variety. It's not just a form of dance; it is an exercise of the body, the mind and the spirit.
Ruth Morris writes a weekly column for Culver City Crossroads, entitled "Ruth's Truths", and works as a public school educator and advocate for student gifts and talents. Ruth dances for sport, hobby and socializing, and currently serves on the Board of the California Dance Cooperative.